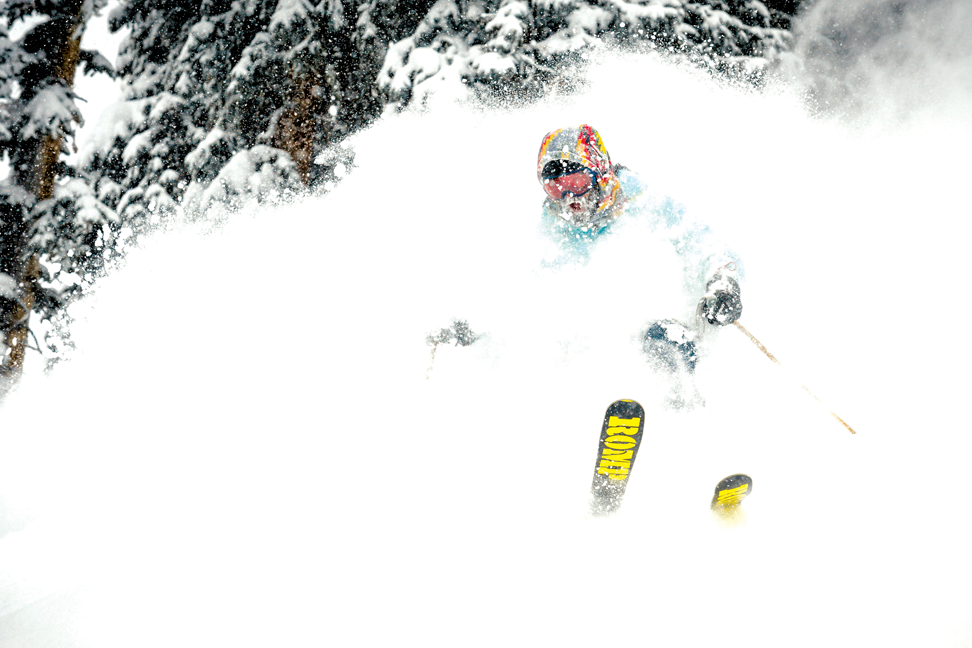 A full quiver: Romp Skis
You don't have to be a hard-core skier to have custom or handcrafted skis, and one local company excels at helping you find your perfect match.
By Katherine Nettles
In a state where craft beers, craft distilleries and ski resorts abound, it's really no wonder that a handcrafted ski market has opened up. What's worth noticing is who has stuck around, and why.
Romp has gotten a lot of attention in the custom ski industry, steadily increasing its output since it opened its doors nine years ago but maintaining its craftsman style focus and mountain town roots. The facility keeps regular weekday shop hours, but warns even on their website that "We open at noon on deep powder days." The production facility is a modest shop on Belleview Avenue in downtown Crested Butte. Morgan and Caleb Weinberg, the brothers who co-founded the company, say it is important to them to stay in town, "because part of what our local customers like is to be able to come in the factory and see how skis are made," says Caleb.
The brothers discuss how the industry is shifting, and how their process has evolved to determine what to build for a custom client.
So, who buys a custom ski, anyway? The answer here seems to be: Anyone.
"A lot of skiers interested in our product are advanced. But beginners can benefit as much as anyone from a custom ski," says Morgan.
"Our core is more someone who is an avid skier. We have a lot of customers who ski around 25 days a year, and they aren't necessarily advanced or expert skiers going all over the mountain. They just want to enjoy themselves. They benefit from having a ski that works exactly how they need it to," says Caleb.
This is where the custom part comes in. Romp has created a full quiver of stock skis, and each one can be customized somewhat by upgrading from the poplar wood and fiberglass core to carbon fiber, or even more so to a specialized, trademarked carbon fiber called Countervail. The fully custom side of the business requires getting a lot of information as accurately as possible directly from the skier.
"A lot of what we've developed over time is the way we interview," says Caleb. Customers begin by filling out a form describing themselves as a skier, and then receive a 20-minute phone call interview. "We have to figure out who you are as a skier so the ski will actually be what you want it to be."
Morgan points out that for most people, one pair of skis is all they own. "So if you ask them what kind of ski they want, almost everyone says all-mountain."
The Weinbergs have learned to dig a little deeper, since "all-mountain" can mean different things to different people. "People might say they like to ski the whole mountain, but they might not realize what areas they aren't even aware of," says Morgan.
Getting started with a new customer, Caleb says, "You have to pick what kind of day you want your skis to be perfect. That really says a lot. And we go from there."
Morgan and Caleb began making skis as a curiosity in 2009. Morgan had been living in Crested Butte since 1996, joining his older brother, who had been here since 1992. The Weinbergs grew up skiing in New Hampshire, raced a bit in high school, and had plenty of experience on snow after living in Crested Butte for 13-plus years.
Both brothers were working as carpenters, but the recession was hitting hard in Crested Butte. Morgan had started looking at online forums for how to make your own skis. He thought he might pick up a novel new hobby. His brother was curious too.
"People were coming up with ways to do it, and it was kind of a thing happening. So we thought we would give it a try," says Caleb.
The first year, the brothers made about 10 pairs of skis of solid aspen wood core in Morgan's garage. The skis went to the brothers, of course, and to some close friends. And they all seriously enjoyed them. "They skied great, but we had a lot to learn about durability," says Caleb.
"And they weren't that pretty," adds Morgan.
Fast forward to 2018, and Backcountry Magazine has named Romp's 110 ski an Editor's Choice winner for backcountry touring. Among the top three skis in its category, the 110 also came in at 6.8 pounds, the lightest of the batch by .7 pounds. That detail makes a difference to anyone who has skinned uphill for hours a time for just one glorious lap in the backcountry. For that matter, just strapping skis to a backpack or heaving them onto a shoulder for a quick hike to access side country or a little extra vertical can make anyone appreciate the difference.
Romp has achieved that ultra lightness by changing and tweaking their earliest prototypes over time, using a combination of poplar wood core and triaxial fiberglass (the brothers had experience working with fiberglass from building small boats as kids), and offering carbon fiber upgrades. The benefits of carbon fiber, as they describe it, are that it is light and damp, with membrane that absorbs shock and reduces muscle fatigue.
The earliest prototypes have changed and been tweaked over time to accommodate what the brothers learned out in the field. A mountain like Crested Butte, named literally for its peak, could be considered an ultimate testing ground.
"Durability is a real issue [here] more than in most ski areas. If you really ski all over Crested Butte it's not if you will hit rocks, it's when you hit rocks. We wanted skis that could stand up to that kind of abuse," says Caleb.
Like many locals, both brothers enjoy testing their skis in several different ways. There is hard charging at the mountain resort (Morgan's favorite run is Rambo), the backcountry, powder skiing, ski mountaineering (a.k.a. Skimo), of which Caleb seems particularly fond, and plenty of other ways in between.
Maybe it's their diversity of interests that informed their variety and custom process. They have expanded their operations twice over the years to make an entire spectrum of skis, for using in bounds and out. The skis are named for the width underfoot, which makes the shopping process a bit more straightforward. Each brother rattles off four to five different skis he might use for various days.
"I am skiing the 106 all around. The 110 in the backcountry. The FH to skin up Snodgrass. My son is on the kids 140," says Morgan.
Caleb likes the 100 in the ski area, the 115 for a powder day at the ski area, the 110 in the backcountry, and the FH for Skimo. "And then I use the 86 to go to my kid's ski races," he adds.
What Romp skis lack in trendy ski names, they make up for in graphics. Brightly colored geometric patterns, plays on visual texture, throwbacks to vintage cartoons, and Americana themes light up the top sheets. And, of course, custom skis can have custom graphics.
In an industry of so many big and long-established brands, where some companies produce hundreds of thousands of skis per year, it is a craftsman style of ski model that seems capable of capturing an emerging market. Morgan notes they have seen industry changes veering toward more "customer direct" sales, which cut out retailers as people shop online, and those who know what they want often go straight to the source.
"There was kind of a burst about four years ago," said Caleb, recalling the excitement over handmade skis and the rise of several Colorado competitors. But many of those fell away after the initial rush. With consistent reviews of performance, and the help of a large bulk order in 2016 for the military's 10th group of Special Forces, Romp has endured. And there are no signs of slowing down. While there are plenty of skis on the market, "Custom ski makers are scarce," says Caleb.
The brothers are focused now on expanding their customer base further across the country and creating a more sustainable year-around business for themselves and their employees.
To check out the selection of stock skis, demo their fleet directly from the shop (bring your own boots), or at Crested Butte Sports.
Want to see how the production works and learn more about the custom process? They give factory tours on a drop-in basis. Just not on a powder day, of course. They're at 420 Belleview Ave., (970) 349-5353, Rompskis.com.