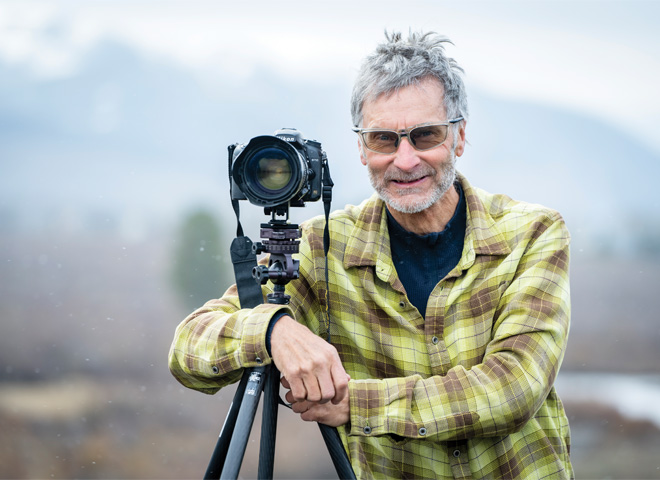 Xavier Fane – Connecting to the Natural World
[  BY KATHERINE NETTLES  ]
"I've always had a life in the mountains," says Crested Butte photographer Xavier Fane. His work is deeply rooted in what he considers profound, which is full immersion in nature. Like many of us, he enjoys the adrenaline-laced activities of outdoor sports, and actually got his start as a mountain biking photographer. But his style has evolved to generally spending his time behind the camera in quiet places, far from other people, moving slowly and taking in his surroundings as a meditation. A lot of his work takes place above tree line, in "foreboding" weather, to see beyond the usual and connect with the natural but less documented moments.
Growing up in Barcelona, Fane first moved from Spain to the mountains of Switzerland and then came to the U.S. in 1984 to spend the summer with a girl in Yosemite.
He found a certain wonder in Yosemite, exploring freely. "It was just amazing. I was roaming the whole park, north to south and east to west," he says. He was ready to stay in the West, and at the end of the season he began looking for a winter job as a ski instructor.
He was looking for a small resort, out of the way. When he called Crested Butte Mountain Resort, he connected with then-ski school director Robel Straubhaar, who was from the region in Switzerland where Fane had previously worked.
"He was like, oh sure. Come on over," recalls Fane. "He didn't even want to make me try out or anything. This is how it works in life, I think. You unconsciously go to places that call."
Fane taught skiing for a while at CBMR, spending his summers doing construction and working on trails for the U.S. Forest Service.
He happened into photography when a mountain biking magazine in his hometown of Barcelona hired him to take photographs in 1990. "It was very serendipitous," he says. At the time, mountain biking was an American sport with early roots in Crested Butte. "Mountain biking exploded in Europe and they thought it would be a great idea to have someone in the U.S." Fane was happy to be that someone.
"I had a camera as a kid," he says of the one his father lent him. "So that got me into it."
Fane wrote and produced photography for the publication, called Solo BC, for 15 years while living in Crested Butte. Although he was hired to write about and photograph biking, he found himself writing about other things and making a game of not mentioning the word 'bike' in an entire story or editorial column, for instance.
"And people liked it," he says. That may have been his first foray into exploring less commercial subjects. "It was a really good life, actually."
When the magazine work began to wane, Fane felt he had to decide whether to pursue his love of photography or find another vocation. He realized that photography was his path and he began to develop his own style that tends more toward being still, and representing something he finds more gratifying.
"What comes first for me is the love I have for the mountains and the natural world. And photography is kind of an extension of that," he says. "I like to show nature raw and naked."
His work often has a haunting depth, with a surprising contrast of color and rich, dark shading. Often someone is passing through the lens as they go about interacting with their surroundings—the a running or biking subject who is usually Fane, through his own careful planning.
Fane considers himself a quiet person who mostly keeps to himself. He does adventure outside with his partner, Karen, or one of a few close friends, but to take pictures, he almost exclusively goes alone.
"I am guilty of this too, but sometimes it is like people are just looking at the mountains like a gym…it is all so quantified, how far we can run, how long…we all have our ways of doing that, because we are human. We are social," Fane muses. He enjoys running, hiking, biking and skiing as much as the rest of us, but goes to take photographs alone, and with a different purpose than fitness or adrenaline.
"I like to go up peaks and spend the night up on top of them, and many times I don't take a tent. I just snap a few pictures doing what I do. And the reasons I do that are, one is I guess part of me is in awe of the universe and another one is probably a way to seek penitence," he says. "We all have our issues, and for me to be on top of a peak sometimes is a way to redeem myself. We all have our ways to cope with stuff."
He finds the most profound imagery comes from that those experiences. "When I go with that in mind, I move slow. Sometimes it brings clarity as I sit in one spot, waiting for the right light or the stars to come out. It's not an effortless thing. It takes some intention and sacrifice."
Another major attribute of Fane's work is his dedication to simplicity. He doesn't display in art shows or galleries often, or take on much commercial work beyond social media for beloved community organizations such as the High Country Conservation Advocates, Rocky Mountain Biological Laboratory, Crested Butte Land Trust, Crested Butte Nordic, Center for the Arts and the Crested Butte Film Fest.
"I live a very simple life. I'm not an extravagant person; I believe in going through life with a certain austerity. I don't like the consumerism that's all around us these days," he says, and notes that people live in such incongruent times of environmental concern and materialism that compete with one another.
"Most people will agree that we have an environmental crisis…yet one of the culprits of that is wanting…to have more and more bikes and cars and large homes. It doesn't go with the philosophy of being connected to nature and moving forward in the future with a healthy planet. It doesn't fit the bill."
So Fane has constructed his life around this simplicity and not having a lot of material concerns. He lives right in downtown Crested Butte, tends his gardens and does not depend on larger-scale commercial income or large prints as he would with a larger footprint. He prefers to travel using his own legs rather than motorized vehicles, as well.
Fane doesn't often tag the locations of his photos, and he prefers to leave it up to the viewer to figure it out if they are inclined.
"We all need a little sanctuary of our own. We all need that quiet space. I think you should work for it…I think that part of the process is to find your own spots. And that discovery is one of my main driving forces of what I do."
His work, including the occasional astoundingly colorful field of wildflowers or fall colors, can be found at https://www.xavierfane.com.
Fane's advice for aspiring photographers:
• Don't go for the easy shot. "Working for the picture that you want makes it very satisfying when you get the shot that you had in mind."
• Plan out concepts. "Much of what I do ends up being improvisational, but it's good to have a concept to begin with."
• Only tag social media locations if they are obvious and easily accessible. Leave the sanctuary as it is, for others to discover…or not.
• Contribute to your community, by finding a group or a nonprofit that will benefit from your work. It builds community and keeps you engaged.
• Follow your heart. "If you love portraits, let it be portraits; if it's the mountains, let it be the mountains." But don't do it for the glory. "It's not easy. We all want attention and we all crave admiration. And if you get the Instagram followers, great. But I think it makes for purer, cleaner photography if you push that motivation away."