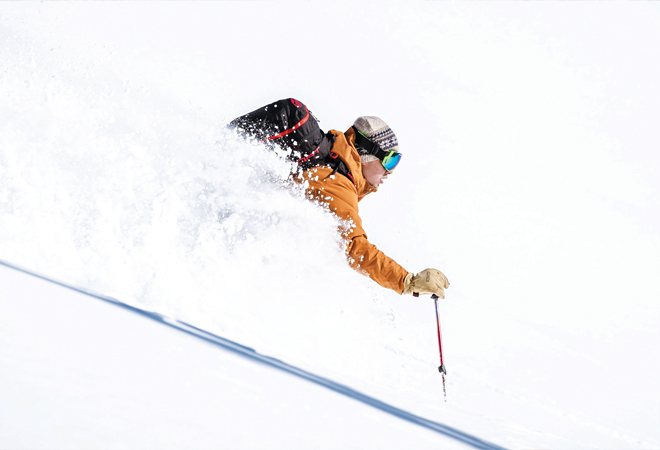 CBAC ramps up efforts for busy winter
"We're preparing for numbers we have never seen in this valley of all different users, types and abilities"
by Than Acuff
When ski areas shut down last spring due to the COVID outbreak, it was bedlam in the mountains as skiers, snowboarders, snowmobilers and everyone else headed to the hills for some mental and physical solace. A welcome outlet, but that search for relief did bring another hazard into the forefront, as increased numbers in the mountains led to increased exposure to avalanche hazards.
"When ski areas shut down, we saw a substantial increase in all types of backcountry users," says Crested Butte Avalanche Center forecaster Ian Havlick.
More of the same is expected this winter, as the outdoor industry is reporting a dramatic spike in the sales of backcountry equipment such as avalanche safety gear and equipment. As a result, the Crested Butte Avalanche Center (CBAC) has been ramping up efforts for the 2020-2021 winter season.
Havlick has taken on the role of CBAC outreach director along with CBAC staff member Zach Kinler helping in the endeavor of spreading the CBAC message even further.
"We're preparing for numbers we have never seen in this valley of all different users types and abilities," says Havlick.
With the financial support of the Gunnison Metropolitan Recreation District, the town of Crested Butte and the Gunnison STOR committee, the CBAC will expand its messaging through a variety of avenues in an effort to reach locals, local youth groups as well as visitors to the Crested Butte area.
"We have several tactics in place," says Havlick. "In addition to our daily avalanche and weather advisories from when the snow starts falling into April, we will increase our presence at the trailheads to share information about current conditions and additional education. Furthermore, we will increase our outreach via KBUT, virtually through our Fireside Chats and with additional in-person events throughout the season, COVID permitting."
One big change everyone will see is a new sign at the entrance to town with the avalanche danger rating for the day on display, much like the fire danger sign that people see during the summer months. The sign will be updated daily by 7:30 a.m. every morning.
"Our hope is that our increased efforts will grow avalanche awareness and education for years to come while respecting all user groups," says Havlick.
As always, you can go to cbavalanchecenter.org to get the daily weather and avalanche advisory, submit and see up to date observations and check out information regarding upcoming events.