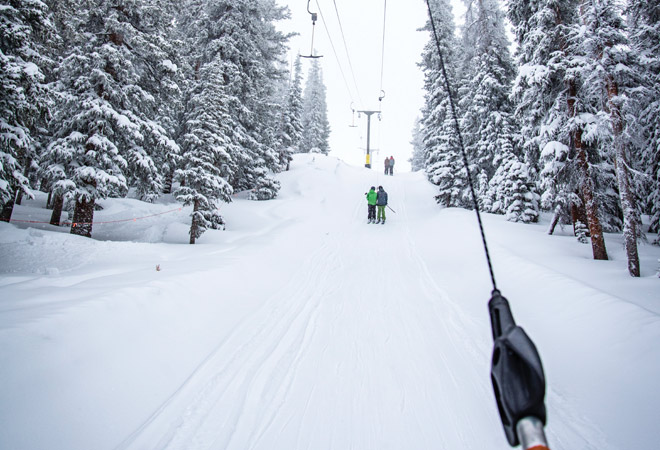 Insider's guide to the mountain
Here are some favorite trails on the mountain for kids, beginners, intermediate and advanced skiers and riders.
Kids Run
Painter Boy
Bring the kiddos over to Painter Boy – it's a playground for families. The Painter Boy area in general is a great spot for kids and families, and home to Ten Peaks Progression Park. The park includes some man-made features, including small jumps and terrain features.
Beginner run
Poverty Gulch
A run that is often missed on Red Lady is Poverty Gulch. For beginners this is a great run that typically has fresh grooming well into the afternoon. Also if you are starting to explore the trees or are skiing with kids who love tree trails there are some great places to explore on both sides of the run, providing something for the entire family.
Intermediate Run
Meander to Rosebush Glades
Meander to Rosebush Glades oftentimes offers powder fields and tree skiing fun off the beaten path and is accessed by the newly upgraded four-passenger Teocalli Lift.
Advanced Run
Gully Glades
If you like tree skiing this will be the run to check out. Located in-between Black Eagle and Double Top Glades, Gully Glades will be sure to make you spend more time on the East River Chairlift.
Extreme Terrain
The Glades on the North Face or the trees between The Headwall and Big Chute
Hands-down a favorite run on the mountain to ski is the area between Big Chute and the Powder 8 gully on the Headwall. If you are looking for an adventure start on one side and work your way to the other. Every run will make you feel like you are on a totally different mountain. Take the natural halfpipe from the top of the High Lift T-Bar and when it gets to the traverse at the bottom, point your skis in a different direction each run. Note to self be careful as you work your way down the chutes, the trees tend to get thicker and tighter as you get to the bottom.
For a great run off the North Face Lift check out Hard Slab to Old Pro. It's always a great line with a few surprises around each corner that keep you motivated. On your first run make sure you take a look over each roller before hitting it at top speed…it drops off quick.