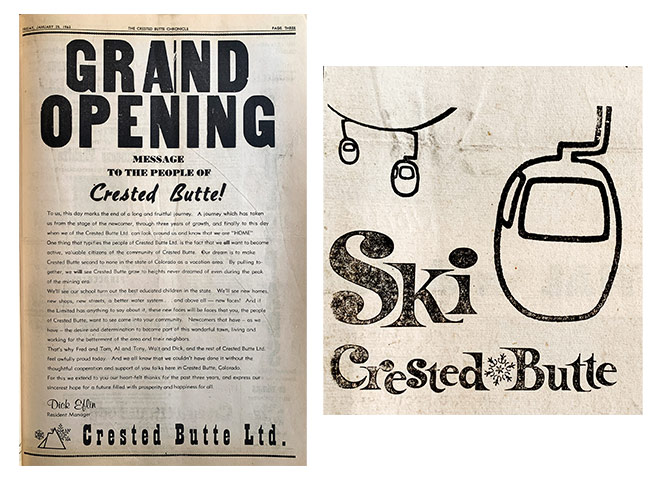 CBMR celebrates 60 years
[  by Kendra Walker  ]
"In December 1960, Fred Rice and Dick Eflin purchased the Malensek Ranch on Mt. Crested Butte and later applied to develop skiing on our mountain.
The following year, the U.S. Forest Service issued a special-use permit and, with that, lift-served skiing began at the end of the road," says CBMR communications manager Will Shoemaker. "Sixty years ago, in the winter of 1961-62, the ski area opened with a generator, a J-bar and a T-bar and the rest, as they say, is history."
This winter, Crested Butte Mountain Resort celebrates its 60th anniversary season with the return of some beloved mountain events, a shiny new Peachtree Lift and full capacity operations for locals and visitors, new and old, to enjoy.
What's new for 2021/2022
The new three-person fixed grip Peachtree lift is fully installed and ready for riders this season. The new lift services beginner terrain at the base, increasing uphill capacity by 50 percent, and the new grading of the terrain now makes for a more consistent pitch across the entire slope.
"We're very much looking forward to unveiling this impactful capital improvement to our guests as a stepping stone to our steeps," says Shoemaker.
And the memory of old Peachtree lift will live on, as many in the community were lucky enough to nab a chair this summer in CBMR's public auction. The proceeds, totaling over $65,000, were donated to the Valley Housing Fund, which helps with affordable housing opportunities and projects in the Gunnison Valley.
In addition to the installation of the new Peachtree lift, aesthetic upgrades have been made throughout the mountain for the 2021/2022 season, including the painting of the Red Lady Express and Silver Queen Express lift terminals, as well as Painter Boy lift towers and terminals.
Events
Mountain-goers can look forward to the return of some local favorites, so get ready to bust out the costumes in true Crested Butte party style.
"This winter, we're celebrating the grit of our founders and their desire to Be Wild as part of our 60th anniversary season," says Shoemaker. "We're very excited to bring back classic events like our Al Johnson Telemark Race and Ski Town Breakdown this winter." Rumor has it that the Pond Skim will also be back to help close out the season this spring.
Additionally, families can expect to catch a glimpse of Santa at the base area on Christmas Eve for some festive holiday cheer and activities, and the mountain will ring in the New Year with the it's New Year's Eve Torchlight Parade and Fireworks show. And, according to Shoemaker, the 60th anniversary celebrations will continue throughout the season.
Skiing uphill
For those that enjoy earning their turns, uphill access on CBMR is an enjoyable and convenient option to avoid the daytime crowds outside of lift operating hours. Whether you're skinning or splitboarding for a workout in the woods, trying out some backcountry basics in a safe environment or training for your next big skimo race, skiing uphill is a great way to get in some extra snow time. Plus, you can't beat those front-row seats to watch some of Crested Butte's most spectacular sunrises and sunsets.
Make sure to know before you go, learn more about CBMR's uphill policy by visiting https://www.skicb.com/the-mountain/more-options/uphill-access-policy.aspx.
Health and COVID protocols
This season, the mountain continues to prioritize the health and safety of guests, but skiers and riders can look forward to some lighter restrictions from last year's pandemic season.
The lifts will be loading at normal capacity and the mountain will not require a reservation system to access the lifts. Face coverings will only be required in indoor settings, including restaurants, lodging properties, restrooms and retail and rental locations. COVID-19 vaccinations will not be required for guests wishing to access resorts to ski and ride this season.
"However, if you wish to access our indoor, on-mountain quick-service restaurants, proof of COVID-19 vaccination will be required for those 12 and older," says Shoemaker. This includes guests in the ski and ride school programs that include lunch. Like last season, guests will be required to book a reservation to eat. All employees will be required to have COVID-19 vaccinations as well, and will undergo daily health screenings.
"Safety continues to be our top priority and we remain committed to doing everything we can to help keep our guests, our employees and our communities safe this season," says Shoemaker. "We are fortunate that the core of our business takes place outdoors in beautiful, vast mountain settings. However, as we welcome guests from around the world to the indoor experience at our resorts, we feel it's important to do our part to combat the spread of COVID-19 and to keep our guests, employees and communities safe."
So sharpen those edges, dust off those tutus and onesies, and do your powder day dances. Cheers to 60, Crested Butte, and we'll see you on the slopes!