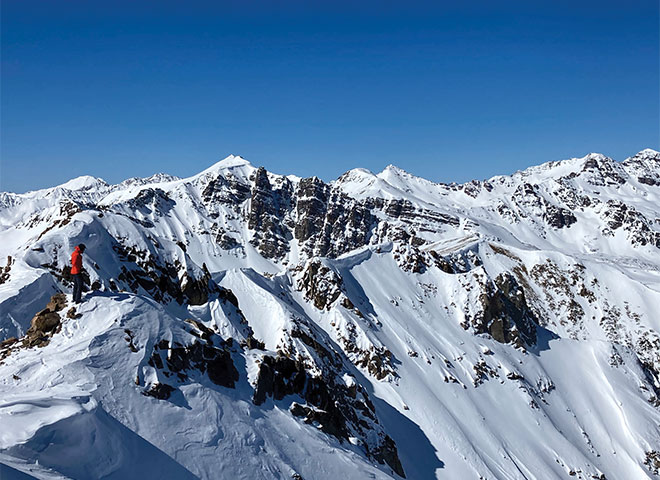 Forecasting growth with the Crested Butte Avalanche Center
[  by Katherine Nettles  ]
A sign at the entrance to the town of Crested Butte greets arrivals each day of the winter with a simple tool to begin a backcountry conversation: the day's overall avalanche hazard rating for the mountains surrounding Crested Butte. The Crested Butte Avalanche Center (CBAC) began this practice last winter in collaboration with the Gunnison County Metropolitan Recreation (Met Rec) District, and the sign represents how near and dear backcountry use (and safety) is to those who live and ski here, how many ways that can apply to winter recreation and how much that recreational use has exploded in the last decade.
To keep up with increasing winter visitor numbers and more people exploring beyond the ski resort, CBAC offers daily and weekly avalanche advisories, daily mountain weather forecasts, travel advice and a growing education and outreach program to cover all corners of the community. This information and expertise comes from three professional forecasters and applies to those travelling on touring skis, split-boards, snowmobiles, snowshoes and Nordic skis. CBAC's outreach has even expanded to include programs for grade school kids as they prepare to step out on their first backcountry adventures alongside parents or other caregivers.
The remoteness of Crested Butte lends itself to a particularly tight backcountry community. The CBAC has been a grassroots force and community staple since the early 2000s, and after more than 20 years it remains an independent non-profit organization that is not funded by a state government agency like most other avalanche forecasting entities in the region. Instead, CBAC depends largely on sponsors from the community, including many local businesses, local government entities and individual members.
As a small, independent organization, "We are able to be more nimble," says executive director Than Acuff. This is evident in how the CBAC is adapting to a larger user group, such as its recent decision to split forecasting its expansive backcountry into two zones: the northwest mountains and southeastern mountains.
"People are going to way more places, and there are significant differences between those areas," says Acuff. "We are getting people used to the geographical differences in snowpack." The CBAC website allows users to hone in on areas a bit more easily.
"People can type in their destination and it tells them which zone that is," he explains.
The CBAC has also been able to connect with community members and visitors by hosting "fireside chats" on various snow safety topics, by setting up trailhead days to interact with people before they head uphill, or just catching up with familiar faces in line at a coffee shop.
"Our forecasters live here. They are walking around town," notes Acuff, which can't be said for a larger, Boulder-based operation. That means a lot for approachability and being intimately familiar with the slopes they study on a regular basis.
Zach Guy, the CBAC's lead forecaster, has been avalanche forecasting since 2011 when he finished his master's degree in snow science at Montana State University. His days in the field start before dawn and he aims to finish at least an hour before sunset.
"A typical work day starts in the forecast office around 4:30 to 5:00 a.m., reviewing observations, weather station data, weather forecast products, and conversing with other forecasters around the state.  I'll publish our weather and avalanche forecasts by 7 a.m., disseminate the message through radio, social media, email, etc.  Then it's making a fieldwork plan and heading out into the field somewhere to target areas of uncertainty or gather the most relevant information for the day's condition," he says.
The evening is spent documenting observations and any avalanche activity, sometimes making a short video and catching up on other observations locally and regionally. Guy usually does three or four field days per week and puts out three forecasts. This combination of hyper-local observations and long-distance data sharing makes the entire network of forecasters more comprehensive across the state and the West.
The forecasters have also observed more and more people in the field, and at their educational events throughout the season. "The feedback I've gotten has been all positive," says Guy. "We have a close-knit backcountry crowd and I almost always see a few people that I know at the trailhead or on the skin track. It's fun."
Many people's path to backcountry recreation is a combination of curiosity, finding mentors and getting formal training, and Acuff says he learned about the backcountry around Crested Butte in the mid-90s while skiing with long-time local Ian Hatchett. "He was an ambassador for a lot of people in the backcountry."
Guy says he grew up skiing inbounds in Colorado and started hiking for turns when he was in high school. "I had no idea what I was doing at the time, from an avalanche perspective. I started taking avalanche courses when I went to college in Bellingham, Washington."
That spirit of mentoring and offering formal training is part of the CBAC approach, as it hosts an early season beacon/probe refresher day, a beacon search practice park behind the Crested Butte Community School, and partners with myriad other organizations around the valley to bring education and awareness to new and seasoned recreationalists alike.
"Relative to other ski towns I've lived in, the CB backcountry culture feels significantly more close-knit and friendly," says Guy. "I think our community is generally more knowledgeable and educated when it comes to avalanche awareness; maybe that's a product of where we live, surrounded by avalanche terrain and a sketchy snowpack. And hopefully it's also because our center looks for creative and engaging ways to outreach and teach the community.  There's also some great programs going on with avalanche awareness at Western Colorado University. And a lot of go-getters… folks who are out dawn-patrolling before work or going on huge tours or pushing steep lines," he says.
The next big need, says Acuff, is for more data-driven interaction and communication between those using the backcountry and the CBAC. While the website is always asking for field observations, Acuff says those have been in decline for the past few years. He has a solution in mind of creating an app to make sharing information easier and "to meet mobile users where they are."
CBAC is working on adding the technology that will allow people to take a photo that geolocates while they are out on a tour, and later add text about what they experienced in the field. "We are looking for capital to add to that," explains Acuff. The community collaborations that make the CBAC possible also include grant funding, donations and in one case last year, a fireside chat attendee/software expert who volunteered to convert the CBAC's entire collection of forecasting data into a more shareable format. "Each year our sponsors, local businesses and all kinds of local foundations and people step up massively to help, and they believe in what we do," says Acuff.
With as many as 44,000 users last year, those CBAC forecasts can make a big difference for a lot of people.
Acuff signs off with a familiar refrain: "Be careful out there, and let us know what you're seeing."