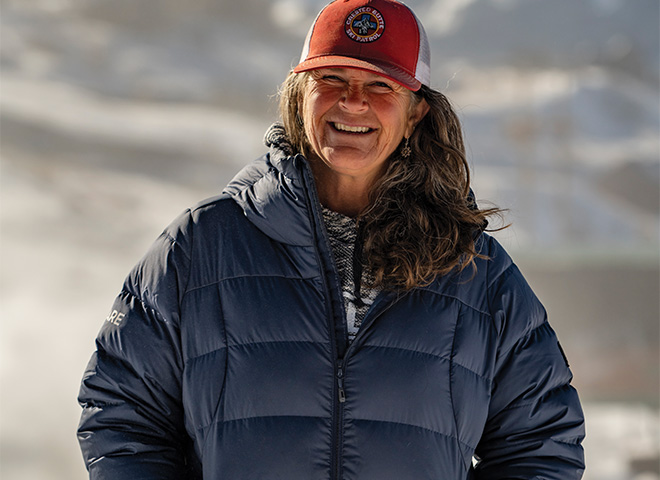 Profile: Krista Hildebrandt
Queen of

 

Winter

 

& Stoke
[  by Kendra Walker  ]
"I'm sort of addicted to snow," says Krista Hildebrandt, proudly showing off her snowflake tattoos running up her forearm. "I love everything about snow, the way the sun rises and sets on it, the way it sparkles. Winter is my favorite thing, I have so many really phenomenal winter memories."
Who better to keep Crested Butte Mountain Resort safe for the rest of us children of winter? A CBMR ski patroller for 32 years and counting, Krista is no stranger to extreme terrain. She is affectionately known by her colleagues as the ASSS (assistant snow safety supervisor) of the mountain, and is charged with avalanche safety and mitigation at CBMR. "I really enjoy helping people and providing a truly unique Crested Butte experience in our very technical terrain," she says.  
Krista's passion for winter hit her early on as a kid growing up in Rochester, Minnesota. "I was in a professional figure skating family," she says of the Shulman clan, noting that both her parents are in the professional figure skating hall of fame. "I grew up learning how to skate and ski. At some point when I was in high school, I declared myself the skier in the family. That entitled me to go ski Mount Frontenac on Tuesdays with my dad who was a volunteer ski patroller there. He's the reason I ski and patrol."
The mountains continued to call, and Krista moved to the Gunnison Valley in 1985 to attend college at Western Colorado University. "I chose Western because I could hitchhike to go skiing," she says. "I would show up to classes in my ski gear with my boots and skis. I'd take notes, fold them up in my pocket and go to the hitching post and hitchhike. I tried to ski every day."
Krista quickly fell in love with CBMR's terrain, so much so that she occasionally found herself scoping the out-of-bounds limits. "I aspired to be a ski patroller when I got caught skiing in a closed area, so I decided I wanted to be one of them," she laughs. 
Krista went through patrol school during her senior year at Western. "Back then, it was a commitment of a couple months where you would learn all the skills. At the end, if you weren't at the top of your class, you wouldn't get a job here," she recalls.
So naturally, Krista set out to be the best in the class. "I tied with my dearest, sweetest friend, Emily, for first place. Here we were, two women finishing at the top of our class." She explains that it was still a time when female ski patrollers often served less extreme office or dispatch roles. "And people were paying attention because we could do the job and everything it entailed," she says. "Luckily for me, there were a few women here who had already broken the ice. Thanks to them and my desire to do the best I could, I was able to get a job here."
Krista reminisces on her early patrol days in the '90s. "There was so much going on with free skiing and we had expanded our terrain. We added the North Face and High Lift, and we were venturing beyond our boundaries as we knew them. It was an exciting time," she says. "We became known as an extreme skiing mountain and the '90s sort of put Crested Butte on the map."
CBMR began to host extreme skiing competitions. "Not only were we hosting events on our mountain, but we were also taking competitors to exceptional venues," she says. The CBMR ski patrol also gained recognition and earned the position to patrol on the Snow Safety Team for the World Extremes Skiing Championships in Valdez, Alaska in the mid-'90s. "We would fly a team of patrollers out there to deal with mitigation work, helicopters, toboggans, rescue, etc. for all these competitions," she says. "It not only opened my eyes to big mountain skiing, but also to the rescue side of these world-class venues. It really helped us with our terrain back home and to grow the caliber of skiers here. We literally had one of the most professionally trained, educated and knowledgeable teams in North America. We were heroes, we worked really hard and we had to maintain a level of professionalism that was top-notch. It was a fun time to be on patrol."
Snow safety and education are of the utmost importance to Krista. In addition to her full-time patrol duties in the winter, Krista teaches avalanche and backcountry courses in the valley. "My heart and soul are dedicated to skiing and now keeping people as safe as I can while they're skiing on this mountain or in the backcountry. I take it very seriously. I want to educate people in the hope they'll come home safely," she says. "You can't teach somebody to make good decisions. You have to exemplify or show people the decisions you're making and hope they in turn make the best decision that's right in front of them."
Krista met her husband PJ through a mutual love for, you guessed it, winter. Specifically, through skiing and gear. "I was a young ski patroller and my best friend Emily and I were patrolling the North Face. I looked up on Staircase in Phoenix Bowl and saw this person skiing. I pointed and said, who is that?!" Emily informed Krista that he worked at one of the local boot shops. "I need to know who he is and I think I need some work on my ski boots," ​​Krista remembers declaring. "So I fell in love with my ski boot guy."
This January, Krista and PJ celebrate their 25th wedding anniversary. "We had a beautiful winter wedding, of course," she smiles. When they started having kids, Krista became the first Crested Butte ski patroller to be a mom. "I was the first pregnant Crested Butte patroller, and I tell my boys, you grew up learning how to ski before you were born," she says. "I'm very grateful to my ski patrol brothers and sisters for allowing me to do that. Being a mom was a big deal and took up a big chunk of my life, and my team was very respectful. I'm happy to say there have been many moms on patrol after me. I'm so proud of each of them for taking on the task of being pregnant and dealing with babies while patrolling. It's a lot…and ski pants just don't fit the same."
Krista feels fortunate for the opportunity to have raised her two boys Carson and Robbie, now in their 20s, in Crested Butte. "They went through the Crested Butte school system, and now they're adults and out and about and becoming the humans I always knew they could be." Both Carson and Robbie are still close to home, living in Crested Butte. 
"If you start with Crested Butte as your home, where do you go from here?" she exclaims. "And they know that, they've traveled a ton and they've been skiing all over. They understand the world is a big place, and yet they still choose to come back here."
Krista has also enjoyed her fair share of traveling, mostly through ski trips. "There's a lot of cool experiences and a lot of cool places I've gone to," she recalls of her adventure travels with her girlfriends. Krista has skied her way across the world, hitting up the mountains of Japan, Norway, "We did a self-guided sailboat assisted trip and picked the fjord we wanted to ski" and Les 3 Vallées in France for the ski patrol exchange, "I brought my family and we lived and skied there for the winter." 
Krista recalls traveling to Gulmarg in Kashmir, India. "People don't know where those places are. The Kashmir region, talk about a crazy place to go. Pakistan was fighting with India over Kashmir, and Kashmir was fighting with India and Pakistan…and here we were saying, 'Woohoo let's go ski!' And we were there to really just enjoy the experience and culture and encounter others who also liked to ski." 
"Although there's a lot of war and hate going on, there are a lot of beautiful people in the world who love to ski. So I'm always planning the next cool adventure, even when it takes planning and time to make it happen. Every opportunity I get, I say yes," she says.
In the summer, Krista runs her own landscaping and gardening business, Acclimated Designs. She also previously started and owned the Alpengardener, which she eventually sold. "Now I work for myself," she says, "but I love to see those Alpengardener trucks and know I created a business that's still standing 25 years later."
And when Krista isn't out patrolling or teaching avalanche safety or ripping ski lines in a faraway foreign country, she finds herself reveling in the quiet times. "I like to find time these days in the solitude of the mountains. I really enjoy riding my bike, backcountry skiing, Nordic skiing, yoga. Those quiet, slower times stand out for me now more than ever before. I've gone from being so energized and so active and so on all the time, to really needing and savoring those quieter moments." 
Overall, Krista enjoys living the Crested Butte dream. "I'm pretty loyal to my winter and summer jobs, my kids, my family and being a good community member. My focus is just living, surviving and loving Crested Butte."
A true queen of winter, there's no doubt Krista has earned her royal stripes. She was even crowned Crested Butte's Queen of Flauschink in 2019. "Being crowned a Flauschink royal was a fun year. My king Dave McGuire and I really embraced it and enjoyed supporting and showing up for all the events around town." And in true Crested Buttian fashion, she has a designated space for costumes in her house. "I do love getting dressed up for all the community events. But mostly, I'm a glitter girl. Because why not?"
After all these years working on the mountain, Krista still loves the thrill of opening new terrain. "After I've done all my mitigation work, I really enjoy making that radio call, saying I feel comfortable with our work and I'm ready to open. You hear the radio chatter and logistics and then they're opening the gate…and then you hear people just go nuts. I love sitting at the bottom of the run listening to everyone's ecstatic whoops and hollers. I love being on the end of that and helping create that stoke."