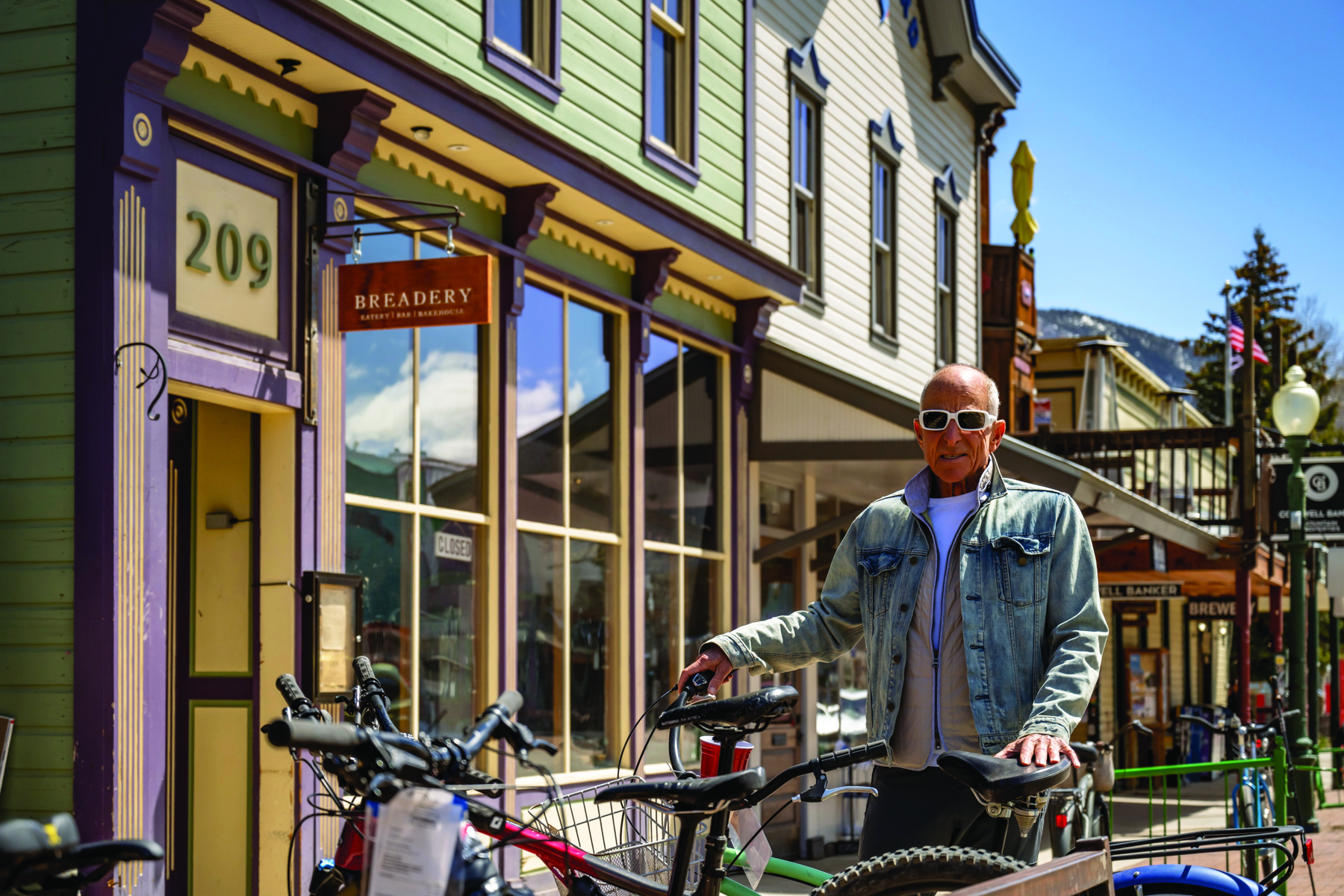 Q&A with Jeff Hermanson
Jeff Hermanson has been a part of the Crested Butte community for decades. A well-known entrepreneur and place maker of the Denver dining scene (think Larimer Square and Union Station), Hermanson has lived in Crested Butte at least part-time for most of his adult life, skiing the resort and riding the trails around the Gunnison Valley since the 1970s. He moved to CB full time with his family in 2021 to raise his daughter here, and although he has always been involved in the restaurant scene in the valley, he is more deeply involved in it—and other aspects of the community—than ever. We caught up with him to get the latest on his ideas and plans ahead of the summer season.
How long have you been in Crested Butte, and what are some of the changes you've witnessed along the way?
JH: Change has always been part of this valley, from the Ute Indians to the mining industry and the transition to a ski area, which coincided with the influx of well-educated hippies trying to escape traditional lifestyles, followed by the pandemic and the rise of remote work. We all want a place we love to stay the same, at least for some moment in time. But that's unrealistic. We can either complain about the changes, or embrace and influence them positively. Last year, I bought my 50th Crested Butte ski pass, and despite the transformation, the one constant in this place is a strong sense of community. Preserving that will always be the matrix of our success going forward.  
How are your various restaurant opening/reopening plans going? And is there any chance of more barbecue?
JH: Kyleena Falzone, along with her partners, Carson West and Scott Brawner, and I hope to open a fast casual restaurant this summer at the site of the old Last Steep. For 212 Elk Ave., the concept will be an elevated mountain hearth with locally sourced ingredients, hopefully launching in the fall. I've also been working on some innovative plans for the Avalanche Building, which I'd like to implement next winter. Hospitality placemaking has been my passion since I opened my first restaurant in Crested Butte in 1976. Even though I'm heading rapidly toward the role of a geriatric ski bum now that I'm 74, I hope I'm not done creating places where people want to dine and gather and celebrate with their friends. 
Tell us about your relationship to local nonprofit 
organization Mountain Roots Food Project?
JH: Mountain Roots is vitally important to me because it encompasses many of the philanthropic endeavors I've been involved with, and it embodies my beliefs about changing the food system for good. The organization coincides with my history in the food world and my ongoing desire to source local produce, change the food paradigm, and address hunger issues — especially in our valley. Right now, I'm helping Mountains Roots buy a commercial industrial space in Gunnison that will serve as a food hub and kitchen incubator for local producers and entrepreneurs. I will continue to do whatever I can to support Mountain Roots and their admirable efforts to create mission-based initiatives to enhance local food systems.
Is there still a conversation with your team and Western Colorado University to help develop their hospitality programming and cultivate more of a food service culture in the Gunnison Valley? How might that programming and influence on the community look?
JH: This partnership is always on my radar, but it's still aspirational. Our goal is to help establish an accredited culinary and hospitality program that will attract talented students, inspire a new generation of food entrepreneurs focused on sustainability and regenerative agriculture, and serve our local restaurants and community in close affiliation with Mountain Roots.
What other entities are you involved with or 
passionate about in the Gunnison Valley? 
JH: There's a plethora of great nonprofits here, but the ones closest to my heart are Mountain Roots, the Center for the Arts, and the Crested Butte Land Trust, where I was fortunate enough to serve as a board member and president and helped pioneer the Woods Walk Trail. The Wine & Food Festival has been yet another passion of mine since I started it about 13 years ago — though I'm not sure how this year will work out since I quit drinking eight months ago! The event has always been more than the name suggests. For example, the chefs who partnered with us helped educate me about sustainability and inspired me to start an urban farm atop Larimer Square. The irony, I soon learned through my daughter Lilli, was that Mountain Roots was already way ahead of us.
I'm also excited about preliminary discussions around revisioning the base area of Mt. Crested Butte with an emphasis on vibrant placemaking, efficient land use, and workforce housing.
Anything new happening with your other restaurant/real estate
interests in Denver (or beyond)?
JH: As an entrepreneur, I generate a lot of ideas. But failure is part of the job description. In fact, I've probably closed more restaurants in Denver than anyone else! But I'm also blessed to have been involved with several iconic, transformative projects, including Larimer Square and Denver Union Station, and I see Populus as similarly impactful. Designed by legendary architect Jeanne Gang, the 265-key boutique lifestyle hotel near Civic Center Park represents an effort to take our commitment to sustainability to another level. Planting thousands of trees — hopefully in Gunnison County — will help offset our carbon footprint and make Populus the first carbon positive hotel project in America. This new construction also marks the beginning of our bold plans to help revitalize Denver's Golden Triangle with multiple projects. 
Beyond the restaurant, real estate and philanthropy pursuits, what else makes you tick? Skiing and mountain biking? Travel?
Elk Avenue benches?
JH: All of these! I always enjoy connecting with people on the Elk Avenue benches, but I also love the Daily Dose, because it's like an early morning Cheers. Most important to me, however, is raising my daughter in Crested Butte, and continuing to engage in pursuits that are impactful and transformative for the community, and maybe even replicable in other places around the country. 
How is your family doing as CB residents? Has everyone adjusted to small mountain town living, or is traveling part of the balance? 
JH: Theresa, Lilli, and I love living in this small mountain town, and Lilli is thriving in school here. Theresa's adult daughter and three grandchildren, along with my projects, take us to Denver frequently, and we also love to travel. But we appreciate coming back to the place that has been my home for five decades. I've always been here, and no matter what the season, I can't imagine being anywhere else.