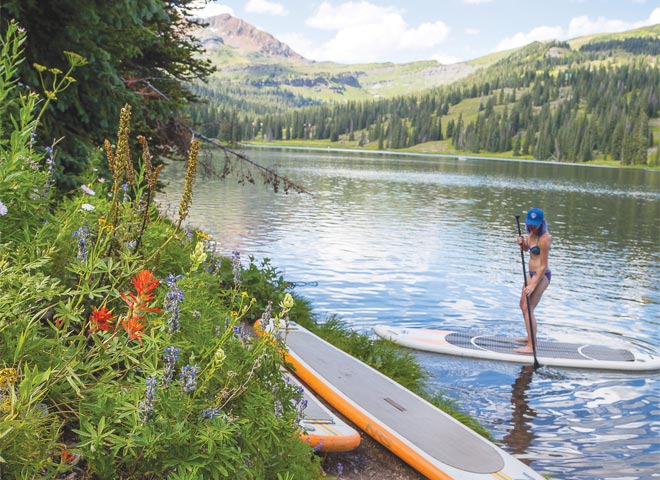 Backcountry etiquette
By Kendra Walker
The backcountry is calling, and as we all seek escape, solace and adventure in the great outdoors, it's more important than ever to take care our beloved public lands. The more we enjoy the trails, rivers, lakes and hidden gems of the Gunnison Valley, the more wear and tear they experience – threatening the very thing that drew us here in the first place.
Together – visitors and locals alike – we can take care of our precious backcountry by respecting the guidelines and rules in place. Thanks to our friends at the Crested Butte Conservation Corps, U.S. Forest Service, Crested Butte Land Trust and Slate River Working Group, here are some friendly reminders to follow.
And across the board, don't forget to be friendly out there, leave no trace and pass it on!
Camping
• Check the weather report before you leave home.
• Pack it in, pack it out. Inspect your campsite and rest areas for trash or spilled foods. Pack out all trash, leftover food, litter and human waste if there are no restrooms.
• Park vehicles and campers considerately. Just because your off-road-vehicle can go somewhere doesn't mean it should.
• Be respectful – drive slow in campgrounds, pick up after your pet, follow quiet hours, don't crowd your neighbors and don't walk through other campsites.
• Build fires in a safe area. Fires are only permitted in established metal fire rings. Open fires and fuel-burning appliances must be far enough away from the tent to prevent ignition from sparks, flames and heat. Check to know whether there are fire restrictions in place before starting a campfire. Do not leave your campfire unattended or abandoned, and ensure your campfire is dead out.
• To prevent wildlife encounters, keep your campsite clean, and do not leave food, garbage, coolers or cooking equipment out in the open.
• Plan to be self-contained if no amenities are provided such as water, restrooms or trash cans.
• Be prepared and pack a first-aid kit and emergency supplies.
• Place your campsite at least 100 feet from any stream or other water source.
• Plan for reduced capacity as sites fill up quickly. Be prepared with a backup plan if your first choice is unavailable.
Trails
• Hike and ride designated and legal trails. An existing faint trail does mean it's legal.
• Busy weekends see overflowing parking areas, so park close together, and carpool when possible. Do not create new spots in pristine meadows or park on private property.
• No trespassing, respect private property.
• Close all gates that you find closed. We share these public lands — respect the ranching community by keeping all gates to how you found them.
• Rinse your bike after rides to minimize the spread of noxious weeds.
• Don't chase or feed wildlife or livestock, ever.
• Yield to horses.
• Yield to hikers. They have the right of way.
• Yield to uphill trail users. If riding, lean your bike off the trail and put a foot down. Don't ride or walk off the trail and make another trail.
• Yield to dirt bikes. It's easier and less damaging for mountain bikes to get out of the way.
• Stay away from the mud. Don't create a new trail by walking or riding around the mud.
• Avoid shuttling.
• Find a bathroom and go before you hit the trail. If there's an emergency situation, use a wag bag or walk 100 big steps from the trail, campsites and water sources, dig a hole using a rock and bury your waste and TP 6-8' under.
Lakes
• Stay on designated trails and tread lightly.
• Respect private property and working grazing lands.
• Park in designated parking areas
• Pack out whatever you bring.
• At Long Lake, no camping or campfires.
• Recreate at your own risk, and remember to bring a PFD.
• Keep dogs on leash or under strict voice control.
• Please give the wildlife plenty of space and respect.
Rivers
• Please respect the great blue herons' critical nesting period and follow the voluntary no-float on the Slate River between the Gunsight Bridge and Rec Path Bridge through July 15.
• Respect the wildlife by floating quietly and not playing amplified music
• Be sure that the flow is high enough to safely make it to the next access point without trespassing on private property
• When floating across private property, all passengers must remain on your craft
• Pack it in, pack it out – do not litter and always pack out your trash
• Use only designated river access points to put-in and take-out
• Know how to use your craft, keep it within your skill level and always wear a personal flotation device on the water;
• Be prepared for your journey by using restrooms provided at river access points before you float.