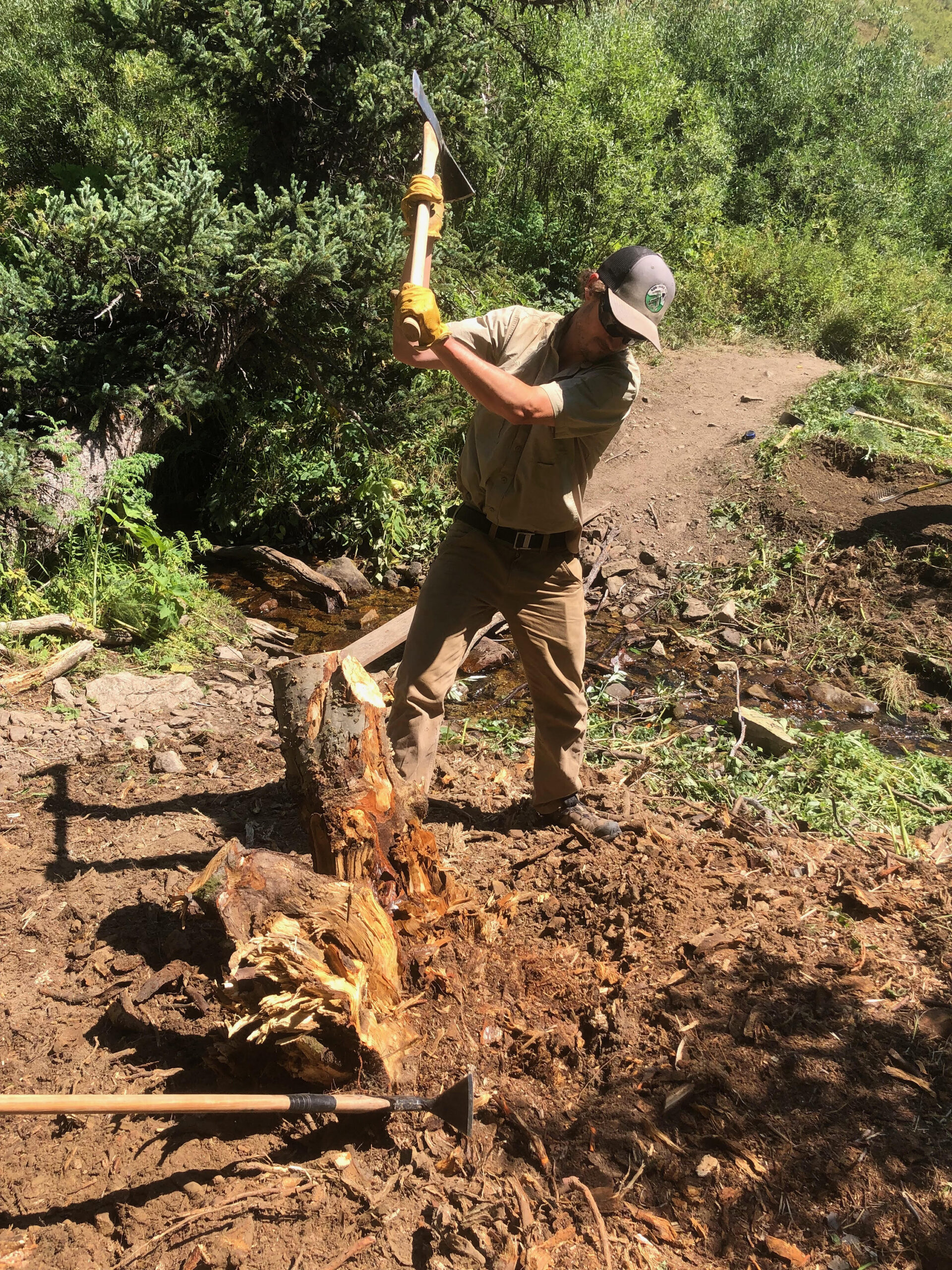 Much more than trail work
Crested Butte Conservation Corps mitigates human impact on wild lands
By Cassie Pence
Crested Butte Conservation Corps (CBCC) crewmember Nick Catmur has pulled chairs, couches, charcoal grills, even gas grills, and lots and lots of human poop out of the backcountry from abandoned campsites as part of his job with the CBCC. It's not always pretty, but Catmur loves his job. He will return for the conservation corps' third summer of helping to mitigate human impact on wild lands.
Like many who were born and raised in Crested Butte, Catmur loves mountain biking. He loves the wilderness. For Catmur, the CBCC is a dream job. What's not to love about getting paid to be outside all day improving the very trails he plays on? Running a chainsaw to clear deadfall is pretty fun, too, he admits. But there's another side to it. Catmur said his work on the corps is also about taking action on a growing problem of poor behavior in the backcountry. Instead of complaining or posting photos of trash or trampled wildflowers, the CBCC allows him to take direct action and be a part of the solution–and that excites him.
"Visitors are impressed that Crested Butte has taken those steps to protect the backcountry and are paying people to do trail work and be out there talking with visitors. But it's also sad. People are paid because it's gotten so bad. We had to do something to counteract the negative impacts of tourism in the backcountry," Catmur said. "I remember the joys of camping up Washington Gulch wherever we wanted. It's a bummer that it's ending. But the access to the outdoors is getting easier and it's just too popular to do that now."
Run by the Crested Butte Mountain Bike Association (CMBA), the CBCC is the counter action to a growing number of backcountry users, many who are inexperienced and uninformed about their impacts. The CBCC is a professional trail crew that splits its time seven days a week between trail maintenance and trail stewardship. Partnerships with organizations like U.S. Forest Service, the Town of Crested Butte, the Tourism and Prosperity Partnership, One Valley Prosperity Project, Rocky Mountain Biological Lab, High Country Conservation Advocates, and the Crested Butte Land Trust fund half the budget for the four full-time employees, plus two junior corps members (high school kids). The other half is raised privately, said CMBA executive director Dave Ochs.
"Three days a week will be maintenance, like fixing years of user impact, braided trails, improving water drainage on a trail or realigning a trail so that it's working with the natural topography as opposed to a straight fall line, like wildlife sometimes uses," Ochs said. "The other four days, we are on the ground at specific locations, trailheads, up Slate River, Gothic, heavily impacted areas, to get information out to users."
Last summer, conservation corps member Ryan Maddux, who will return to the crew this summer, said he spent a lot of his time directing parking at Judd Falls in Gothic when an estimated 200-some people would visit on the weekends.
"A lot of the people don't know what they are doing is wrong—like pulling their car straight into a field of wildflowers," Maddux said. "But 99 percent of the time, what I tell them is well received. It's all about how you present it. I'm not out there to be a trail cop. I usually start with something fun we can all relate to, like 'Great job getting out here. This is such a cool trail ride!' And then, when their guard is down, I make a suggestion of how to do it the right way."
Dressed head to toe in khaki, a throwback from the Civil Conservation Corps of President Franklin Roosevelt's day, the presence of the CB corps is a curiosity to visitors, and a lot of times, it's the tourists who strike up conversations and ask questions, Maddux and Catmur said. Common questions they hear are … "Where do I park?" … "Which way should I ride this trail?" … "If I want to get over there, can I walk through this field?" … "You get paid for this?" The corps members are trained to answer and teach low-impact wilderness practices, like "Pack it in, Pack it Out," "Leave No Trace," and "Stay on the Trail." Regardless of who initiates the outreach, according to partners, the corps' presence is working.
"It has been an enormous help to have the conservation corps. They do a great job answering questions. They also create a sense that people care about the landscapes and they set a positive example for visitors to follow," said Ian Billick, Rocky Mountain Biological Lab executive director. "This has both improved the quality of the visitor experience, while helping visitors better fit into the local lands."
Maddux and Catmur acknowledge how important it is to be the face of local trails, to answer questions and direct visitors, but when pressed to name their favorite part of the job, the inner mountain biker takes over.
"I like talking to tourists and learning why they are here and where they are from, but I also like to go out on a trail and dig with your head down and visualize how you want the trail to come out—a new turn, a better drainage—and just getting to work and doing it," Catmur said.
Maddux agrees.
"Not that I don't love interacting people, that's the fun of trail work, but the most fun I have is when I'm allowed to go and work all day on a really sweet trail section and polish it up, like a new drainage feature, and maybe it doesn't necessarily improve the riders' enjoyment right away, but I take pride in it when it comes out real nice," Maddux said.