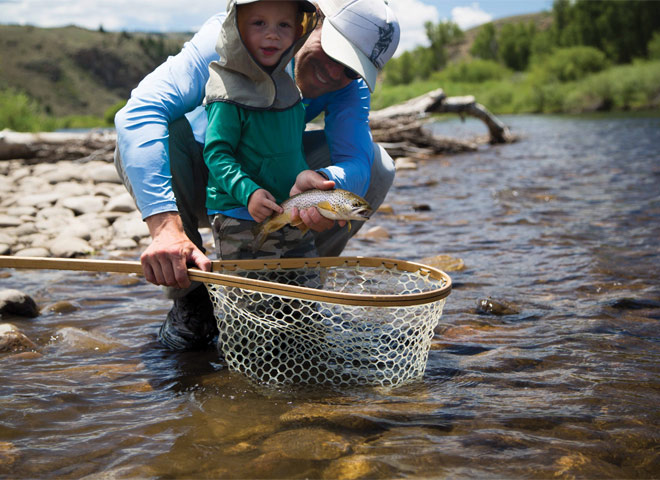 Go on, jump in
[  By Aimee Eaton  ]
There's a place on the north end of the valley where the light on summer evenings reflects off the river's currents like stars come to earth. I like to take my children there. The water is not so deep that they can't wade from bank to bank on their own. Pocket-size brook trout and the occasional larger rainbow hold in the deeper pools. Mayflies and caddis fall from the willows. Bears occasionally ramble by. 
The kids soak their clothes, throw rocks to see the splash, and ask for snacks that will ruin their dinner. Then they fall asleep on the short dusty drive back to town. We tuck them in as the real stars wink on, leaving their covers pulled high and their windows open wide so to not end their time as wild ones, the feral children of Crested Butte. 
Four unique rivers can be found within a stone's throw of Crested Butte. The origins of the Slate start at an elevation of 13,000 feet and runs down the east side of the Ruby Range toward town. The East River flows from near Copper Creek and Emerald Lake and around the backside of Mount Crested Butte. The Slate joins the East just north of Crested Butte South, then flows downvalley to Almont. The Gunnison River – a major tributary to the Colorado River, which itself supplies the majority of water to the southwestern United States – begins in Almont at the confluence of the East and the Taylor River. 
These rivers make this valley. Fed from snowmelt, our waterways are vital to our infrastructure and environment. They support: native habitats, including the wildflowers that paint our hillsides and meadows; fish and wildlife including several threatened and endangered species like the elusive lynx; the agricultural and ranch land that do so much to preserve wide open spaces; and our human communities.
When the snow falls we are a region rich with water. Yet, therein lies the danger. Climate change poses a real and significant risk to the entire Gunnison Valley's river systems. As goes the snow there goes the water. 
In a moderate climate change scenario modeled by scientists at the Western Water Assessment and the National Center for Atmospheric Research, Upper Valley rivers and streams, including the Slate and East, will experience a 5-10 percent decrease in annual stream flow by 2040. There will also be earlier snowpack melt, and peak streamflow will move back by a week. In an extreme scenario, identified by a mean annual temperature greater than 5.4°F, local rivers would see a 20-25 percent decrease in annual flow. Fish and flowers would die, guides would be out of jobs, agricultural land would turn to tinder, unable to support crops or cows. 
It is a future that sends me shaking to my past. 
It is 2012. I'm standing hip deep in the middle of the Gunnison River about a quarter mile downstream from the confluence. I've tried crossing to fish the far side, but recent rains and a good winter have the river running high, pushy. Four more steps and I can reach a highspot where the current won't be quite as strong. I slide one foot forward. Then the next. Slowly I make ground. Feet finally secure, I take a few steadying breaths. Pull out some line and cast upstream. Miss the drift. Strip back in and cast again. There it is. My flies float in the seam between the fast current and the slow. A feeding lane for hungry trout. A silver nose comes up and in my overexcitement I blow the set and the fish slips back underwater. Hurriedly, I cast again. Straight into the cottonwood branches that hang over the bank. Behind me a guided trip floats in a green rubber raft. Perhaps a better way to fish the river, today.
Now it's 2014. Our son is two months old and we're having a picnic on the banks of the Taylor River after spending the morning fishing with him in a chest pack. His bucket hat keeps slipping down his head to cover his eyes and his face, but instead of crying, he smiles and shakes his small fists. I lay on the blanket with him as my husband fishes pocket water with dry flies a few feet away. Each time he brings a fish to hand, he cradles it gently for our son to see. "Look, a brown." "A rainbow." The sun sends dappled light down through the branches above, and I think what a gift this is. This child, this river, this life. 
2016. Our second son arrives in August. We wet wade, catching tiny fish on tiny rods as onlookers share shocked expressions after catching views of the newborn face tucked tight into my chest. I whisper to him that these are his rivers, his birthright. Then I set the hook. 
Outside, it's summer. 2022. The land verdant and alive. The rivers are flowing, calling for stones to be skipped, fish to be caught, currents floated. My best memories come from water, but I don't want to live in the past. Right now, there's still time to get out there. To soak it in and implement changes. To make sure we're all making memories for decades to come. Go on, jump in.