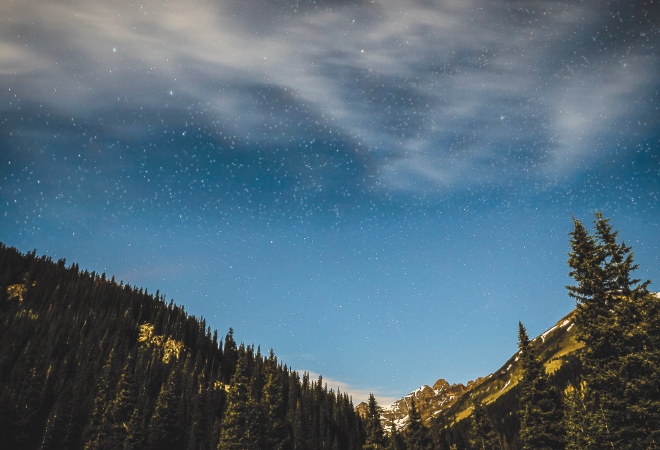 Backcountry etiquette
By Katherine Nettles
Be prepared, be nice and watch out for the wildflowers
Many people have heard of Leave No Trace practices, but sometimes people get caught off guard when they are out in the woods, and some people are new to the wilderness environment altogether. This year it's more important than ever to take care of our trails and public lands, as larger numbers of people visit them after being cooped up in coronavirus quarantine all spring. Dave Ochs, executive director of Crested Butte Mountain Bike Association (CBMBA) and Crested Butte Conservation Corps (CBCC) says the impacts are already happening in a big way.
"We at CBMBA and the CBCC are expecting big numbers and big impacts. If the other early season recreation destinations are an example of what is happening in the COVID era, then we are going to be in for a crowded and busy backyard," he points out.
"Like usual in trying times, people realize just how important certain resources are. Open space and recreation opportunities have been at a premium since the virus came about," says Ochs. Likewise, the Gunnison County Tourism and Prosperity Partnership estimates that there will be tens of thousands of visitors to our public lands this year.
That has the potential to have a big impact on the backcountry. To help protect it from damage consider this before each action: what if everyone one else who visits does the same thing? If that field of flowers, that muddy section of trail, that campsite or parking area would be worse for wear, reconsider. Each person's impact makes it that much more tempting to the next person, and erosion is hard to reverse.
To help all of us take care of the backcountry, visitors and locals alike, we collected the most current guidelines from local experts on how to handle various situations, both on trail and off:

Stay on roadways and trails: Matt Reed from High Country Conservation Advocates says to look out for the wildflowers. Driving up Gothic Road toward Judd Falls or Rustler's Gulch, it may be tempting to pull over and snap some perfect photos of those vibrant colors and the mountain backdrops, but many people trample and destroy vegetation in the process, both with cars and with their feet. So be aware of other drivers, use traffic signals, pull over only in pull-off areas and accept that you need to stay on the trail or the road to capture your memories.
Be respectful of cattle gates and private property: A lot of local trails are made available by local ranchers and private property owners. As bike coach Sierra Cucinelli of Crested Butte Development Team advises, take note of those signs. "When there is a section of trail that is on private property, stay on the trail as respect to the landowners who generously let us recreate on their land!" Failing to do so could jeopardize access to the trail.
Uphill hikers and bikers have right of way: Sometimes uphill travelers want to take a break and move aside, but when moving downhill, don't make that assumption and always move off trail first unless you hear otherwise from the person you encounter.
Pass carefully: Cucinelli suggests a simple social distancing measure to take a single step off the trail and turn your back on the party that is passing you. "It might seem a bit rude at first, but it is truly a safety measure to stop the spread of COVID-19. Additionally, simply turning your back can reduce damage to the sides of trails since users do not have to step off the trail as far," she explains.
No bikes are allowed in Wilderness areas. Keep motorized toys (e-bikes and dirt bikes) on motorized trails.
BYOB: Bring your own (wag) bags on day trips and overnight trips and remember to take them with you when you leave. There has been a major poop problem on our public lands in recent years—our waterways have shown rising E. coli rates from humans and pet populations. Pack all poop, toilet paper and feminine hygiene products out with you, and consider it simply part of the experience. The Alpineer in CB (419 Sixth Street) carries sealable, sanitary wag bags. Digging a hole is a distant second choice and should never be done within 200 feet of water.
Park campers considerately: Off-road vehicles have amazing new capabilities, but just because you can go somewhere doesn't mean you should. Erosion is hard to reverse, and this has been an issue in recent years for the Forest Service and the Bureau of Land Management. "The combination of significant year-over-year increases in visitation as well as new technology that allows campers to push deeper and persist longer in the backcountry has created a situation that under our current management strategy is not sustainable," says USFS Gunnison District ranger Matt McCombs. Because of this, many dispersed camping areas are being decommissioned in favor of designated ones.
Use designated campsites and amenities: A new designated camping system is being developed in the following drainages: Kebler Pass, Lake Irwin, Splains Gulch, Slate River, Washington Gulch, Upper East River, Brush Creek and Cement Creek. Reed says it is critical to use the existing firepits, rather than scarring the landscapes with new ones. "It's amazing how many redundant fire rings there are across the landscape, literally just feet from each other," he adds. Also, douse fires completely so they are cold to the touch–it has been a dry year. For more info on where to camp, see story on page 39.
Make a habit of picking up trash: Reed suggests you keep a bag handy for this wherever you go because of course, "every little bit helps."
Be nice: "We have amazing trails here for all outdoor enthusiasts—which means the trails can get crowded," says Cucinelli. But there's no need to get grumpy about our leisure time.
Take care: "As people engage one another at the campground or on the trail, we hope they'll do so with a generosity of spirit and an eye towards taking care of each other," says US Forest Service Gunnison Ranger district spokesperson Kim Phillips.
Happy trails! Let's all treat the areas we visit with respect and help keep them beautiful.