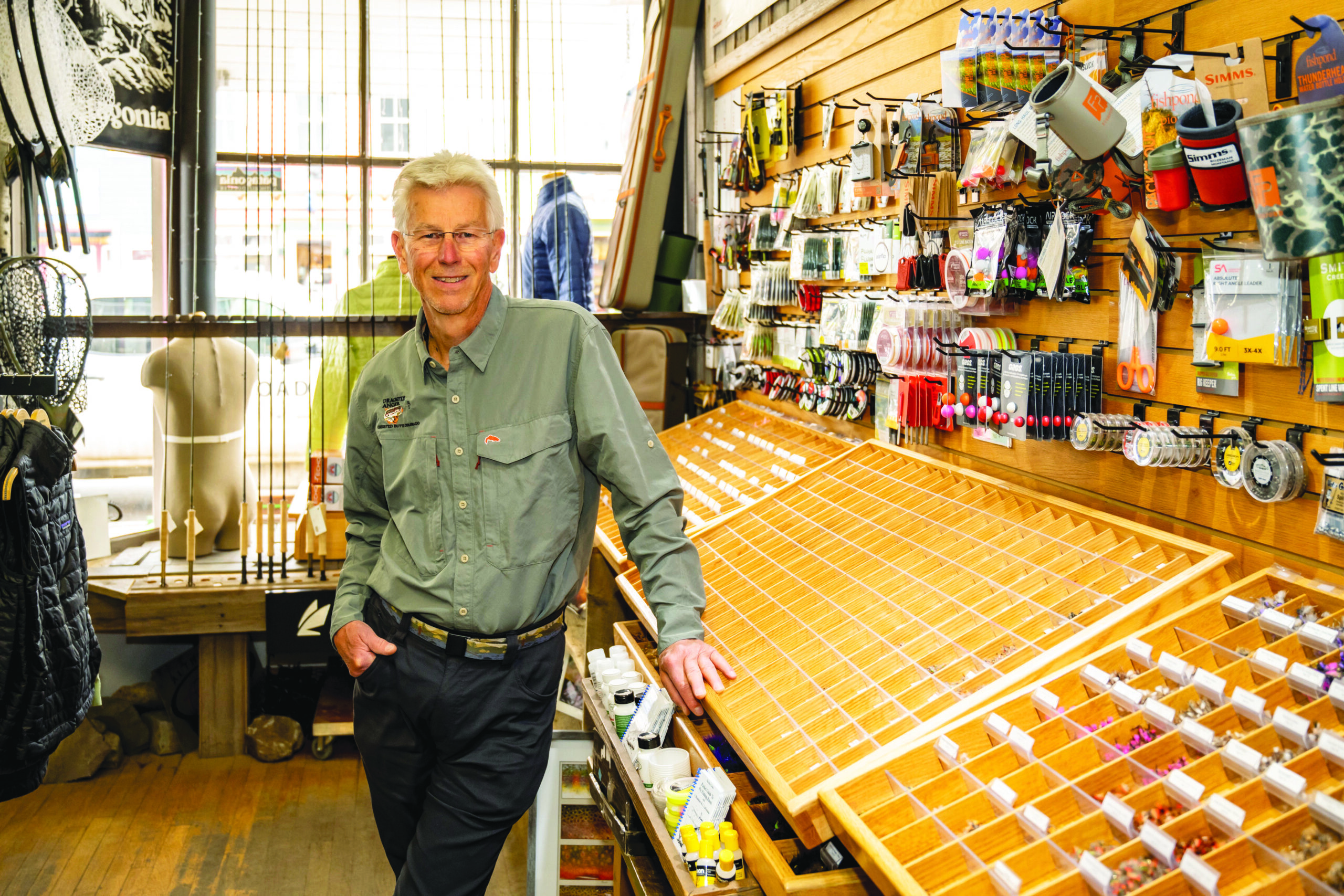 Every place has one. Ours is Jim Garrison.
By Seth Mensing
Wherever there's a body of water with fish in it, there's someone who knows it better than most. Like a sailor watching the wind and tide, they'll take a look around, lean on their intuition and know just what kind of mood the fish are in. Usually, they're right. Sometimes they're not, but they go home better for it. People will use words like "colorful," or "one-of-a-kind," to describe them. Others, often from places far away from where they live, might call them "eccentric" or "cantankerous." Here, we just call him Jim.
Jim Garrison, or G Diddy to his grandsons, might be the best proof available that days spent outside don't count against you. If you look beneath the sun-spotted and weathered skin, he hasn't aged a bit since he moved to the Gunnison Valley 32 years ago. Back then he was a recovering electrician from Oklahoma seeking refuge in the mountains with his young family and his photography. Today, he's fully recovered, and while the photographs that he mats and frames at his home studio sell better every year, he might be best known as the oldest fly fishing guide in the basin. He's hoping one day he'll be the oldest in Colorado. 
Until then, he'll just keep doing what he does: telling jokes, making people smile, riding his bike or "running from old age" out at Hartman Rocks, selling art at the Paragon Gallery, chasing fish and spending his days showing the uninitiated all the reasons he can think of to love the world they're living in. 
When Jim was a boy growing up on his family's ranch in the windswept hills of Osage County, Oklahoma, he realized outside was where he wanted to be. You can ask him, like many people do, when he started fishing, but he can't tell you. It's one of those things that started back before memories begin. But he might look back through his favorite moments and say, "Growing up, granddaddy and me would be sitting there fileting [pronounced fEE-lay-in] fish and he'd pull off a bluegill filet and go, 'Jimmy, people'd pay $5.95 a pound for shrimp that size.'"
Around 1960, when he was 8 or 9 years old, his father, who himself was a hobby photographer, got Jim a Kodak Brownie Flashmite and he started taking pictures of the places he'd go and the things that interested him. But the photos weren't very good and soon he wanted something better. He upgraded his camera, learned what he needed to know to use it well and eventually was taking photos of horse races at the local track to sell to magazines. Although he wasn't sure if you could make a living as a photographer, he found out there was money to be made after he stayed up all night to shoot cicadas emerging and sold the resulting photographs to Ranger Rick, the children's magazine published by the National Wildlife Federation. When he got the check, he realized there may be a future in photography after all. 
From the beginning, fishing was a fixture in Jim's life and photography wasn't far behind. With both, one thing always seemed to lead to another. When he outgrew the bluegills and panfish, he was trying his skill in local bass tournaments. Eventually, he wanted to try it with a fly rod. And today, above the windows that cover a wall in his home in Gunnison, he has the old bamboo fly rod he learned to fish with and eventually broke casting in the wind in Oklahoma, with the line leading from the tip of the rod to a fish on the wall like it was pulled from an angler's hands mid cast. 
By the late 1980s, the Garrison family was piling into the car every summer and heading west to jump into the art festival circuit that would take them around Colorado. For two full summers, Jim, his wife Patti, and two children would pull into a mountain town on a Friday, get out of their dirty clothes and put their feet up at a hotel while he sold his photography at the art show all weekend. Then they'd find somewhere to camp, hike the trails and take photos until Thursday, when they'd pull up stakes and do it all over again. 
"Once we hiked into an area called American Lakes. It was windy and all the people fishing with corks and worms, with their lawn chairs and cigarettes and beer were huddled up with their backs to the wind," Jim says. "Seeing as how we didn't like people [he grins], we went to the other side where the waves were lapping up against the shore to eat our lunch. Being the curious guy that I am, I was watching the insects on the water, and I could see these ladybugs. And pretty soon I saw these fish going sip, sip, sip. I turned and told my wife, 'If I had a flyrod and a ladybug fly, I could do pretty good up here.'" 
When the summer was over and it was time to head back to Oklahoma, they all had tears running down their cheeks by the time they hit the Front Range, wishing they could stay. Jim went home from American Lakes and started studying fly fishing. He was already shooting for magazines and stock photography services, doing the art festival circuit and selling his art in galleries. But whether it's fishing, photography or the place he calls home, he doesn't like to settle for just good enough. So in June 1991, the Garrisons packed up and went west for good. 
"We knew we wanted to move up here from where we were living in Norman, Oklahoma. I mean, Norman's not the end of the earth. But you can see it from there," Jim says. "I moved to the Gunnison Valley because I liked being here, I liked what I saw and I wanted to be like the people who lived here. I'm not ashamed of where I came from, or I would try to disguise my accent. But this is home. I've never felt better about living somewhere than I do about living here."
Those first few years in the valley were lean. Patti worked at the school and Jim had his art in galleries around the state, continued to shoot for magazines and stock photography services, and would head back to Oklahoma and down to Texas to jump on the art festival circuits there for the first couple of summers. In his free time, he would go fishing and flip through all the fly fishing magazines he'd subscribed to, studying and cutting out articles he thought would help him improve. 
At various points, he thought about starting his own guide service, but after seeing a bit of how the business worked, he made his way up to see Rod Cesario at Dragonfly Anglers in the summer of 1993 and he's been guiding there every summer since. His photography found a home too, on the walls of the Paragon Gallery, where he's learned how to take and present photographs that will sell in the local market. And somewhere in the course of 30 years, 1,857 guided fishing trips and thousands of photographs, Jim found the life he came looking for and the Gunnison Valley got the guy every place needs.