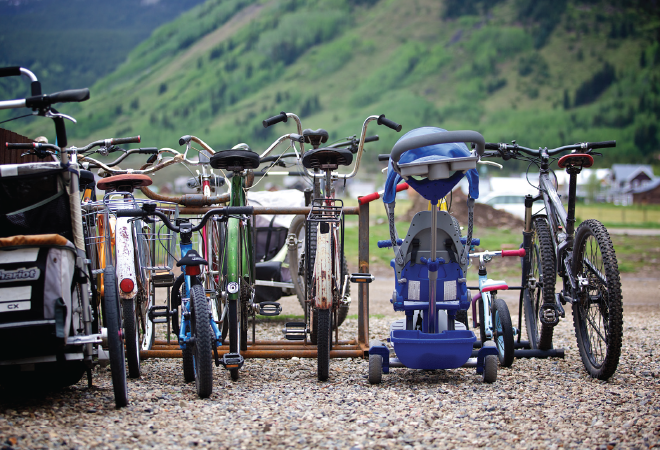 Bike obsession
Story & Photos by Mike Horn
"Wow! It looks like a bike shop over here!" said a family friend as she rode into our driveway. "Look at all these bikes!"
Her offhand comment couldn't have been more ill-timed. My wife had announced just minutes before, for the hundredth time, that we have WAY too many bikes. That we need to get rid of some bikes and clean up this mess. That I have a PROBLEM with bikes and something needs to be done about it.
I immediately deflected blame to the kids and tried to make it a household problem. "The kids have seven bikes between them," I lamented. "It's not just me…it's all of us." My wife wasn't buying it. I can't really blame her.
I am the ringleader of this so-called "bike problem." I love bikes, from pre-war klunkers to state-of-the-art mountain bikes, choppers to Stingrays to classic cruisers. I love the simplicity of the old and innovation of the new—the patina baked onto a 70-year-old frame by the Colorado sun and the plush of full suspension on a rocky descent. I love not driving my truck, and riding with my kids, my friends, and even people I've never met. When given the option I ride, whether to the beer store or neighborhood singletrack. I like bikes. A lot.
As our friend who made the "bike shop" comment rode away, I stealthily retreated from the bike rack to avoid hearing "I told you so" and drawing attention to any of my bikes. I won't even talk about the ones that got away i.e., a couple of sentimental cycles that were put out to the curb with a "free" sign, all under the cover of darkness so I wouldn't retrieve them. Now THAT'S a bike problem.
In my eyes, the only bike problem I have is not riding enough. And I'm fortunate to live in a place with trails right out the door and bikes ingrained in the culture. I get my fill.
But when a friend drops the "looks like a bike shop" comment unprompted, it may be time for some self-reflection.
How does one know if they have a bike problem?
Have you ever hidden a new (old) bike at an undisclosed location so you can subtly ease it into circulation and hopefully avoid detection by your significant other? That's exceptionally difficult when the undercover bike is banana yellow, by the way.
Did you buy your wife a new (old) bike for her 40th birthday, even though she had no desire or need for one? After all, she already has three bikes, as she may have reminded me upon receiving the gift.
Have you salvaged bike parts out of someone else's trash pile, even though you'll NEVER use them? Who doesn't need an extra set of fenders and a bent rear wheel that might make a cool wall hanger?
Does any of this sound like a problem to you? No? Me either.
Sure, life can be a tangled mess of handlebars and pedals caught in spokes. There are more bikes than spots in the rack, more bikes than days in the week. But I have my reasons… and like I said, the kids are part of the problem.
Yeah yeah, I haven't ridden "the red bike" since the Chainless Race last June. But that old Columbia and I go way back. I lugged it out here from Vermont in 2008.
And "the green one with the flat tire?" That's an easy fix. I traded a pair of snowboard bindings for that bike, and my friends like to ride it when they come visit. It's a classic.
"The orange one with the baskets?" My grocery-getter and mail courier of course. I scored that thing for $25 at a yard sale.
And lastly, "the yellow one," the latest addition to the fleet that I hid in a friend's storage unit to escape early detection. I needed something with gears to tow the kids' trailers with, and what better than a mid-1980s Diamondback? Did I mention how cool the rear brakes are on that thing?!
All that said, the bike rack really is full, and "we're not getting any more bikes until we get rid of some." Which I'm okay with…as long as we don't get rid of any of mine.