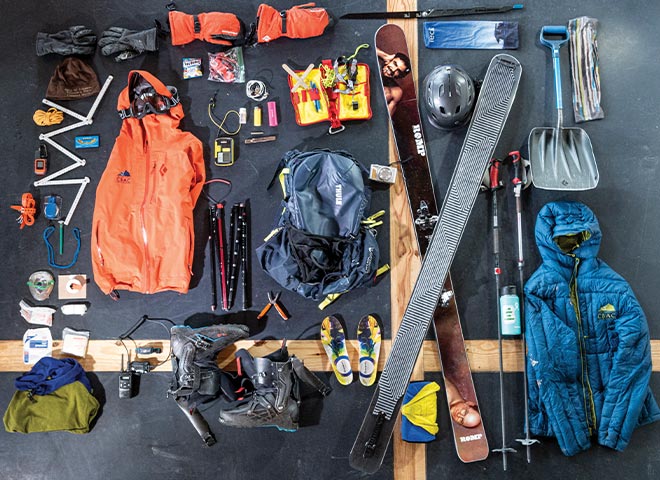 What's in Zach's Pack?
CBAC's lead forecaster, Zach Guy, shares the gear he brings on a ski tour or out in the field for a day of avalanche forecasting.
Zach's on-person gear:
• Touring skis – (custom graphics with Burt Reynolds and George Costanza on them, thanks to the guys at Romp).
• Touring boots, Poles, helmet – bonus: heated footbeds
• Beacon – worn on person (NOT in the pack!).
• Airbag Pack – It's good practice to wear the bikini strap so the bag stays fitted to your body and doesn't choke you.
Zach's pack:
• Climbing Skins
• Shovel & Probe
• Delorme InReach – With charged battery, for emergency communications outside of cell service.
• Charged Cell Phone – For emergency calls, taking photos, and navigating with mapping apps like Gaia, onX, CalTopo, and Google Earth. (Best to keep this, and all electronics, at least 12" away from your beacon to reduce signal interference.)
• Handheld Radio – Helpful to talk to partners if they get out of sight or out of shouting distance. You can check in, alert them to hazards, and make sure they are ok.
• digital Camera – 40x zoom, to document avalanche activity
• Headlamp – In case the trip unexpectedly goes into extra innings.
• Extra Batteries – AAA batteries for beacon and headlamp, and a USB stick with cords that can charge the Delorme or cell phone.
• Snow Saw – Helpful to cut stability tests and for cutting tree limbs or blocks of snow to build shelter/fire in case of an emergency bivy. (And once a year perfect for cutting down a Charlie Brown Christmas tree.)
• Snow Study Kit
• 1st Aid Kit – CPR mask, wound care supplies, pain and allergy meds, triangular bandages and ski straps for splint building, medical tape, handwarmers, etc.
• Repair Kit – Ski straps, leatherman, duct tape, torx bit and a couple of extra binding screws, needle and thread.
• Sunscreen and Chapstick – It gets sunny in Colorado.
• Emergency Survival Kit – Bivy sack that doubles as a rescue sled, fire starter kit (waterproof matches, lighter, tinder stick), water purification pills, orange flagging tape to mark a location or flag out a landing zone for a helicopter, and emergency response cards with important phone numbers, checklists, protocols, and other information.
• ~20 ft of cordelette – for going on belay for ski cuts, digging pits, approaching a cornice, or the like. Doubles as a tow line for a makeshift rescue sled.
• Snacks!
• Thermos or Water Bottle – Miso soup can be great when it's really cold.
• Extra Mittens – If your gloves get soaked or hands get cold.
• Extra Layers – A puffy jacket that's warm enough to survive the forecasted overnight temps in case of injury or having to spend the night.
• Sunglasses and Goggles
• Baseball Hat – Zach's #TIRED hat usually fits the mood well, but pick your fave.
• A few buffs and a fleece beanie – For neck gaitors, headbands, etc.
If snowmobiling, this list also includes basic snowmobile repair supplies, a riding jacket and helmet.