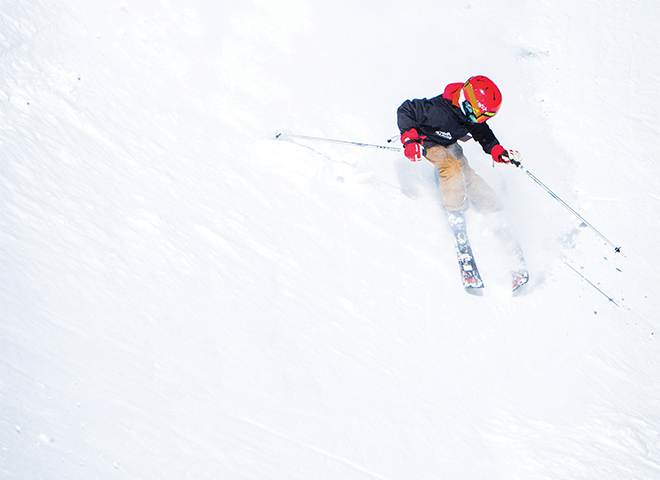 Inspired by Snow
The Crested Butte Snowsports Foundation empowers youth through snowsports
by Kendra Walker
Snowsports and ski culture have deep roots in the Gunnison Valley dating back to the 1980s. The ski area we know today in Mt. Crested Butte started in the '60s, but in fact, the Gunnison Valley has been home to a dozen "ski areas" supporting lift-accessed skiing over the years. It's clear this community loves winter, but despite our collective draw to play in the powder, fluff and slush, not everyone in the Gunnison Valley has easy access to snowsports.
"We are a ski town and a ski community and I think a lot of people have the assumption that every kiddo in the community skis, but that's not the case," says Crested Butte Snowsports Foundation executive director Erica Rasmussen. "It's no secret that skiing is not the cheapest sport, there's expensive passes and equipment needed. There's a barrier to participation that our organization strives to help support."
The Crested Butte Snowsports Foundation helps youth in the Gunnison Valley pursue their passion for snowsports through financial and program support, partnering with local organizations and programs around the valley that get kids and families out to enjoy skiing and snowboarding. 
Like most non-profits, last winter was tough on the Snowsports Foundation and it took an operational pause in the midst of COVID-19. "We didn't have as much fundraising and couldn't serve the community like we usually do," says Rasmussen. "But we're back and we're ready for this new chapter. And we're really excited, our leadership team and board is feeling empowered and inspired to support the community again." 
Rasmussen is ready to take the organization to the next level this winter. "What really drew me to this position is that youth empowerment through snowsports has so many benefits," she says. "I've been skiing since before I could walk. I've grown up as a skier – my heart has certainly always been in skiing and it's something I have a lot of passion for. It's really exciting for me to give back to the community and really inspire the organization into this next chapter." 
Under Rasmussen's leadership, the Snowsports Foundation is tackling youth empowerment through snowsports like never before with new initiatives, valley-wide partnerships and revamped events for the entire community to enjoy. 
Cranor Hill
This winter, in addition to providing funding for transportation for the Ski for P.E. Program, the Snowsports Foundation has partnered with Gunnison Parks and Recreation to bring free ski days at Cranor Hill Ski Area near Gunnison. For five Wednesdays this winter Cranor Hill will be open for free from 1-4 p.m., not just for the youth of the Gunnison Valley but for anyone that wants to come ski or snowboard. The free days coincide with the Gunnison Watershed School District's Wednesday early release schedule, and the Snowsports Foundation has arranged for gear rentals and buses for the kids.
"We're really thrilled to bring this newest initiative this year," says Rasmussen. "It's also great for younger kids not yet in school to be introduced to the sport. It's about getting them out there and giving it a try. It also works for homeschool kids or Western Colorado University students taking a lunch break," she says. "It's efforts like these that just help make skiing more accessible. It's just one more way for our community to enjoy the snow."
Swag
Another new effort this year includes the Foundation's I Heart Snow initiative. 
"Thanks to our business memberships, every snowsports youth participant will get a free I Heart Snow t-shirt or hoody," says Rasmussen. The organization plans to distribute 1,500 free t-shirts and hoodies to instill pride amongst both donors and snowsports participants. 
"The community building aspect of that is really important," says Rasmussen. "This makes it really easy for the kids to feel a part of the community and proud of their association with skiing or snowboarding."
Scholarships and Fundraising
The Snowsports Foundation isn't just about getting more youth on the snow and wearing cool gear, it's about supporting them and their needs through a scholarship program. This winter, the Snowsports Foundation funded nearly $30,000 in scholarships, accounting for every single application. Participants in ski, ride and Nordic programs can use their scholarship funds for fees, passes and equipment. The Snowsports Foundation's need-based scholarships are made possible by the generous gifts from community donors, sponsors, memberships and revenue from fundraising events. 
"Being able to say yes to every single scholarship ask is really exciting, and that's so important because we are a ski community," says Rasmussen. "But even though we were able to support 100 percent of funding requests this year, there still is more need in our community."
Rasmussen says the Snowsports Foundation's goal is to more widely distribute the application next year, and have a Spanish language version of the application available as well. "We're really working hard to move forward to serve more of the community the best that we can," she says.  
Fundraising is a critical piece to the Snowsports Foundation's ability to serve the youth in the Gunnison Valley, which is done through its annual winter kickoff and gear swap, spring fundraiser party and membership program. 
Looking ahead this spring, Rasmussen is excited to transform the organization's annual gala fundraiser into a '80s themed party weekend in March. "Instead of the traditional fancy gala, we felt it was more fitting for us to throw a retro themed party, in true Crested Butte spirit," says Rasmussen. "It's the 30th anniversary of the free skiing extremes that started here in Crested Butte." 
"We'll be inviting back all the athletes and judges of the past to join us and make it a fun weekend for the community and visitors alike to participate." 
The weekend will include the free-skiing participants' reunion, an '80s party and the opportunity to ski with past free-skiing legends and current free-skiing athletes. "Any level can be a part of a group and have a fun day on the mountain," says Rasmussen. 
In addition to the fun community events, support for the Snowsports Foundation and the youth of the Gunnison Valley through snowsports can happen at any time, year-round. Interested individuals and businesses can make donations or sign up for an annual membership on the Snowsports Foundation website, crestedbuttesnowsports.org. 
"We're a non-profit inspired by snow," says Rasmussen. "It's so important to receive support from this community of people who are just as passionate about snowsports as we are, and help our local youth enjoy it too!"