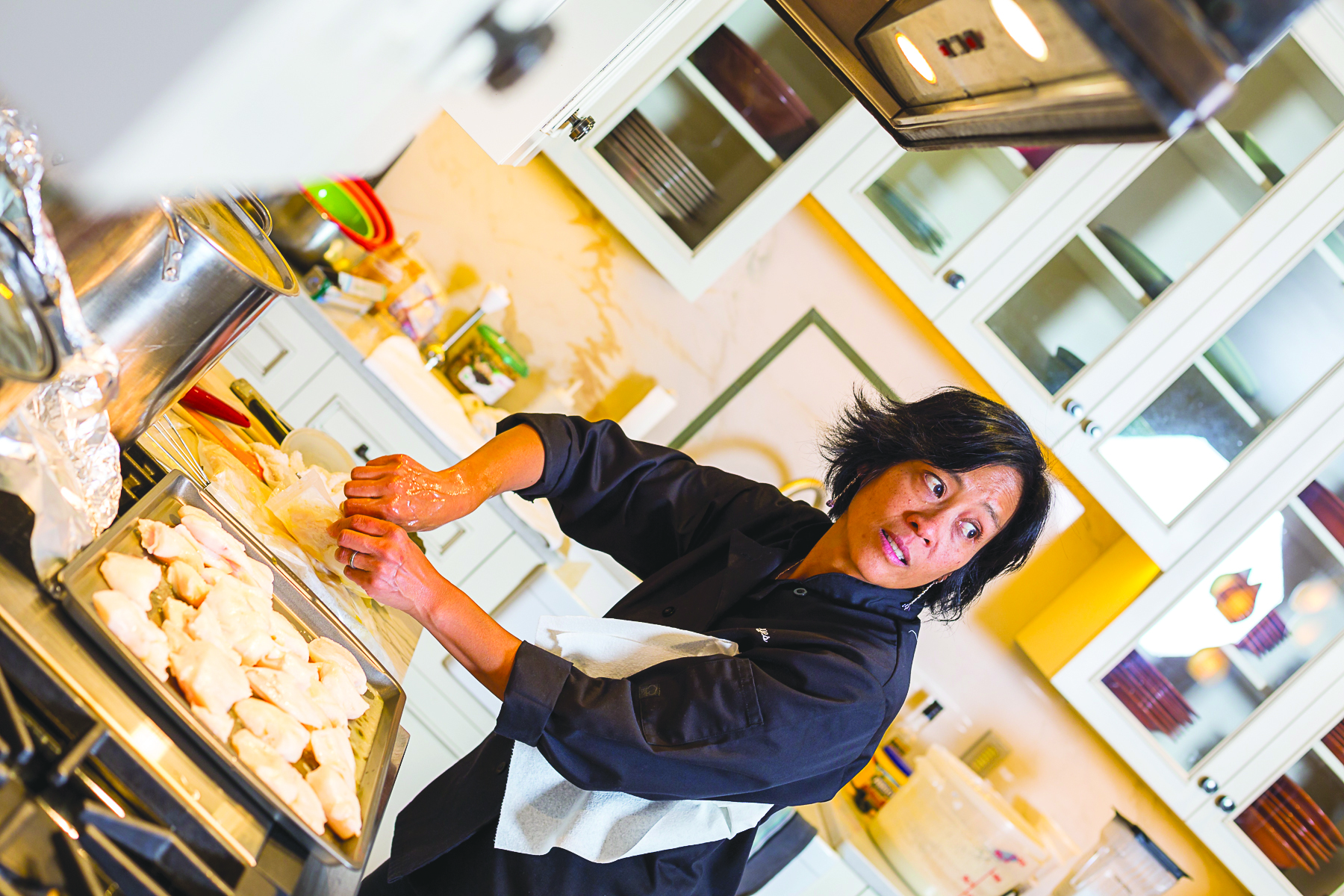 A family affair: one local chef draws inspiration from her mother
By Cayla Vidmar
When Rose Reyes was just three years old, living with her parents and two siblings in the Philippines, her mother took a leap of faith and moved to Canada, then Los Angeles to support the family. Decades later, Rose has made a leap of faith of her own into the world of cooking—tracing a lineage and love of food passed down to her from her mother.
"I never as a child thought cooking was going to be a profession," Rose recalls of her youth and progression through a number of jobs prior to becoming the head chef for Montanya Distillers in Crested Butte.
Rose's menu at Montanya Distillers is creative Asian fusion street food featuring farm fresh ingredients. Taking the distiller's owner, Karen Hoskin's, love for travel, Rose puts together a seasonally rotating menu that reflects that international love affair. Among the staples on the menu is Rose's ramen, a packed bowl of flavor, with springy homemade noodles, greens and an assortment of tasty additions to customize your brothy bowl. The dish is a year-round local favorite.
But Rose's success in the kitchen had rocky beginnings, and like most underdog stories, Rose had to bet on herself, even after being let go from her first position as a chef.
"I think it was about five years ago, I was a mom, and cooking and trying to stay healthy. I think I got really interested in food based on health," she says.
This off-handed interest in food eventually brought her to a local restaurant, where she approached the owner and offered to put together a breakfast menu and run the service—with zero experience in a restaurant kitchen.
"The menu worked out really well," recalls Rose, but unfortunately her position with the business didn't and eventually Rose was let go. "It was actually a blessing for me, and I realized… that I was capable of running a kitchen," she says.
Despite a difficult beginning, Rose made the choice to enroll in culinary school and chose a six-month program at Cook Street in Denver, CO. Again, her choice to pursue cooking lead to another leap of faith, this time presenting the idea of living in Denver for the duration of the course to her husband.
Amidst some trepidation of the change of pace for the couple, he supported her decision to move to Denver and pursue her love of cooking, telling her to pursue whatever made her happy. Thankfully Rose didn't have to go to culinary school alone after convincing her niece, Cheyenne Eisert, to attend school with her.
The two budding chefs lived in an apartment in Denver and attended school together, and Rose says, "It was such an awesome experience."
While she was wrapping up the last month of her studies, the folks over at Montanya Distillers offered Rose a position in the kitchen, but for only a month.
"I had no idea where it would take me," Rose says, "but the passion was there for me." Fortunately for Rose, the opportunity grew into a permanent position and a continued passion for cooking.
That passion, as Rose says, comes straight from her mother and her Filipino heritage. "I'm 100 percent Filipino. I wasn't born in the U.S. and my mom always had that culture in the family growing up," Rose says, reminiscing about rice and vegetables in her lunchbox while other kids ate peanut butter and jelly.
The Filipino food culture, which Rose's mother made sure to maintain even when the family transitioned to Los Angeles, is something that has deeply influenced her taste in food and cooking style. "I never go to American type foods; there's always got to be food with culture. When I eat something, I want to feel the cultural experience."
Even as a child, Rose loved good food, when her mom would cook exactly what Rose wanted for dinner—rarely consulting her siblings. "Having foods and really feeling an experience with it, it brings me back to my roots. It always goes back to my family and childhood, and that's a huge thing for me."
When Rose cooks, she says, "I always wonder if Mom would approve." It's a question she has to ask since her mother passed before she could see Rose as a professional chef. But it's really no question, Rose says, because "I'm doing everything right; she taught me how to eat."
This summer, Crested Butte can expect a new offering from Montanya Distillers, courtesy of Rose. "My new thing now is to become a chocolatier," Rose says, having just wrapped up final exams for a four-month chocolatier program and awaiting her final marks. Rose is hoping that by the beginning of the summer, she'll have a new chocolate bar for sale at the distillery. "It'll be my creation, but it'll be based on what Montanya Distillers is all about," she says.
One thing Montanya Distillers is all about is empowering people to become their best selves professionally, particularly women. Co-owner Karen Hoskin provides a creative and safe space for employees to develop. "To have Karen as my inspiration, my role model and my boss, it's liberating. I feel free to be who I am, and that's very empowering," says Rose.
Rose's story began and continues to be focused on the powerful women in her life. "My mom has always been a huge inspiration because she has always been brave, and taught me that you can't think that life will come to you. You have to make it your own. So that's what I do with my food, I make it my own," Rose says.
Her mother has long been a heroine is Rose's story, having been the one to leave the Philippines to pursue a different life for her family in the United States, and Rose understands what a massive leap of faith her mother had to take to do it. "That's what I have in my blood," says Rose, and that grit and determination is present in the food she makes. I think we could take out the last paragraph?