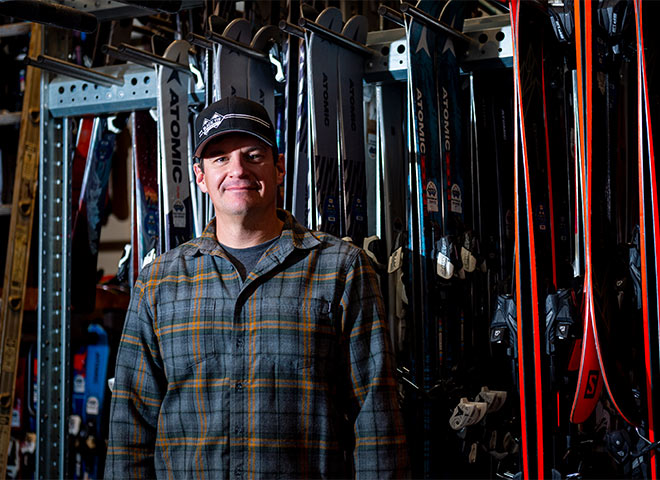 Profile: Roman Kolodziej
From Mt. Crested Butte town councilor to business owner to three-time Chainless World Champion, Roman Kolodziej is a local who keeps it real and celebrates this community in true Crested Butte spirit. Kolodziej shows up for his community time and time again, unafraid to tell it like it is and ask the hard questions. Preferably while riding up the Silver Queen.
Roman and his wife Betsy have lived in the Gunnison Valley since 2005, moving here from Steamboat after getting a taste of Crested Butte Mountain Resort's extreme terrain. He started the Crested Butte location of the ski rental delivery business, Black Tie Ski Rentals, and this winter celebrates its 17th season in operation. Betsy taught at the Crested Butte Community School for 14 years and now continues her love for education building school curriculums.
Running a winter-centric business, Kolodziej has learned that Black Tie's success rides heavily on a successful ski season every year. However, it's also had its perks and allowed him the flexibility to flex his leadership skills through his role on the Mt. Crested Butte town council.
Deciding to be a part of town government was actually pretty natural, he says. "I went from complaining about things at Kochevar's to putting my hat in the ring, and ended up getting appointed. I thought it was time for me to contribute."
Kolodziej recalls the first week he was appointed to the council. "The very first thing we did was a strategic planning retreat. I went from being on the sidelines to having my voice carrying weight and being heard."
Kolodziej enjoys his role as a councilor. "I like having a voice and being part of the process, understanding how things work and advocating for my community," he says.
Most recently, he's been focused on trying to help solve the community's lack of affordable housing. "I'm passionate about affordable housing and trying to decode the issue with available housing. We as a council and town staff have done a lot in a short amount of time with short-term rentals and addressing quality of life issues for people affected by short-term rentals," he explains. "The last piece of the puzzle is trying to figure out how to get more people into housing, by freeing up existing housing or creating new housing."
Kolodziej stresses the importance of public participation, especially when it comes to issues that affect the entire community. "It's so critical for people to be educated on what's happening in the community and to try to participate," he says. "My involvement with town council is not supposed to be top-down. It's responding to the community's needs."
Kolodziej also participates in various valley-wide groups as a representative for Mt. Crested Butte whenever he can. He serves on the Mountain Express Board, the Sustainable Tourism and Outdoor Recreation (STOR) Committee, the town's Finance Committee, the Downtown Development Authority (DDA) and has played an active role in other subcommittee groups over the years.
As chair for the Mountain Express Board, he's proud to be involved in the organization's strategic planning. "Mountain Express is going in a really positive direction and we're navigating the reality of trying to retain quality staff and drivers, while also being forward-thinking and to service the entire community," he says. "We're also looking forward to building a new bus facility and converting buses to alternative fuels."
Kolodziej also recognizes that the STOR Committee, which aims to ensure a balance of sustainable tourism and outdoor recreation, is a major valley-wide accomplishment. "This is a group where you have different people at the table discussing issues that affect the entire community. We have stakeholders from every walk of life and interest and everyone is focused toward a shared goal. A lot of good has come out of the STOR Committee and will continue to come out it."
His business gives back to the community as well by sponsoring events like the Crested Butte Avalanche Center's Avy Awareness Night.
Kolodziej credits his hard-working staff at Black Tie Ski Rentals for his ability to juggle so many town council commitments. "We have an incredible staff," he says, "and I'm fortunate in that it allows me to break away when I have other town council obligations or meetings."
But on a powder day, there's only one place you'll find Kolodziej. "Up front in the chairlift line with my skiing community," he says. "It always brings me happiness to be up there with my people."
Aside from skiing, chances are he will be at the front of the line for any local community event. From the Al Johnson, to Bike Week, to townie takeovers, to being a member of the Vinotok council, Kolodziej finds the most joy in the shenanigans that capture the gritty wack and quirk of Crested Butte.
"I've been fortunate to have been a part of some of the best group costumes in the AJ," he recalls. "Bike Week is my absolute favorite event of the whole year, and one of my favorite places to be is riding in a townie takeover with my fellow community members."
He also notes how rare it is. "That doesn't happen in other places. It's really nice to be a part of the community and embrace the things that happen here and try to keep them going," he says.
And in true Crested Butte fashion, Kolodziej is not afraid of a little smack talk. "I think I could easily rack up enough wins to knock Ben Blackwood off his podium of Snowblade Championships…" he says. "But I'll be content to just be riding the back of the pack this year."