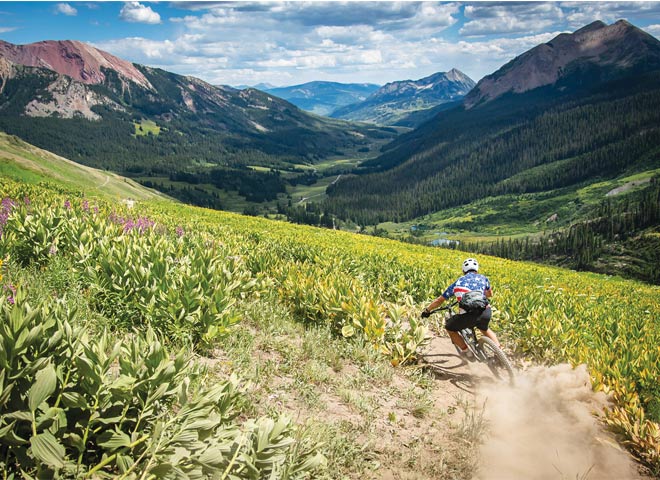 Ride your bike
A Q&A with CBMBA director

Dave Ochs
[  INTERVIEW BY MARK REAMAN  ]
Crested Butte and the surrounding area have been collectively known as one of the world's most beloved mountain bike destinations in the country, if not the world, for decades. Recognized as one of the birthplaces of the sport, Crested Butte is no doubt a bike centric place that prides itself on its place in history. We asked the director of the Crested Butte Mountain Bike Association (CBMBA), Dave Ochs, on his perspective about the past, present and future of mountain biking here in the valley.
Crested Butte is considered one of the founding places of mountain biking and it draws enthusiasts from all over the world. How has the experience changed between say the 1980s and now?  
It's a lot more refined. The big, bad, backcountry and true cross-country experiences in the high country are still there, still as epic, but the trails have been more refined for better experiences—specifically for the bike, but for all trail users.
How are the trails different in the valley today compared to 30 or 15 or even five years ago?  
They are much more purposefully created. Back in the day, many of the trails were created by connecting existing cattle or animal trails. Some were made as 'bandit trails' with just a few folks and without a lot of resources. Today, trails are planned years in advance, from the planning and scoping phase, until implementation. And when it's implementation time, the most amazing community of trail volunteers shows up in force to help CBMBA build trails that would normally require machines to make happen! Even in the last five years, CBMBA continues to refine and improve trail building practices with creating the best experiences for the most users in mind. We focus on the bike, but that extends to other users.
What about technology? How has that changed mountain biking in general and for here in particular?  
The change in bike technology has been hard to keep up with, but it has only made it more fun! It has created a desire for even more 'challenge' out there, as the bikes are just so capable and able to eat up the chunder. The technology has brought more people to the mountain bike, and put more smiles on those users, whether they are new to it, veterans, or folks who have been turned back onto the mountain bike, due to the good times they provide. 
In particular for here in CB, it has created more users out there, and more impacts with it. But that is very much a goal of CBMBA and many other local stakeholders, to help manage and mitigate those impacts. Technology can also help us better manage, better mitigate those impacts and create world class experiences.
What sort of initiatives that you've been involved with are you most proud of? 
Our trail care and stewardship crew, the Crested Butte Conservation Corps, in our sixth year, started in 2017. Mountain bikers nationwide have always been very proactive ambassadors and advocates. CBMBA is also very proud to be the oldest mountain bike club in the world, since 1983. With that, we've been prominent on the volunteer stewardship scene for years. With growing impacts and numbers, we realized we needed to do more, and who better to do it than us, the mountain bikers with a vested interest and deep love and concern for the well-being of our backyard and our beloved resources. The CBCC is a full-time, paid, seasonal trail care and stewardship crew that partners with stakeholders and agencies to provide 'boots on the ground' maintenance and upkeep, along with outreach and backcountry clean-up.
Is Crested Butte niched into an 'old-school' perception with mountain biking? Compared to some of the newer mountain bike centric places like Bentonville, AR, how do we compare? 
It is. Where many places have the permissions and opportunities to build (lots of) new trails and progressive trails, we've been gifted with trails for over 35 years, but don't necessarily have the ability to crank out the miles and progressive trails like other places have been able. But that's also our greatest asset and our niche—high quality, mountain biker made, real backcountry and epic network trail opportunities, in a truly glorious high country setting. Where other places stack trails in smaller areas, we occupy a greater bit of the forest for true cross-country experiences. Where we can, we try to implement more progressive mountain bike opportunities when we get the nod from our partners and land managers. 
Our latest trail, Middle Cement Creek Trail, is a great example. It's another 'cross-country' trail that makes for better trail network connections, but it also has more progressive mountain bike specific features utilizing the existing topography and natural features. Personally, I don't like to compare CB to other places. We all have unique opportunities and assets, and it's why it's so fun to ride bikes everywhere!
Is mountain biking just about the trails (difficulty, numbers, variety) or is it more about culture? The après element after riding, the community of bikers, the family friendliness or ability to check some of the world classics off the list?  
All of the above. For some, a leisurely ride on the Lupines and the Lower Loop that ends on the sunny deck on Elk Ave. with libations in hand is what it's all about. For others, it's ticking off the classics like 403, 401, Doctor Park, Teo Ridge, etc. And for others, it's hey, how can I spend an entire day completely away from humanity, in glorious country, with the intent of sleeping like a baby after an epic day in the saddle, playing with the mountains. The culture is still very vibrant, and the community, here in CB specifically, is what it's all about. Folks come out of the woodwork to help volunteer with trail builds and maintenance at CBMBA's workdays, and we'd never like to have it any other way.
Is 401 still the prime trail magnet for people coming to CB to ride?  
I would say not so much anymore. I mean, yeah, we still get phone calls in February asking when it's going to open, but for the most part, folks have truly spread out the interests to more diverse trail desires and needs. Really, it's all about the experience. And 401 is not a bad experience in any way, but again looking to bike technology and changes, folks have really spread out those experiential needs.
Do you see changes in the CB future in regard to mountain biking?  
Yes. Numbers. Impacts. Technology. All are a concern. Looking to many, many other 'recreation' communities and the changes, mostly in regard to access and use for bikes, is very concerning. More numbers mean more management, and that management may include restricting bikes, as the user conflicts are just too high in populated areas or with popular trails.
For example, wildlife is also a concern. At heart, CBMBA is very much a conservation organization. We won't want to damage resources, we work hard to play alongside other stakeholders and resource managers. But development, population increases, and the Internet age have indeed negatively impacted wildlife, and that is a concern for the future of trails. I believe we can work together, and utilize data and research to co-exist, but currently there is a lot of conflict with wildlife and recreation.
Anything else?  
Yeah, don't be a jerk!  The best way for mountain biking to thrive into the future, is if we show a united front to be a positive user on our forests, our open spaces, and with our shared resources. We have an opportunity to play a part in the future, and bad apples out there truly set the cause back. Be cool, be nice, smile, and be good to our planet – ride your bike!