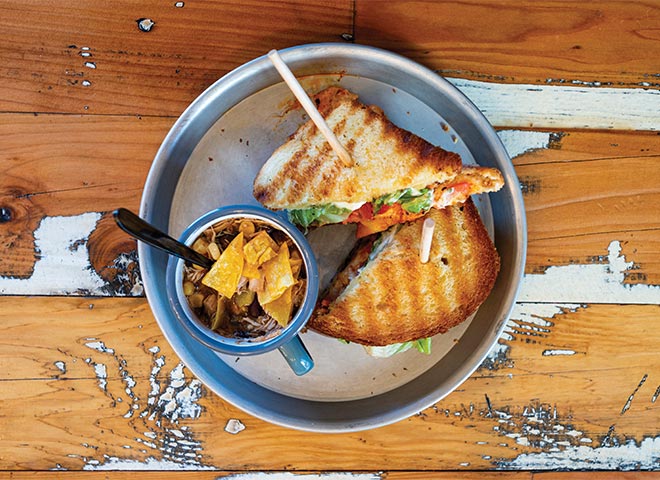 Making The Move
Tin Cup Eatery and Dessert Bar 
By Katherine Nettles
The journey into running a restaurant for Matthew and Lydia Price was an unlikely one, but the past three years since they opened their Elk Avenue eatery have demonstrated the couple's determination, resourcefulness and creativity. Tin Cup Eatery and Dessert Bar, formerly called Tin Cup Pasty Company, has pivoted from its original signature, Cornish style pasties (pronounced pass-tea) to a more familiar (and more portable) lunch staple: the sandwich. Tin Cup has also expanded its dessert menu to include more confections and weathered an uncertain business climate during the pandemic by partnering with a popular Elk Avenue ice cream parlor that has proved to be a great success. 
The Prices haven't shied away from making bold changes when called for. The family of three re-located to Crested Butte from Oklahoma City to make a new start in 2019.  Matthew had grown up in his family's trucking business, but as he managed the logistics and human resources side of the business, he dreamed of being more creative. He also dreamed of moving to Crested Butte, where his family has had a home since 1979. He periodically suggested the idea to his wife, Lydia, but she never thought there was a viable way to move to CB and make a living; Lydia was also hesitant about living in such a rural location, although she loved their frequent visits. Then at some point, she began to imagine the possibilities in a small mountain town.
"I was running a baking business back in Oklahoma City, and I began to nudge Matt about looking into it here," she says.
  The timing lined up perfectly, as the couple's daughter, Genevieve, was at an easy age in preschool to transition to a new community and both Matthew and Lydia were beginning to feel harried by city life. Matthew had been introduced to Cornish pasties when travelling in England, and again at a restaurant in Arizona. Between his excitement for the pasties and Lydia's baking talent, they had a vision. 
"We didn't have a reason to be here," said Lydia of prior discussions. "But then with the restaurant concept we had a purpose."    
The couple went to work tracking down a building to rent and had their sights on a different space when they learned of the opportunity to lease the building on Elk Avenue that had formerly housed Ginger Café and was sitting empty since the Ginger closed the year prior.
Matthew acknowledges that the nostalgia many people feel for the former Ginger Café can sometimes be a barrier to giving a new place a chance. "There are locals who will not come in here," he says. But Tin Cup has become a regular lunch and dessert stop for many locals and visitors. On most fair-weather evenings, people can be found encamped on the generous front patio enjoying happy hour together. Genevieve has a regular showing of classmates playing on the lawn in snow or sun. 
The Prices have found a good stride with chef Mando Robles, who has been with them since the beginning and prepares all their meats, sauces, soups, marinades and salads from scratch each day. 
"We're getting great feedback on our sandwiches," says Matthew, which range from Philly cheesesteak to "posh grilled cheese" with gruyere and Havarti. Tin Cup's chili won best chili at the 2020 Beer and Chili festival in Crested Butte and has since landed on the menu alongside daily soup varieties. Classic salads can help justify dessert, which definitely shares the stage.  
Tin Cup brought in Third Bowl ice cream of Hotchkiss when the ice cream maker moved out of its previous location in 2020. "That has been a game changer. Moving a known brand into a new place made such a difference bringing people in," says Matthew.
Lydia has added to the ice cream option with decadent homemade waffles, waffle cones, specialty milkshakes (including some boozy options), and a rotation of cookies and other baked goods. Lydia also makes specialty cakes to order for a growing customer base.  
Pasties might come back as a special sometimes, but the Prices have retired them as a mainstay due to the intensive preparation process during a labor shortage, and to make more packable lunches for a to-go crowd.  
"People are here to get outside," says Matthew, and sandwiches work better for trails. 
With extensive renovations to restore and preserve the building's mining cabin heritage with a modern, pared down aesthetic, the restaurant has sit-down appeal for those ready to enjoy a loaded waffle or a hot meal. Tin Cup has a full espresso bar, and a full liquor license as well. 
"I feel we have made the tweaks we've needed to make," says Matthew. And he says a lot of those changes have come more easily because of the community. 
"The town has been wonderful," he says. "Other restaurateurs have helped with ideas, with feedback, with suggestions. Both in business and in small town stuff."  
The only tweak left for the family to make now is getting out to ski, and enjoy more of the year-round recreation they moved here for.
"We're ready for that," says Lydia.