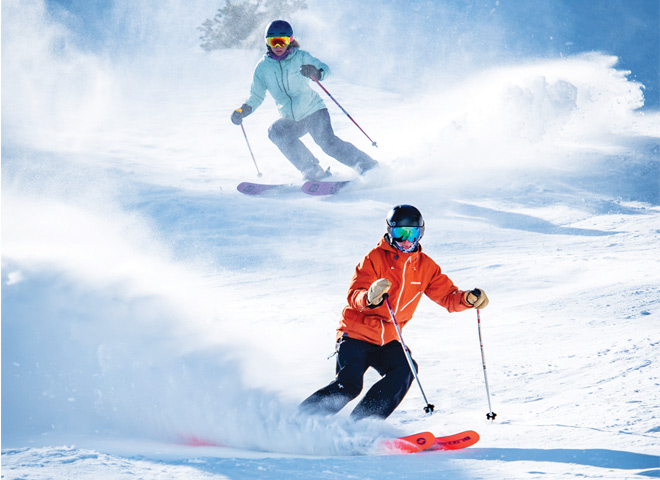 3 Days, 2 Ways
How to make the most of a quick trip to CB
Visiting a town known for both extreme winter sports and a vibrant, hopping creative district can make it hard to decide how to divvy out your time. We've taken some of the guesswork out of the process with two ways to enjoy a few days in Paradise. One is for the uninitiated or less enthusiastic winter athlete. The other is for those with some CB and/or ski experience looking to go a little deeper. Use this as a literal guide or a quick cross-reference for your own ideas. And of course, all things are subject to the weather—you might plan for a day of rest but score a powder weekend and decide to make the most of it. Or, gasp—less than ideal snow conditions might call for a more varied approach. No matter what, we have you covered. And in CB there is always a chance of a costumed event, fire dancing street performance or impromptu parade, so be ready to stop and spectate no matter where you go. 
—Katherine Nettles
DAY 1
Ski the resort, then hit the après scene 
You did come to a ski town, after all.
Get your gear (Black Tie Ski Rental Delivery will bring it to you) and start early to make the most of your first day at Crested Butte Ski Resort (CBMR) in Mt. Crested Butte. That way you can shrug off an unexpectedly long bathroom wait, lift line or a wrong turn and still leave plenty of time for taking breaks, enjoying a long lunch (this is vacation) and drinking plenty of water as you adjust to the higher altitude. 
Beginner/intermediates will enjoy Painter Boy, Prospect and Gold Link lifts, away from the fast groomers on the main mountain. Plus, the Umbrella Bar at the top of those two lifts has easy access to nice bathrooms, some simple food options and a full bar. Paradise lift offers a wider variety of terrain that accommodates many levels of skiers, and has a central restaurant, bar and outdoor lounging area for sunny days. Plan ahead for lack of cell service in the Paradise area by setting up meeting times with your group before you split up. If you get worn out early, take some recovery time before après hour at the base area. 
Stay slopeside for an hour or two of après skiing, with a few easy-to-find spots like 9380 Tavern and José at Elevation, Butte 66, Ironhorse Tap or a sweet treat at Tin Cup Ice Cream & Desserts. There is often live music on the weekends, and people watching is easy. Then head to Mountaineer Square to hop on the free Mountain Express bus down to the town of Crested Butte for dinner and nightlife. If you have access to a hot tub, do that first. If you don't have a hot tub at your accommodations, make a spa appointment at Elevation Hotel and Spa where each service includes access to the steam room, fitness center, pool and hot tub.
DAY 2
Branch out 
Sleep in, get brunch and take a few hours midday to try out Nordic skiing at the Crested Butte Nordic Center. They rent all the gear you need for classic Nordic, skate skiing or simply snowshoeing (even ice skates for the Big Mine ice rink next door) and they offer lessons. Exploring winter trails this way is a peaceful respite from the higher pace (and cost) of downhill skiing. And it can still challenge someone at any fitness and skill level.
After dinner, check out the culture-based nightlife at the Center for the Arts (there is often live music, a wine tasting series, an all-levels art class or some other fascinating event), find an author talk at Townie Books or simply loosen up at one of the great bars along Elk: Talk of the Town, Kochevar's, The Eldo or Public House.
DAY 3
Focus on a favorite 
Did you love the resort and want to revisit some trails? Or maybe you've been captivated by Nordic adventures. Try a half day and allow yourself time to catch an afternoon movie at the newly opened Majestic Theatre, a non-profit movie theatre playing new and classic movies. Or get that spa treatment.
Polish off the day with an après art tour. Take a mosey, hot drink in hand (Camp 4, Rumors, T-Bar and Daily Dose offer all sorts of caffeinated and non-caffeinated options), through the creative district in the heart of downtown CB. There are several galleries on Elk Avenue and a few more on Belleview. Among the makers and artists of CB are oil painters, photographers, modern folk artists, ceramicists, jewelers and many more. The Center for the Arts Kinder Paden gallery is free and open to the public with rotating displays from visiting artists. The Art Walk is a self-guided tour of the art galleries in town, generally the final Saturday of each month. Keep an eye out for Art Walk flags in front of galleries announcing the event. 
DAY 1
Ski the steeps then hit the après scene 
Explore the steeps and see what gave CB its name. Terrain availability depends largely on the snowpack, of course, but no matter what you can find advanced and extreme skiing tucked in many corners of the resort. Buy an Extremes map at the base area ski shops beforehand or download the FATMAP mapping app, which includes extensive trail information and recommendations. It's easy to get lost and end up on very steep and even cliffed-out areas, so pay attention to signs, maps and ask questions from the people around you. Better yet, hire a guide through CBMR's ski school program.
Try après at The Ironhorse Tap, where you might also see some of the hard-working mountain staff hanging out after their shifts. There are great drink specials, on-point appetizers (even vegan cauliflower wings) and pizza—and the skillet baked brownie sundae is an excellent reward for a hard charging day. Take the free Mountain Express bus from Mountaineer Square into town for nightlife past the dinner hour.
DAY 2
Branch out 
Book a day of backcountry skiing with Irwin Guides or try cat-skiing at Scarp's Ridge with Eleven Experience and learn more about the expansive terrain surrounding Crested Butte. These include a guided ski tour and some offer an avalanche awareness course. If you already have the gear and the know-how, plan your own tour but make sure to check Crested Butte Avalanche Center (cbavalanchecenter.org) for hyper-local reports on snowpack, avalanche hazard ratings and weather. Not many regions have their own independent avalanche center, so make the most of this windfall. 
After dinner, check out a movie at the Majestic Theatre (there may be a ski movie to stoke the fire) or if you have a second wind, check out some live music at the Public House, The Eldo or at the Center for the Arts.
DAY 3
Uniquely CB
Nordic ski or skate ski out to the Crested Butte Nordic Center's Backcountry Bistro for Sunday brunch at the Magic Meadows Yurt (check the schedule beforehand to confirm). If the Bistro isn't open, pack your own brunch in a backpack: a thermos of coffee or tea, some pastries from Camp 4 and a packable down blanket. Take the various loops with miles of corduroy and unique snow bridges that cross over the pristinely beautiful Slate River. 
After dinner, witness the high level of local talent at a live theatre production or participate in an improv performance at the Mallardi Cabaret.