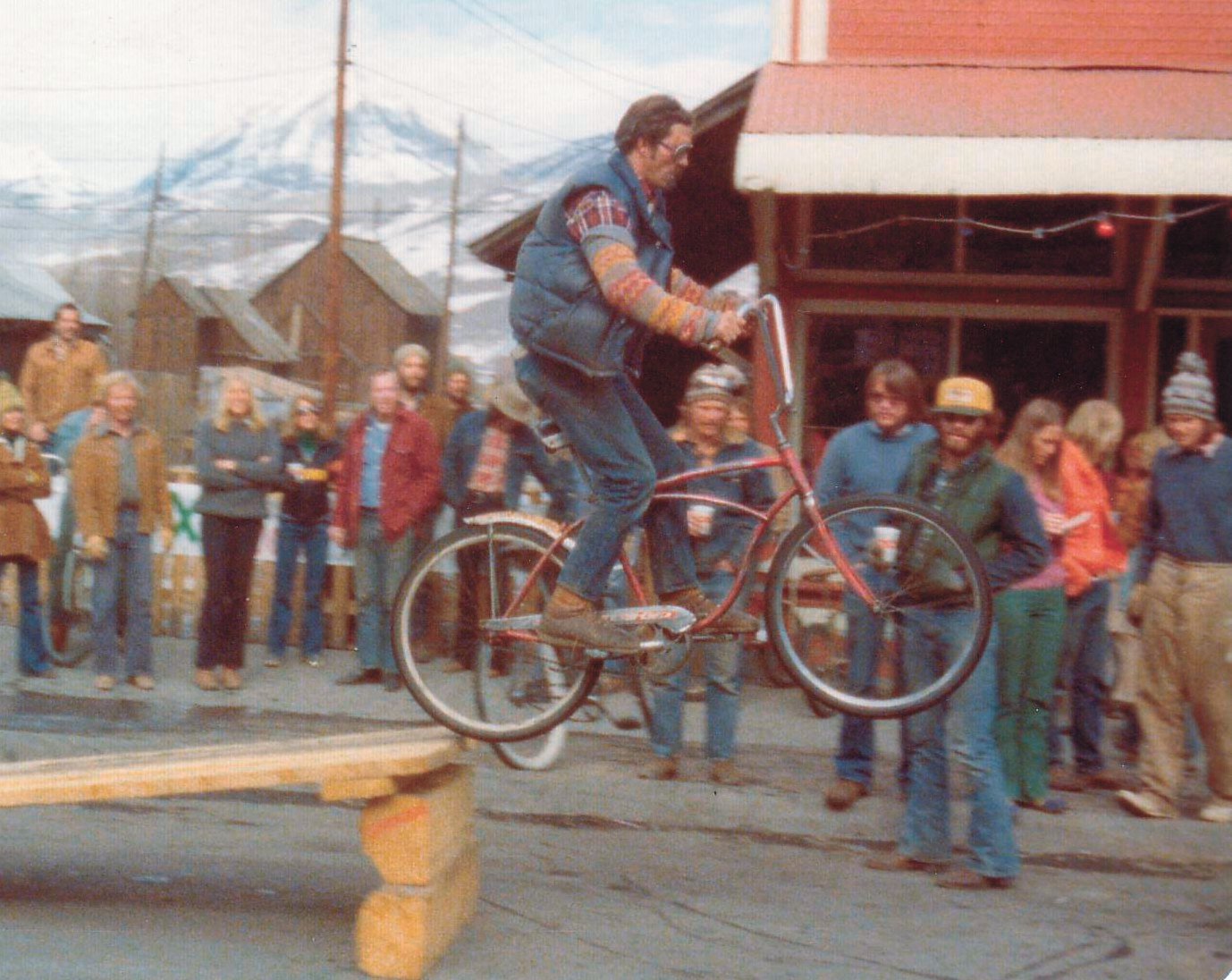 Crested Butte biking: the ultimate trail system
The history, culture and vision of a mountain biking mecca
By Katherine Nettles
The story of how Crested Butte and the Gunnison Valley came to be a biking mecca is not exactly linear. There are now several generations of people who helped forge our staggering network of trails famous for their flow, mountain views, aspen groves and almost surreal abundance of wildflowers. From the early biking pioneers of the 1970s to today's hyper-technical enduro bikers, most seem to agree that biking happened here organically, born of a hard-working group of ski bums just trying to get around on dirt roads. And that preserving its history and its spirit of utility, community and land stewardship are vital to its future.
The early years: birth of the klunkers
Don Cook arrived in Crested Butte in 1977, before mountain biking was officially a concept. Biking was simply a necessity for Crested Butte locals because it was easier to ride bikes than to drive the unpaved roads. Elk Avenue was all dirt and pot holes, and wooden, elevated sidewalks were still in place—complete with hitching posts for horses. "Driving your car on the streets was terrible," says Cook.
He quickly learned of Al Maunz and a few others who were collecting bikes from around the tri-state area, paring them down and selling them to locals for $10 to $15. These "klunkers" were the first bikes of Crested Butte.
Don's brother, Steve, soon joined Maunz. They stripped bikes of the horns, faux gas tanks, fenders, and all those extra decorative touches that had appeared in the post-war era.
"They kept the drive train, the wheels and the handle bars," says Cook. "Al Maunz knew what he was doing. Most ski bums lived in town, because it was the cheaper, more affordable place to live. And in town, your car was buried unless you shoveled it out all the time. It was an economic thing for the guys, and there wasn't much work here then."
A bike was a lot cheaper than a new set of shocks. Even in winter, it was easier to ride a bike on the snow packed streets, since there was hardly any parking and snow plowing was limited. Cook also notes, "you couldn't get a DUI on a bike."
Of course, the practicality wasn't the only draw. Cook says that in general there was camaraderie, and "it was fun to zip around." This was even more true when all that snow melted.
Beyond necessity
The summers came around and the klunkers proved useful in the dating and social scene as well. "We would use them to go out for a picnic on the Lower Loop," says Cook. The Lower Loop was a little different back then, and involved going out to Gunsight bridge and back along the Slate river.
"On a klunker it was a much different ride. These were one speed, 40- to 50-pound bikes with coaster brakes," Cook says. "Kathy Allen used to put together trail rides. Kathy worked at the Forest Queen, so she would always make the food. It was a social scene."
In search of more trails, a small group of volunteers went to work. Sometimes they started from scratch, using whatever means were available. "What we did was utilize the cows," says Cook. "I would go out there and cut salt licks into quarters with a hack saw and spread them across the areas that we wanted, and they would make a trail. That's how the Upper Lower Loop was made."
As more trails developed, Cook recalls that some of the guys got curious as to who could ride the fastest. The competitive spirit edged in, and they started throwing bikes in the backs of their trucks, driving up Paradise Divide and timing themselves on a ride down to Pittsburg mine. The Pearl Pass rides started in 1976, with riders heading from Crested Butte to Aspen, and soon lead to more.
The first races
Crested Butte wasn't the only developing scene for mountain biking though. In Marin County, California, bikers in the late 1970s were enthusiastically building bikes to ride fire roads in the hills and woods. "But these guys here were doing the same thing," Cook says.
Riders from Marin began visiting Crested Butte, and In 1981, Don and Steve put on the first ever Paradise Divide stage race. "We emulated as much as we could on how to do stage racing, from the big tours like Tour de France. We coincided it with the Pearl Pass Tour, because we had all these hot rods [From Marin] coming here. And my brother and I wanted to race them."
The Paradise bike shop race team became the first team in all of mountain biking, says Cook. The team dressed the part, trading raggedy jeans for matching shorts and jerseys.
"The only reason we were able to beat them was the altitude. And so, we just crushed them. We were young, dumb and fast," he says. "But racing exploded off of that stage race."
The riding Crested Butte offered kept people coming back for more and staying longer. Local riders decided to build off the enthusiasm of their new Marin County friends.
"Neil Murdoch was hiding out in CB, he had jumped bail in New Mexico, so he started Fat Tire Bike Week as a way to utilize the grassroots of the klunkering thing. He had volunteers, and he was charging people $40 per person to show them around," says Cook.
"By 1982, CB was on the lips of every European biker," he adds. "CB is the epicenter of all that. Marin had the tech; we had the terrain. They wanted to, as Gary Fisher said, 'escape the cops, the cars and the concrete.'"
Cook says that what was emerging was a "health style."
"We were fitness junkies, especially with all the hiking we had to do for the outer limits (ski terrain)," he says.
"Every big team was here," says Cook. "Big names started moving here, because the only way to be competitive at this altitude is if you live here. A lot of racers have moved through this town, trying to better their careers."
One of the earliest, most successful racers to come out of the valley is Dave Weins. Weins first came to the area as a student at Western Colorado University in 1982. He officially made Gunnison home in 1987 and says he soaked up his riding knowledge from the crew that came before him: the Cook brothers, Dave "Moe" Myer, and Greg Morin. "Some great riders that were established have had a significant influence on mountain biking in this valley," he says. And it wasn't always about the racing. "I appreciate how in Crested Butte and in Gunnison it's about just exploring. It's been all about the experience… I've always said that racing is my excuse to ride."
Creating a vision
It wasn't just big events and racers that took riding in the area to the next level, but also the people who lived here and continued working for better trails.
"When we first started building trails, I didn't have anybody. It was volunteer, with maybe six to eight trail [work] days per year. I dealt a lot with land access and land easements," says Cook.
His work included apologizing to ranchers who had involuntarily hosted new bike trails on their properties. "I had big amends to make with them," he says. One such trail was Snodgrass, which Cook and his brother Steve built. "I didn't know that was [private] property," he explains of is the now classic ride.
But the work paid off. Cook got to know people and the process, "Which was beautiful because it then formed the Gunnison County Trails Commission." Trails easements were legalized and legitimized, he says. "The county worked with developers to maintain trail connectivity through the new neighborhoods."Cook recalls that many developers initially resisted the process and expense, but"When people bought those properties and wanted the ones next to trails…they realized how desirable the trails actually were."
Kay Peterson-Cook served on the Gunnison County Trails Commission for 20 years—many of them as chairperson. Don founded the first mountain biking club in the world, the Crested Butte Mountain Biking Association (CBMBA), in 1982. CBMBA existed for its first 33 years as an entirely volunteer-based group, only hiring its first staff member, executive director Dave Ochs, in 2016.
"These trails didn't just come out of nowhere. It was because of the concerted effort of the people at CBMBA," says Ochs. "It was always a labor of love. Trail building is dirty, difficult labor. But there was never a shortage of people power and experience."
"My dream when I started CBMBA was to have 360 degrees of riding from town. You come to town, you park and you can ride in any direction," says Cook.
That dream has essentially become a reality Crested Butte riding is unique in it's connectivity. The trail network can largely be accessed from town rather than requiring drives or shuttles as in other places.
Laura Pickett Daniels, CBMBA's deputy director, describes Crested Butte trails as "one net, with different drainages," rather than 'stacked' trails. "It's very diverse riding—but also a web. I think that contributes to the culture," she says. "We are not a drive to ride culture. We are a ride to ride culture. And an 'incredible level of endurance' culture."
Shifting Gears: maintaining a legacy
As recreational use increases, Crested Butte will have to address issues surrounding mixed-use,habitat preservation, and how to decrease the impacts of so many enthusiasts. Daniels describes growing concerns around protecting public lands. "In the last five years, we've seen a huge influx in visitors. Some are calling the Front Range the third coast. We're seeing a boom in recreation, and it is now considered a fourth segment in the economy."
While some riders advocate for new trails, many of the passionate riders and stewards of mountain biking culture advocate for maintaining access to the trails we have in our backyard. It is not something to be taken for granted, as can be seen in the example of Baxter Gulch. The Baxter Gulch trail re-opened in 2018 after a long closure for wilderness designation consideration. The challenge of reopening the trail made it clear to people like Cook that how we approach and interpret conservation is no simple matter.
"We had lost Baxter Gulch for 20 to 25 years," says Cook. "The old Baxter Gulch that we rode back in the 80s had to be rebuilt." He credits the eventual re-opening to extensive documentation, fundraising and perseverance.
"So, there is an aspect of mountain biking, not just the technology, but also the clubs like CBMBA, advocates like IMBA (International Mountain Biking Association), who are talking about conservation…what is suitable for bikes, and what is not," says Ochs. "When it all started, I don't think anyone was concerned about what was going to happen when too many people came here. I think it's a productive shift. But we have to put some constraints in place. "
The next generation
Amy Nolan, executive director of Crested Butte Development Team (DEVO), a weekly program for riders in kindergarten through eighth grade, says she works to educate the future riders of the valley. As the program has grown from 66 kids in its first year to now about 170, it can make a big impact.
"These kids are learning that at a very, very young age and it's cool to see. Knowing that you're part of a team, and there's a bigger picture than just you, but considering how are you a part of this larger community, how are you contributing to the trails, how are you taking care of the trails. And of course, we try to focus on fun and safety, and we look at skill development as an offshoot to get these kids opening up and developing their passion for riding."
DEVO works with other stewardship groups like Mountain Manners, the Crested Butte Land Trust and of course, CBMBA to cultivate that culture.
The mission of DEVO is one almost anybody can get behind. And through CBMBA, DEVO and other non-profits there are plenty of opportunities to contribute to bike trail work. And there are plenty of days to simply get out and enjoy the trails here making up a legacy of more than four decades.
"Mountain biking put the name CB on people's breaths," says Cook. Those earnest, fun-loving and utilitarian roots have lived on, from the racers who inspire new generations to those who recognize the virtue of pedaling for their daily commute.
Ochs has a wish list: he would like to see more infrastructure, such as bike lanes, more signage for bike trails, safer routes, and more bike racks. He would really like to see people consider bikes before cars when they go somewhere, and before using shuttles to access the great trail systems that can also be started right from town.
"The trails have gotten better. Now we are just waiting to expand the trail system, get more connectivity, and get more riders off the road," he says.
After all, it is a bike town.