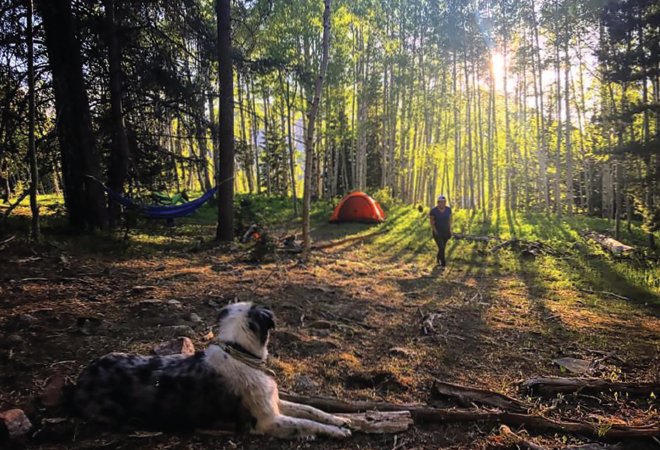 Why I hike
By Ashley Upchurch
I was 18 years old, fresh out of my first year of college when I started teaching horseback riding at a summer camp in the North Carolina mountains. I'd been camping once with my dad, a rather ominous trip in which we arrived at the trailhead at dusk, decided to go the short way to camp, and ended up wading through hip-deep water in the dark. In February. When I arrived at camp a year later as a new counselor, I knew little about being in the outdoors. I didn't yet know that I could build a fire. Or that I prefer sleeping on a blow-up pad under the stars to a brand-name mattress in a house. I didn't know I'd one day walk from Georgia to Virginia then four years later finish the 2,100-mile Appalachian Trail. That summer, I spent my second-ever night in the woods, and it was likewise memorable and fun. Sitting on the deck of my cabin one day, I noticed a carving on the railing and leaned forward to read, "Today you found yourself." That summer I began hiking, and I began to find myself.
Eight years later, I arrived in the Gunnison Valley with a U-Haul attached to my little Honda Fit. My first hike in the valley was in Hartman Rocks, and I knew I'd never seen anything so cool. The next day we drove up Highway 135 for the first time, and I gasped out loud when Mt. Crested Butte appeared around a bend. Our second hike was Caves Trail, and that's been our backyard hike for the past five years. That first-time up Caves, I still didn't know that I'd one day walk out my front door all the way to Aspen and back. Or that I'd eventually hike all 750 miles of singletrack in the Gunnison Watershed, becoming the first person to hike them while only six others had biked them before me. I didn't know I'd stand at over 14,000' and be the second highest person in the contiguous United States and the highest in Colorado and get home in time for dinner. Or that I'd spend mornings sipping coffee on top of mountains with plenty of time to spare before my workday started. I hike because I was made to hike, and I do it in the Gunnison Valley for the endless access to adventure.
Hours of birds singing, wind rustling in the leaves, and the ground crunching underfoot will put you in a flow state where your body remembers what it was made to do. Mountains and deserts and forests take us out of the hustle and struggle and consumerism of daily life. Being in the wild in our most natural state resets our brains, because we don't need machinery or toys to hike. We simply need our bodies and the time to remember what they were made for. I must pause here to acknowledge my able-bodied privilege and that many people do need machines and assistance to hike. Their ability and desire to be outdoors is not diminished by this fact.
Spending time in nature takes me back to that summer when I knew so little. I was just beginning a journey that would take me across countless snow-fed streams, to the tops of hundreds of mountains, and eventually to the Gunnison Valley. I've found solace in a quick after-work jaunt up Walrod and adventure in multi-day epics filled with blistered toes and blissful nights. Both have been equally rewarding to my mental state, because it doesn't take long for a body to go back to nature. I'm still on that journey my dad started on a whim one day after work, and what an adventure it is. Every time I step into the woods, I remember that today I find myself.