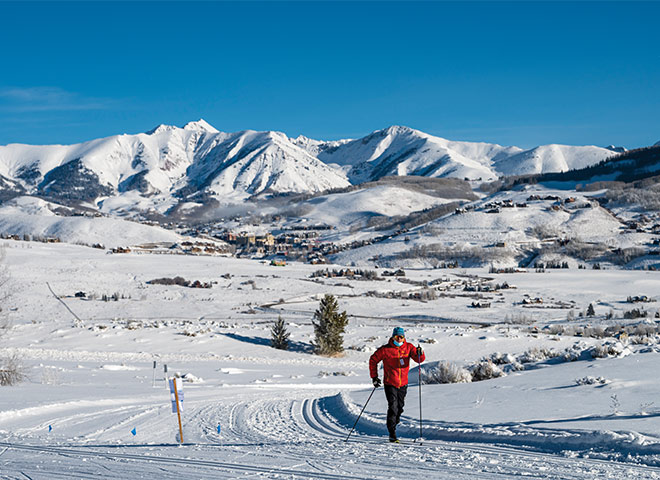 CB Nordic – 35 years and growing
[  by Katherine Nettles  ]
Crested Butte has developed a reputation as a Nordic skiing mecca for its miles upon miles of scenic groomed trails and iconic events that celebrate the art of costumes and street parties. Whether you want to kick and glide in a pre-set track, skate the day away or venture off in the woods on a snowshoe adventure, Crested Butte Nordic has the gear, the guides, the instructors and the maps you need to get started or deepen your experience.
The sport has seen a major increase in local numbers, and 2020/2021 set some big records for the non-profit organization. Day pass sales, rentals, lessons and guided tours were up significantly—in some cases over 200 percent. To prepare for this season and more future growth, CB Nordic has added more citizen style races and programming and has big plans ahead for a major facility expansion in 2022/2023. The beloved non-profit organization is also excited for its 35th season to welcome people back inside its building (albeit in smaller numbers) for restrooms, retail and a chance to warm up from the chill outside.
CB Nordic offers an extensive equipment rental fleet and a full-service retail, tune and repair shop along with a long list of programs and lesson options for kids and adults. CB Nordic's director of marketing and development, Laura Puckett Daniels, advises that making online rental reservations will be the best practice. And given the restriction on people inside, be patient if you plan to use the bathrooms or changing rooms.
"We are letting the public in, masks mandatory, 15 people at a time," she says. "Bathrooms, changing rooms, etc. will be available so long as we're sticking to that 15 person number."
Yurt dining is back, too. Backcountry Bistro will return to the Magic Meadows yurt on Sundays and several yurt dinners catered by private chef Tim Egelhoff will be held throughout the season. Both experiences require a mellow ski or snowshoe along a groomed trail to and from the yurt, which makes the experience all the more rewarding. Reservations fill up quickly for the yurt dinners, so book ahead.
And then there are the races.
Events galore
"We are returning to events as they were pre-pandemic," says Daniels of most outdoor gatherings. That includes the Alley Loop in its previous format and courses. "We are planning on a one-day format with a return to the full alleys. We are not planning on wave starts or virtual events, but we may end up doing the awards ceremonies virtually. We are still working out the finer details on that."
The Community Race Series is getting a revamp, with more activities and a new sponsor/name: The Pinnacle Orthopedics Community Race Series. "We're adding more races and a FunSki series," says Daniels. "We've also added some unique races like a Skiathlon and Obstacle Race Format. Each race will have an after-party with snacks and beverages (and a beer garden for adults). The goal is to make racing more fun and inviting—more like the Alley Loop so that people have more reasons to get outside and stay active."
CB Nordic is also expanding its programming, with increased after school offerings for the young local athletes and with growing partnerships to invite more diversity and expand opportunities for those from other parts of the state and country. The nonprofit will maintain its partnership with Immigrantes Unidos to host ski days in both CB and Gunnison, and is working with Travel CB to host a group of Latinos Outdoors participants for a winter sports weekend in 2021/2022. CB Nordic hosted an OutDoor Afro weekend last year, and is partnering with new nonprofits this winter to host ski days for their staff, members, clients and associates.
"Our goal is to host 10 outreach ski days in addition to our regular Learn-to-Ski-Free and Immigrantes Unidos programs," says Daniels.
Even with the increasing participation and growing programs, 50 kilometers of trails around the North Valley means there's still a lot of corduroy to be found for everyone. The next step is to find more elbowroom for the indoor aspect of the operations.
The Outpost addition
The Nordic Center has plans to double its square footage with an addition to the former cat barn, now called the Outpost. This 2,880 square foot expansion on the back of the existing building would accommodate the junior team downstairs and the administrative offices upstairs while opening up more space in the main building for rentals, retail, gatherings and waxing. With a budget of $1.1 million, says Daniels, "We have kept the building quite simple and utilitarian in the hopes of keeping costs low and expediting the building process."
The plan is to break ground in the spring of 2023 and be open in the fall of the same year.
National recognition
The word is clearly out on how fun, peaceful and accessible Nordic skiing can be. CB Nordic has been nominated to USA Today's 10 Best list of cross-country ski areas in North America for the second year in a row. Results for this season were pending as of publication, but last year CB placed sixth.
"This is a huge accomplishment! Last year's nomination and resulting sixth place ranking was the very first in our history. We are so proud that our little community Nordic ski area is receiving national attention," wrote the Nordic Center in a statement. "This kind of ranking/recognition helps us attract Nordic ski visitors and high-level competitors to our races, which in turn helps us keep our program and pass fees low. This also helps us get more grants, by showing that we are a national leader in our industry."
Daniels emphasized that people can support the cause of having the best season possible by using online reservation systems and wearing masks indoors.
"We strongly ask people to use the online rental reservation system, particularly if you have a big party you're renting equipment for. It is way more efficient and will allow more people to use the Nordic Center more effectively. Please bring a mask to the Nordic Center and respect the mask policy so that we can keep the Center open and all continue to work together copacetically."
Here's to a great season ahead and sunny days on the corduroy tracks.