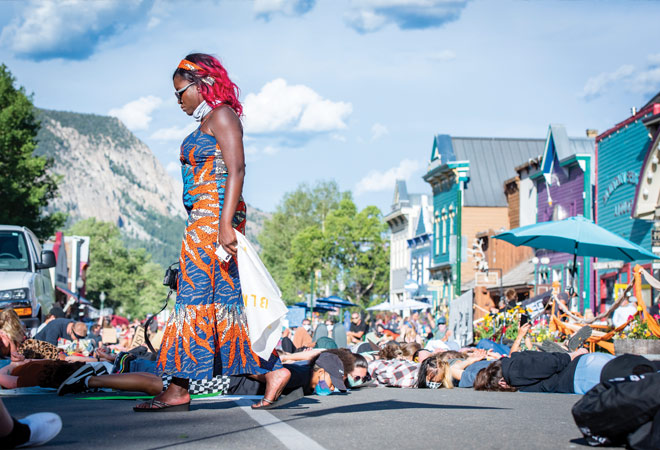 BLM Gunnison Valley: Addressing racial equity in Ski Town, USA
Sun slants through the lineup of buildings on Crested Butte's Elk Avenue, turning cottonwood fluff into floating sparkle. The surrounding hillsides glow green and rise up into red-hued peaks, some of which still hold bright, white snow. It's a real-life snow globe scene, and Chloe Bowman stands at the center of it, suspended in the surreal. She stares at 200 of her community members laying on the hot pavement in front of the post office with signs in hand that read "Black Lives Matter."
Twenty-six-year-old Bowman was born in Colorado Springs to Ghanaian parents and has been a resident of the Gunnison Valley since 2012. With the help of friends, she organized a Black Lives Matter demonstration in Crested Butte on June 27 and was shocked by the turnout.
The event occurred 33 days after George Floyd died of asphyxiation under the knee of a police officer. His death sparked one of the largest movements in U.S. history. Between 15 million and 26 million people participated in Black Lives Matter demonstrations in thousands of cities and towns across the country, including many rural, majority-white areas.
That included Gunnison County, where, according to 2019 Census estimates, 87 percent of residents identify as white, 9.6 percent identify as Hispanic or Latinx, and .6 percent identify as Black or African American. For comparison, the 2019 Census estimates that residents in the U.S. are 60.1 percent white, 18.5 percent Hispanic or Latinx, and 13.4 percent Black or African American.
Given that there had previously been very little community dialogue about race in the valley, many people were surprised, and excited, that the conversation here was sparked. As a result, many community members have dedicated themselves to the ongoing process of addressing racism in the valley and determining what it means to be a truly welcoming resort town.
Bowman knew her community as one committed to remaining open-minded and having a rebellious spirit, and that locals pride themselves in fiercely taking care of each other. However, she said, "the silence here was deafening" after Floyd's death and the ensuing protests.
While Bowman had never considered herself an activist, she recognized an opportunity for locals to reinforce those community values and also felt it was time to address the much-avoided topics of racial injustice and privilege within the community. She no longer wanted to tolerate Gunnison Valley as a "refuge" from racism.
"We get to pick and choose what we care about, that's the blessing of being here," Bowman said during her speech at the Crested Butte rally. "But here in this little world we choose to live in, it's more important to talk about the trails that you're biking than the heavy stuff on the news. This community has a heart that bleeds…why is this bleeding heart on reserve for us and only us?"
Escapism is not uncommon in mountain resort communities amongst residents and visitors alike. Many people move to or visit places like Crested Butte to escape the status quo and to be surrounded by a beautiful landscape and recreational opportunities. The culture of these communities often trends toward "good vibes only," which can overlook the many prevalent issues of privilege, classism, racism, and mental health.
As a community that depends on tourism, there is often the belief that we must remain "non-political" so that no one feels alienated. However, people are waking up to the fact that by pretending racism is not a problem in the valley, we are not being welcoming to all. Now, many residents are finding more value in embracing reality rather than upholding the illusion of paradise.
Bowman says racism in the Gunnison Valley occurs in many forms, from backhanded compliments like "you are actually very articulate," to active discrimination, like not getting a job because someone distrusts the color of your skin even if you are more qualified than other applicants. She says visitors and residents of color have shared frustration at repeatedly getting pulled over by the police for no apparent reason or being followed around in retail shops under suspicious eyes. The illusion that "we don't have racism here," Bowman says, makes it even more painful "because it is so easily disguised and excused."
In fact, racial injustice resides in the historical foundations of the valley, making it  harder to articulate or see clearly today. For example, the lands residents live, work and play on were violently stolen from the Ute people who were forcefully relocated when white settlers arrived. And modern-day factors continue to contribute to a lack of diversity. In the U.S., for example, due to accumulated discrimination and lack of access to opportunity, the net worth of a typical Black family is $17,150, approximately one-tenth of the wealth held by a typical white family. In Crested Butte the median property value is nearly $700,000, making it nearly impossible for many Black families to even consider living here.
Still, the community is generally friendly, welcoming and non-violent, which is part of the reason Bowman has fallen in love with it and wants to stay. What shelters the Valley from the harsher realities of racism is also what makes it the perfect place to have tough conversations around race. Since the Black Lives Matters demonstrations in both Gunnison and Crested Butte, both of which drew hundreds of supporters, a collective soul-searching amongst local elected officials, organizations, businesses and residents has ensued.
Crested Butte made Juneteenth an official holiday, unanimously voted to paint  "Black Lives Matter" on Elk Avenue this summer, made an official proclamation condemning racism, and offered diversity, equity and inclusion training to all town staff, including the Marshal's office.
Town Council acknowledged that the painting of "Black Lives Matter" in September was a starting point and demonstration of the Town's commitment to anti-racism work.
The actions weren't well received by everyone. Social media exploded, and while there was a lot of applause from locals and visitors, there were also comments like "I can't believe you destroyed this beautiful town," and "I'm never spending money here again."
In spite of the blowback, Bowman and a committee of community leaders, including representatives from Vail Resorts, local government, businesses and non-profits, are working to make the valley more accessible to Black, Indigenous and people of color (BIPOC). A few of the many efforts will include more intentional hiring practices, collaboration with BIPOC-led outdoor groups, diversifying youth education, and inclusive community messaging.
As a community that markets its access to the outdoors and perhaps best understands the benefits of getting outside, Bowman agrees that a direct way to combat racism is to share this privilege and the peace that comes with it. Like skiing, mountain biking, climbing, hunting and angling industries have also remained mostly white while the face of America becomes increasingly diverse.
That lack of diversity is not a reflection of interest. As said by Rob Katz, CEO of Vail Resorts, the ski industry has failed to address its "deep implicit bias," and that this failure is both a moral and business failing. He said, "In some ways, these issues might feel removed from the ski industry – to some, it might not feel like our problem. But that is the problem."
"Opportunity outweighs everything," Bowman said. "As a mecca of mountain sports, we could seek out people the way Adaptive [Sports Center] seeks out people," she explained. She said the valley could become a leader in diversifying the outdoors not by focusing on bringing more people here, but by bringing different types of people here.
A labyrinth of obstacles makes it difficult for communities of color to enjoy these activities including high barriers of cost, proximity, and exclusive cultures. People of color bring to light many ways in which they are made to feel they do not belong in the outdoors on platforms such as Melanin Basecamp and Diversify Outdoors. Some examples include microaggressions on trails, social acceptance of racist language, and lack of mentorship.
Jalen Bazile, an outdoor educator and avid mountain biker based in Denver, visited this summer and said he loves visiting, yet is critical of Crested Butte. "I felt like a guest trying not to overstay my welcome," he posted on Instagram of his visit. While he said he loves the landscape and trails, he asks who this "last great mountain town" is for? Bazile said he felt like he was constantly being watched and judged as if he "was on the other side of the glass at the zoo."
Bazile says people of color bear the brunt of the awkwardness that white people have when they don't interact with non-white people often, and when this happens repeatedly, the feeling of not belonging can become overwhelming. He is a member of the Black Foxes, who describe themselves as "an international collective of unapologetically Black cyclists and outdoors-people that are reclaiming our narratives and roles in the outdoors."
Bowman worked with the Black Foxes and organized an unofficial gathering in September that brought 20 Black, Indigenous and bikers of color to the valley. After their visit, the attendees expressed tangible feelings of empowerment that come from gathering with other people of color in the outdoors.
Bowman looks forward to collaborating with more diverse recreational groups, like the National Brotherhood of Skiers. She jokes that skiers love hip-hop and reggae, so they should "love black people as much as they love our culture." She asks "What better than to be one of the only ski towns that fights for black people?"