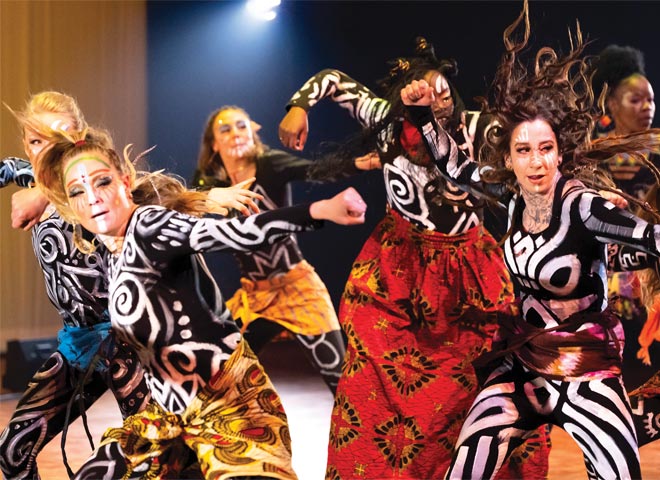 Move the Butte: the power of community
[  by Kristy Acuff  ]
There is something powerful which commences in late November; when dancers from the 'cliques' and mini-tribes in our valley begin to come together and create art through movement. In other words, to dance. It is during those dark winter nights that our community threads get an infusion of strength. And then, just a few months later in deep, dark February, that strength, beauty, power and rhythm explode on the stage for three shows of the most epic community dance show on the planet: Move the Butte!
"Move the Butte brings every cross-section of the CB population together: mountain athletes, artists, hippies, hipsters, rednecks, emos, kooks, bar flys, book nerds, working professionals, service industry peeps, wealthy, poor, young, old, gay, straight and everyone in-between all come together to create this amazing dance performance and during that time we're all just one crazy, messy super clique," says longtime Move the Butte dancer and choreographer Tiffanie Simpson. "If that doesn't give you the warm fuzzies, nothing will."
That sentiment of stoke and love is echoed by nearly everyone in the Move the Butte community, from the newbies to the founders, from the aerial acrobats to the old-school tap dancers, it's just that kind of event: inclusive, exhilarating, challenging and rewarding. 
Participant and choreographer Carrie Jo Hicks agrees. "I have dirt bike season, ski season and Move the Butte season," she says. "It comes at just the perfect time in the year where you are yearning for connection and movement. Days are darker and it is such a gift to have somewhere to be that is such a healthy outlet!  Dancing is such a powerful tool to ward off depression, put you in a better mood or just clear your head."
In the 14 years since its inception as the brainchild of Nicole Blazer, Adge Marziano, Joanie Grant and KT Folz, Move the Butte has turned into the 'hottest ticket of the year,' with its three shows consistently selling out. 
"This production inspires self-discovery and stimulates the creative yearnings in the audience as well as the performers," explains Folz. "Move the Butte has been successful in doing this because audience members are inspired by watching their friends, family and community members on stage taking risks and being creative." 
"The energy of the crowd is always off the charts," says dancer Zach Guy. "It's really rewarding and exhilarating to perform in front of such a stoked crowd."
When you dance, you are putting yourself out there, literally. Whether you are half-naked in a burlesque piece, or flying high above the stage in aerial silks, there is something powerful in moving to the rhythm together with a group of people who might have been strangers just a few weeks prior. It's hard to fake it. Those late-night rehearsals when you keep running the eight counts until you nail it, driving it home later with your private run throughs, staring at the tiny video on your phone, it's all worth it when you come together and show the piece for the first time to your peers and then finally to the hundreds who pack the Center for the Arts for the shows. 
"To dance, to create, to have fun and to connect with people from a different place generates this feeling of belonging to a larger family," says veteran dancer and choreographer Daniela Runge. "It makes people get together in a deeper way because you are sharing an experience that makes you vulnerable. No matter if you have dance experience or not, there will be a time during the practices/show where you will feel exposed, tired, insecure, nervous, excited, happy…and you are sharing all of these feelings which makes you bond in unexpected ways."
"There's something very intimate and intimidating about performing in front of a crowd where you know 90% of the people. It's terrifying and thrilling all at once," says Simpson. "Where else can you be half naked on stage, in the middle of a burlesque performance, and suddenly you're making direct eye contact with your dentist sitting in row 4? It's wild. And the energy exchange that occurs between the performers and the audience is surreal and like nothing I've ever experienced. You're up there giving it your all and the more you give the louder they cheer, so the more you give, the louder they cheer and it's the most wonderful positive feedback loop that just keeps going." 
In this place where we desperately try to hold onto the fading vibe of what once was a hidden gem at the end of a long mountain road, Move the Butte continues to stay true to its roots, to bring people together and inspire expression through dance. "It is an iconic event that still thrives and maintains its mission," says Hicks. "No matter the changes in our valley, it is a breath of relief to show up and see familiar faces and be a part of something that is so entranced in our culture where the vibe and positivity is still strong." 
Nowadays when it can start to feel that our town has become just another rich kid playground, little different than those along the I-70 corridor, Move the Butte keeps that positive, inclusive vibe from getting drowned out. It's not about how much you have, or how much you can show off your trophies, it's something more priceless. It's a feeling of belonging because of who you are, not what you own.
"I love that the level of dance experience is never-evers to people who grew up dancing their whole lives," says Hicks.  "We are all aware of the uber athletes in our mountain community, but dancing is a hidden talent of many and Move the Butte gives the opportunity to showcase that. I can't wait till this year!"
Kristy Acuff is a writer, teacher, climber and can be found on stage each year in Move the Butte. She has no dance training but loves to attend practices for the show during the long winter nights during Move the Butte season.