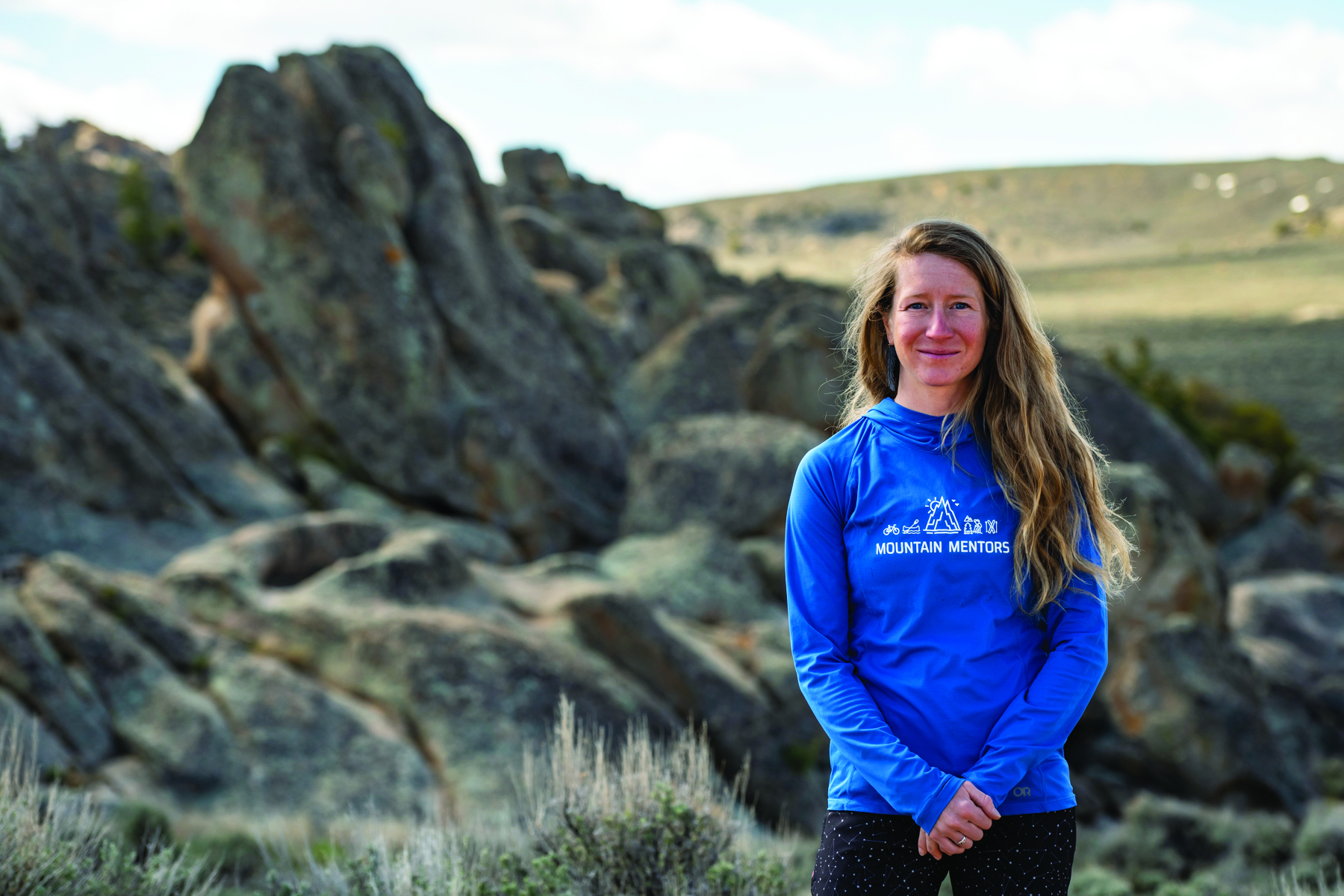 CB Mountain Mentors
A small group youth adventure program incorporates community, survival skills and of course, bike riding
By Katherine Nettles
Alex Riedman is teaching kids about mountain biking and life skills, and not necessarily in that order. When she first got involved with youth in the Gunnison Valley, she was actually more focused on the childcare and mentoring side of it all. It was only later, as she realized the kids she was teaching and nannying had grown older and more capable—and loved being outside—that she realized her vision.
Alex moved to Crested Butte in 2007, having grown up skiing and biking in the Laurel Highland Mountains of Southwestern Pennsylvania near Seven Springs Ski Resort. Her older cousin, Fred Sandusky, already lived in CB and she had come out to visit a few times. "I kind of had a taste whenever I came to visit, and I decided that this was it," she says. "But like many ski bums, when you're 22 you don't know if you're going to stay."
Alex did stay, and became an avid backcountry and big-mountain skier. She just finished up 15 consecutive seasons in the Freeride World Tour Qualifier in Taos with a first-place victory. "I finally won the event this year," she says, musing on the highs and lows of competitive freeskiing. "I met some of my best friends in ski competitions, and got to visit some really cool places." And in CB, she had found a community she wanted to be part of. 
"When I came here I was working at big music festivals, with around 15,000 people. That was really fun, but coming back home was always the best," she says. She gradually traded in the music festivals for working with children in many different capacities. That includes coordinating youth programming at the CB Nordic Center, which she still does each winter. But her summers were mostly spent working as a nanny, and she gradually integrated that and her love of biking and helping people into a business: Mountain Mentors, LLC. 
"It just evolved, because the kids kept growing and I figured, l love to do all these outdoor adventures," says Alex. "My friends and the families that I was nannying for really loved to be outside. So I started biking with the kids and doing all sorts of adventures, whatever was good. It didn't matter if it was raining; we'd put on rain boots and go out in the rain. It just kept growing and growing to the point where I realized, 'oh—I need to actually make a business out of this.'"
Mountain Mentors was born in 2021, and Alex operates through a permit with the Crested Butte Land Trust. "And right now the business is still small enough that I don't need more terrain…yet," she says. But she does employ a few additional coaches for her program, and says a U.S. Forest Service permit will probably be in her future. 
Her vision is to empower youth through outdoor education, which has several components. "Mountain Mentors is not just a mountain bike program, although that's our primary mode of transportation. The kids are learning mountain bike skills all summer and improving their technique and fitness. But they are also learning navigation, first aid skills and developing this sense of comradery between the groups," describes Alex.
The groups are limited to four kids, per the permit type and by design to keep them manageable and efficient. "It's easy for a coach to get some mileage in with four kids and to really cater the day to the group's needs," she explains. That means an afternoon dip in Long Lake after a satisfying bike ride, or a stop to play at the park after a morning hike.
This year, Mountain Mentors is offering adult mountain biking lessons and clinics as well. "I'm excited to expand the CB Mountain Mentors offerings," says Alex. Her plans for the future include adding wintertime snow and avalanche clinics.
The summer youth adventure program offers a progressive education, building on skills and knowledge around biking, hiking, weather and navigation, wildlife biology and stewardship. Kids also learn a new (age appropriate) first aid skill each week, which relates directly to Alex's 14 years with Crested Butte Mountain Rescue as a board member, mission coordinator and Rapid Avalanche Deployment (RAD) team member. 
"Youth first aid develops skills that can help them become independent trail users, or help in a situation where otherwise they might feel helpless," she says. One of the first skills she teaches is calling 9-1-1, and how to describe a situation and location. 
Kids also participate in local volunteer events, pulling noxious weeds and helping out at the Land Trust fundraising dinner.
"I like to pass that on to the kids, because I think it's really important. This community would not function without all the amazing volunteers that help at all these events," says Alex. "And not all the things we volunteer with have to be associated with biking. We're a huge community and I want the kids to have a sense of this community feeling."
More information can be found at www.cbmountainmentors.com.