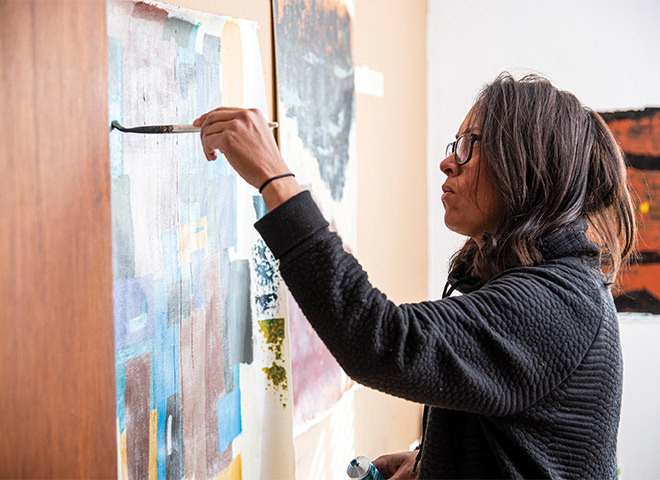 Artist Profile: Jessica Leak
by Stephanie Maltarich
A not-quite-finished zentangled painting of a fish hangs on Jessica Leak's bedroom wall. Four years ago, her mother asked her to paint the fish as a gift. But it's not yet done, and she's not sure when it will be.
"I was never happy with the fish enough to hand it off to my parents," says Jessica.
The piece hangs on her wall as a reminder of the things that contribute to her work as an artist: that she is somewhat of a perfectionist, her art is emotional, and time, as it relates to her art, can seem elusive.
The fish also symbolizes the moment when Jessica took a leap of faith: it is the piece that encouraged her to take her art to the next level. When the painting was in its beginning stages, a then-girlfriend, who was also a painter, encouraged Jessica to pursue art full time.
A handful of years later and now based in the Gunnison Valley, Jessica identifies as an abstract artist. Most of her work is acrylic paint on canvas and archival paper, and she also uses graphite and pen from time to time. All of her art is an expression of her lived experiences and emotions.
Fueled by nature
Jessica moved to the Gunnison Valley in 2019 after a brief stint in San Antonio, Texas. Jessica grew up in Michigan, and after college she moved to Portland, Oregon. While living in Portland, she met Pat and Kate Manning, who moved to the city after they met in Gunnison in the early 2000s.
The couple returned to Gunnison a few years ago to start Tacocat Tacocart. They suggested Jessica make the rural mountain town her next step, too.
"So I came on up, and fell in love immediately," Jessica remembers. "I love the mountains, and I was a pretty big trail runner in Portland. I just needed to get back to my roots."
She's happy to call the valley home, and already can't imagine leaving. For her, it has been a great place to connect to nature without the distraction of people.
The move has also paid off in her work as an artist.
"It's really what I needed to kind of regain some momentum with my art," notes Jessica. "And I think that it's paying off for sure."
Her art, explained
For the past 13 years, Jessica has painted and drawn. Her early work focused on tight-lined graphite and archival pen patterns. She explains this type of art as cathartic, and sometimes it still serves as a warm up before she starts on larger pieces, which are often acrylic paintings.
"I transitioned into abstract, doing more with acrylics," says Jessica. "I like that it dries quick, and it creates an anxiety in me to get it done."
Her art is also an expression of her emotions.
"I explain my work to people as being a release of my emotions. It's a lifestyle for me; it's a healthy outlet."
All of her art pieces are products of experiences she's had, or they reflect what's going on in the world or between people. Colors often indicate the mood of her paintings. Darker colors and blues often translate to sad emotions. Brighter reds and oranges indicate excitement.
A painting she completed last summer, titled June 2020, is an example of how Jessica processes her emotions through painting. She started the painting after George Floyd's murder, and worked on it throughout the month of June to process what she was feeling.
Following the tragedy, she engaged in many conversations with friends, and it stirred up countless emotions. Her process to create the painting required her to dig deep into her past, and the final portrait is an expression of her emotional journey.
To the naked eye, June 2020 looks like a spectrum of various shades of blue. Jessica says she chose the color blue to parallel emotions relating to musical blues.
The piece begins at the bottom, a dark blue, which Jessica indicates is an expression of her anger. Moving from the bottom to the top, the shades of blues shift and lighten. Toward the top, the lighter shades of blue begin to separate until finally, they fragment completely. The transition of blue hues indicates her entire emotional process in response to George Floyd and the events and protests that followed. The fragments represent all of the different emotions, thoughts and feelings she felt, and finally—a release of the many feelings that sat deep within. The top of the piece offers some hope.
"It gives me the opportunity and hope for a fresh start in understanding more about what is going on with race in this world," she explains.
She hopes her work, fueled by her emotions, can help those who may be experiencing something similar in their lives.
The artists' life
Jessica spends each day with a paintbrush in hand.
"It's part of my lifestyle; I'm painting every day," she explains. "It doesn't matter if it's one stroke or 100 strokes. I'm getting some paint on my hands, and on the canvas or on paper I'm working on."
She wasn't always an artist, and she took a winding path to arrive where she is today. In college, she studied psychology. Her goal was to pursue a career in sports psychology and research. But it didn't quite feel like the right path, so she shifted, and tried working with kids as a counselor because she enjoyed jobs where she was able to give back.
While in Portland, she re-enrolled in school to study pre-med. Partway through, she moved to San Antonio with plans to continue, but realized the credits that she had spent two years acquiring wouldn't transfer. It was a turning point for Jessica; she wasn't interested in starting over. So she took a break to figure out what she really wanted to do.
Her break involved taking pen to paper to create tight line drawings. It created an outlet, allowing her to expose vulnerabilities and anxiety, and she found sharing her art was a different way to connect.
"I was able to connect with people and tell my story," remembers Jessica. "And I found when I shared my own story with others, they would share back, and it was mutually beneficial and a release on both ends."
Her art served as an emotional release to process the changes in her life, while also taking time to explore a new path and direction.
Connecting with others is one thing she loves about being an artist, but the emotional energy behind her art also has its challenges.
"Sometimes if I'm in a bind emotionally, and I'm having trouble releasing it, it causes some pressure. Because I want to finish it," she explains. "Sometimes I see the final product, but I don't necessarily know how to get there, and so it can drive up more emotions of anxiety."
Jessica works through her emotional blocks by multi-tasking. She often works on numerous pieces at the same time to keep her artwork flowing. This allows her to step away from a piece, and revisit it with more clarity at a later time.
A day job with dogs
Jessica isn't sure when she'll get to the point where she will pursue art full time, but she is confident it will happen someday. For now, she's found a perfect job to balance her time while earning additional income a few days a week in Crested Butte.
Jessica works as a caretaker at Oh Be Dogful, a dog rescue and sanctuary just south of town. She loves the people, the job, and the dogs. And she finds she's able to connect with the dogs in a deeper way, much like the people who buy her art.
"There is an exchange of appreciation between me and the dogs that reside there," she says.
Jessica's love for dogs extends beyond her day job – she has two dogs of her own. After college, she rescued Kadence, a now 14-year-old kelpie mix, when she was four months old. Her new puppy, Kletis, is a german shepherd/husky mix who is just over a year old. Kletis was a rescue from Oh Be Dogful; a birthday present for Jessica last winter.
Jessica says she's often on the trails jogging with her dogs, or playing fetch with them in the fields. She loves them to death.
"They probably cannot stand how much I smoosh and smooch their faces," she laughs. "But they are always under the table I am painting on, or in my bedroom watching me work on canvases hung on my wall."
Jessica sells most of her work online through her Instagram account and website. She currently has work hanging in Sandz Fine Art Gallery in San Diego, and the rest is hanging or stacked in her home. Her art is also gaining popularity and momentum: most pieces she posts sell within 15 hours.
Jessica Leak's work can be found on her website www.jessicamarieleak.com or on her Instagram @jmlart.