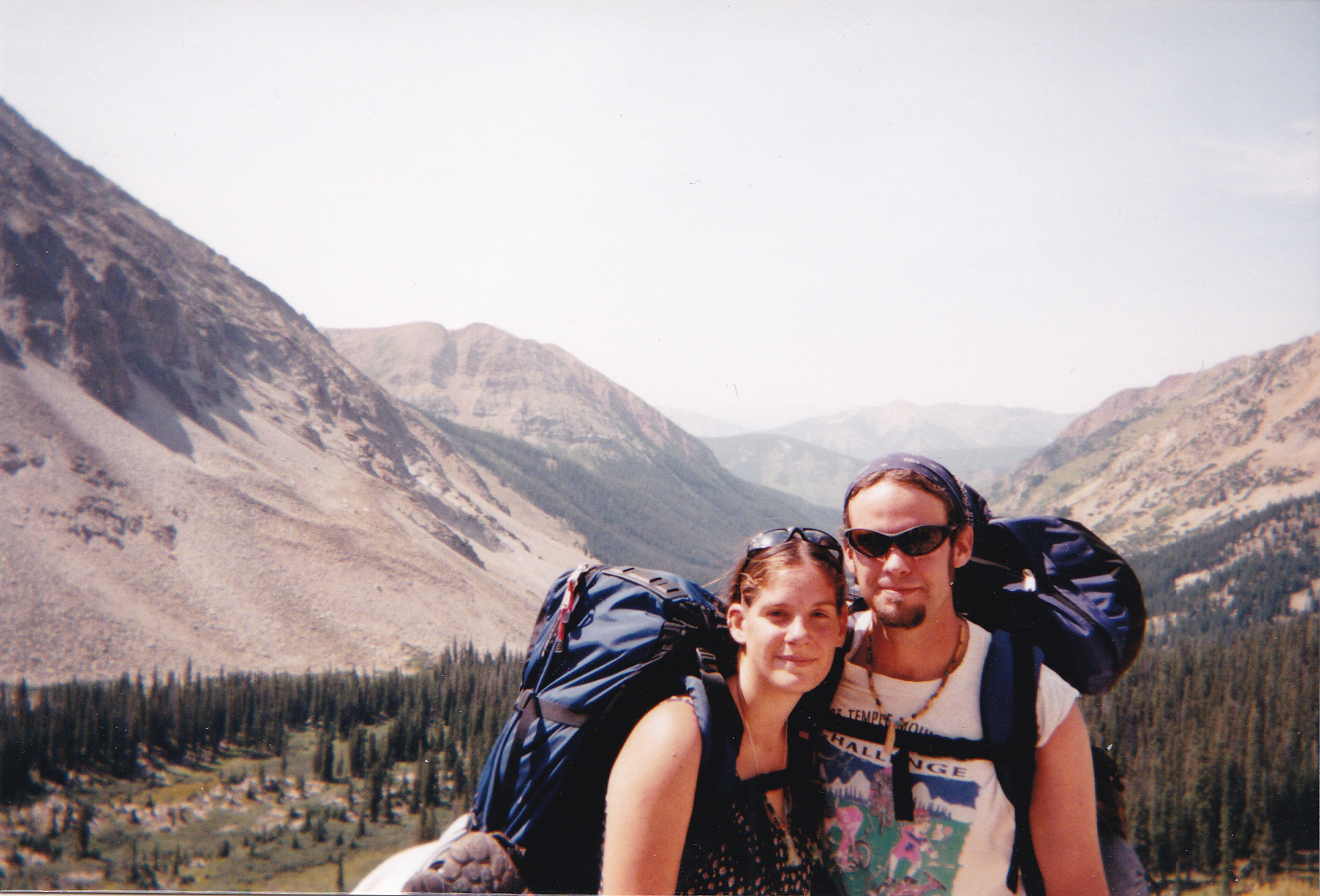 The Wonder Years, Coming of Age in Crested Butte
By Mike Horn
There are times when I pine for seeing my world through fresh eyes. When every view promised something new. It was late April in the Rockies after a 30-year winter. Snowbanks still loomed over town like double-overhead waves and it was still far too early to put away winter hats, gloves and snow shovels. The pendulum still hadn't swung to warmer spring-like days, seemingly stuck on the side of perpetual winter. The townspeople clamored for warmth and sun like houseplants reaching for the nearest window, desperate for energy to live and grow after a deep, dark winter. 
It's the time of year when locals who are able flee for the desert or trips home to see distant relatives. It reminds me of winter in a New England beach town—so far off visitors' radars that the population constricts to only those who live in this end-of-the road hamlet where community still matters most. Many of the local businesses flip the Open sign to Closed for several weeks as soon as the ski lifts stop spinning and tourism shuts off at the spigot. 
For those that remain, it's a rare time. Wealth and prosperity are measured in reconnecting with friends who seem distant during the high seasons. Too busy, too stressed, too focused on trying to make it through to the next quiet time. When the masses arrive they have a way of filling the empty spaces and places and time. Days and nights and years pass too quickly and we can't help but wonder at the point of it all. 
But today is for living the life we sought when we first arrived here from points unknown. The sun is out and locals loiter outside the few open bars dedicated to keeping the resident population well hydrated. Unleashed, scrappy dogs chase balls and frisbees down a mostly empty Elk Avenue. A couple of young bucks toss a football back and forth across the street. It's a scene reminiscent of the 1970s in Crested Butte, at least from the photos I've seen and stories I've been told. That's when a new generation of hippies and hellraisers started migrating to this remote outpost, living among the miners and ranchers who had called this area home for decades prior. Sure, there's more work to be had than 50 years ago, but the desire to work on days like this, in a place like this, is at an all-season low. 
Inside Kochevar's, Crested Butte's most historic and still gritty-as-the-dirt-in-the-streets bar, the stools are full and so is nearly every other open space in the mostly windowless cavern. I look around and recognize nearly every face in the room. After nearly a decade mostly spent raising kids and working alone, I feel like I've reemerged after a long winter, like a hibernating bear, or more accurately this time of year, a plowed-over bike melting out from a snowbank. 
A couple decades have passed since I first set my eyes on the valley I've learned to love unconditionally. The same can be said for the other love of my life. Lori and I met back east, in Lowell, Massachusetts, where I was tending bar at a place called The Usual. We were both taking college classes in the city. We both wondered what kind of life existed beyond those cobblestone streets, boarded-up mills and broken dreams. We came from different worlds but found ourselves living in the same universe.
She had long brown hair, dark, mischievous eyes, wore handmade hippie dresses and loved going to see live music. She had no interest in bartenders who stayed up too late and partied too much, but somehow she saw something in me beyond The Usual.
We eventually made plans to migrate west, unsure of what would come next, or where that path would lead us.
Our road-weary Jeep Wrangler plodded east on Highway 50. Hot-like-a-hairdryer wind gusts shook the boxy, rusted body to and fro, and dust devils swirled across the mostly quiet road. A tumbleweed the size and shape of a whiskey barrel—the first I'd ever seen—bounded across four lanes. Advertisements for something called Cattlemen's Days were painted on the grocery store windows. In the moment, I was unsure if we'd stumbled onto a post-apocalyptic movie set or the kind of Western ag town I'd read about as a flatlander growing up in a past-its-prime industrial town in central Massachusetts. At the Four-way intersection ahead was a sign. I turned left.
When you come from a place where beauty is often hidden beneath layers of crime, poverty and desperation, the windshield-wide view of Paradise Divide is enough to stop you in your tracks. The dream I had of what my new Western life would look like came true before I stepped a single foot on this hallowed ground. For the first time, without a sliver of doubt, I knew exactly where I was supposed to be. 
It was July in the high country. Verdant fields rendered juicy green from irrigation and monsoon rains edged up to hulking masses framed by rounded ridges and serrated peaks. Lapis blue skies flooded the spaces above and in between like an upside-down sea. Crumbling cabins and swaying wildflowers lined the highway to my new home. I passed a few vehicles heading south. Not the new flashy cars I was accustomed to seeing back east where shiny new things displayed status and swagger. There was a truck with the cabin roof cut off like a DIY convertible, and a 1950s Chevy pickup hand-painted white and green just puttering down the road with no hope or care of reaching the speed limit. An aging John Deere tractor rumbled past, half on the highway and half in the breakdown lane. No one beeped their horn or flipped the driver the bird. No one seemed to be in a hurry, at least compared to Massachusetts, where a half-second pause when the traffic light turned green could elicit a chorus of honks and hollers from the mob. 
Affordable rentals were remarkably hard to find in the summer of 2000. We arrived with just enough money for gas and food and first month's rent if we were lucky. So we moved into a tent. What qualifies as homeless back home was much more romantic and purposeful along the shores of Cement Creek. We lived among the rocks and trees and flowing water, and wandered through the surrounding forest for lack of anything better to do. We cooked our meals on a two-burner campstove, watched sunsets and moonrises and slept to the sound of the burbling creek. The Forest Service wasn't yet cracking down as hard on people living in the woods, and we stayed until a rental opened up in Mt. Crested Butte. Having a place to live meant rent to pay and, like the housing, jobs seemed to be few and far between. At least for a couple of hippie-looking kids who were only halfway towards earning college degrees. Both Lori and I had worked in the restaurant business back home, and soon we both fell into old habits, serving locals and visitors alike. 
The Avalanche in Mt. Crested Butte was one in a line of storied establishments which had occupied the same space at the base area of the ski resort. Summer was waning when I was hired to serve tables in the shadow of Crested Butte Mountain. I was so excited to have a job I didn't realize the restaurant would close soon after Labor Day and wouldn't reopen until Thanksgiving. Off season? Coming from a city that wasn't dependent on tourism, I was completely caught off guard. Looking back, I can laugh at how oblivious I was to the ebb and flow of living and working in the mountains. In the moment, I was panicking. Soon we were living off cash advances from the credit card I signed up for at a college fair a few years prior. Debt stacked up while we waited for snow to do the same. Stress crept into our idyllic existence. Shit was getting real, even here, in the beauty of my dreams. 
I got a job as a laborer with a construction crew whose current project was laying new water pipe several feet below ground. I was so green and unskilled they barely trusted me with a shovel. So I spent most of my time in a hole digging and dodging the swinging bucket of the excavator run by a hard ass cowboy named Steve. It was fall in the mountains and every day, no matter the weather, my boots were soaked by mid-morning and frozen by mid-afternoon. Cowboy Steve would heckle me and my buddy Eric, who had also moved here from out east. He knew we were short-timers, at least in this job, and treated us as such. But the pay was decent and the checks arrived on time. As long as I could stay out of the way of the excavator bucket, Steve's wrath, and the crumbling walls of the ditch, things would be just fine. 
As fall froze over and turned to winter, I quit digging ditches and headed back to the Avalanche. I got my first season pass on loan from the owners and learned to snowboard the hard way. During my first few attempts, I broke a rib catching my downhill edge on a beginner slope. But I just kept riding and working and doing it all over again, day after day after day, just like everyone else who worked at the Avalanche. We were allowed to store our gear upstairs and I'd go straight from the slopes to my shift, changing from snow clothes to work clothes like some sort of dirtbag Superman, pulling chunks of ice out of my beard as I ran down the stairs to clock in. 
I never intended to fall in love with the mountains and sliding on snow and the culture that surrounds it all. I didn't know mountains could create their own culture until I landed at the Avalanche, which seemed to have its own gravitational pull. It was the gathering place for all walks of life, bonded together by snow and rock, booze, drugs and debauchery. Paychecks spent before they arrived. Stories of mountain glory repeated to anyone who would listen. A frenzied pace night and day.
Time flies when you're having fun and working some, and before I knew it, another off season was fast approaching. Come spring, I was ready for a break from slinging food and booze, ready for a break from serving the public altogether. I stopped fighting against the current, filling off seasons with adventure and laziness rather than work, still wondering if we'd have enough money to pay the bills, but not afraid to let it ride until the next high season arrived.
A couple decades later, I can't help but wonder if others who stumble into this place today can have that same coming-of-age experience. Rolling into town, running on fumes, struggling to make a living and break through the crust, to eventually finding one's place amongst the people who make this more than just a mountain town.
I hear the consistent chatter about how fast Crested Butte is changing, how it's different now, harder than it ever was. I ask myself if the generations that arrived in waves before me said the very same thing. It's not easy these days, but it certainly wasn't easy back then, either. Living here is a boom or bust cycle that's repeated itself for as long as people have come to Crested Butte looking to find themselves, to find a way to survive and thrive—or not.
As for my own struggles during my first decade-plus in the valley, working 2-3 jobs and mired in debt just to be here because I no longer belonged anywhere else? I wouldn't trade any of it for the world. It's who I am. It's who I know. It's where I belong.
My story of coming of age in Crested Butte is far from unique. I look around Kochevar's and see the same story repeated dozens of times. I see the people who make this place, and the people who made me. I think about the generations of mountain folk who gathered here before us, sat in this same bar, shared similar stories and pondered these same questions.
A few old friends stand around a table sipping Coors from stubby bottles and joking about who's older than who, even though, in this fleeting moment, time is irrelevant. I order another round and keep the tab open, wondering who will walk through the door next.