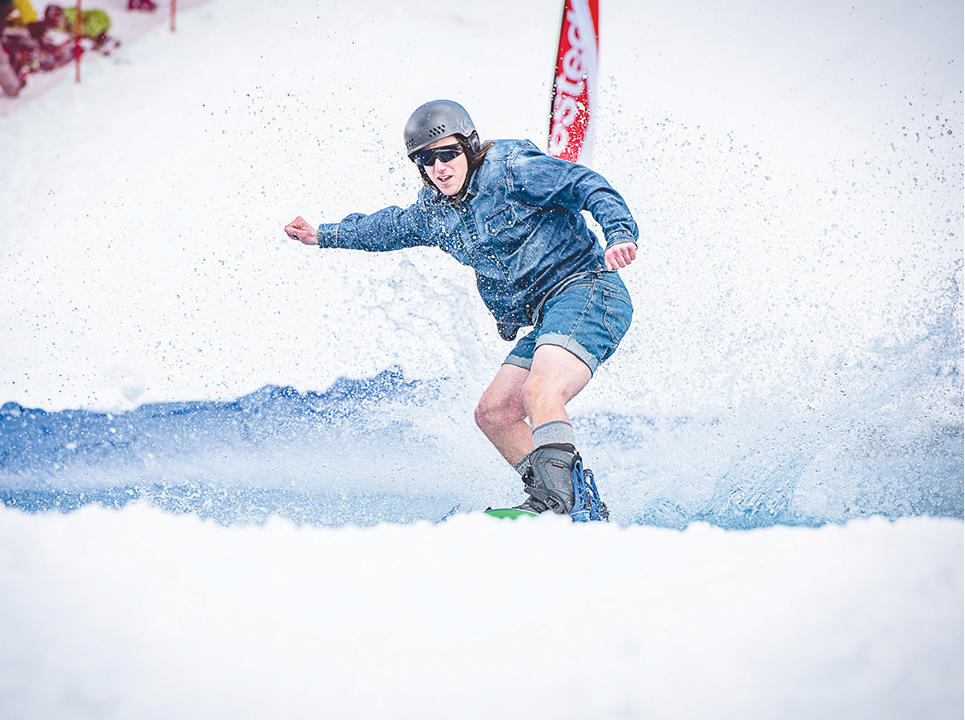 What's New on the Mountian
Sharpen those edges, buckle up your boots and get your pass ready for a new winter season at Crested Butte Mountain Resort (CBMR). From lift upgrades to sustainability to overall mountain improvements, here's what Vail Resorts has in store for Crested Butte this winter.
Story by Kendra Walker
New Teocalli Lift
As one of the central upgrades for this winter season, the new Teocalli chairlift will more than double the capacity of the former double chair.
The location of Teocalli's upper terminal has also changed locations, now landing right next to the top of Red Lady Express to give guests the opportunity to ski or ride left towards Paradise Express or down to the base area.
In addition to the new Teocalli quad, the Vail/CBMR team has invested in more general maintenance on some of the mountain's key chairlifts, including Silver Queen Express and Paradise Express. "We want to keep runtime of the lifts as high as possible and dramatically increase the reliability and consistency of these core lifts," said Tim Baker, CBMR vice president and general manager.
Guests will also notice changes in the lift lines and transitions this year. According to Baker, CBMR's lift line designs have been adjusted to keep guests moving at a more consistent and efficient pace. "We've learned a lot over the years at all of our resorts around the world studying what guests are looking for and what their expectations are," he said. "The changes are very intuitive and we'll be much more strategic in adjusting those designs moving forward."
EpicMix
The arrival of Vail Resorts' EpicMix platform to CBMR will allow guests an upgraded mountain experience. According to senior communications manager Sara Lococo, the radio-frequency identification (RFID)-enabled Epic Pass or day ticket, will allow guests to view personal accomplishments and features on the EpicMix app, including the ability to track days on the mountain, chairlift rides and vertical feet, as well as complete challenges, earn pins and share photos.
Through the app, EpicMix Time will provide chairlift wait times at select lifts, including East River Express, Paradise Express, Teocalli, North Face and High Lift. "With EpicMix Time, guests can use the app to check real-time lift wait times to inform where they may want to go on the mountain," said Lococo.
Cell Service
Another big upgrade this season is expanded WiFi connectivity from the Paradise warming hut to the top of Paradise. "We're pretty excited about that," said Baker. "We're well aware of the cell network access on the backside. Folks will no longer have to click out of their skis to run inside and check their phones and emails."
New Uniforms
Expect to see the bulk of CBMR employees in shiny new uniforms and colors this winter, said Baker. In partnership with Helly Hansen, employees will have new gear and colors to reflect Vail Resorts' employee categories across the board. Ski/ride professionals will be in blue (formerly red), lift operators in dark blue, guest services in crimson red (formerly yellow) and the bulk of the operations team in black.
EpicPromise
"Our 'Commitment to Zero' is a big deal to us as a company," said Baker, on Vail's environmental pledge to achieve a zero net operating footprint by 2030. "We're very excited for Crested Butte Mountain Resort to be a part of that." Goals include reaching zero net emissions, zero waste to landfills and zero net operating impact on forests and habitat by 2030.
As a result of these sustainability efforts, guests will see changes at the food and beverage outlets, using real, traditional cutlery and moving away from single-use plastic cups, plates and silverware. "These are the first steps in the direction to dramatically decrease the amount of waste to the landfill," said Baker. Over the last year, CBMR has also switched to more compostable and recycled-content products, as well as improved waste and recycling signage.
In other areas, the resort is currently in the process of replacing all fluorescent and incandescent bulbs with new LED fixtures. "We anticipate full LED conversions to be complete at CBMR in 2020," said Lococo. The mountain is also using low-energy, high-efficiency snow guns for snowmaking, essentially making more snow with less energy.
Additionally, as part of the company's commitment to reforesting the habitat in its communities, the trees removed for the new Teocalli lift were offset with 600 trees planted in the Double Top Glades in the East River zone, in partnership with the U.S. Forest Service.