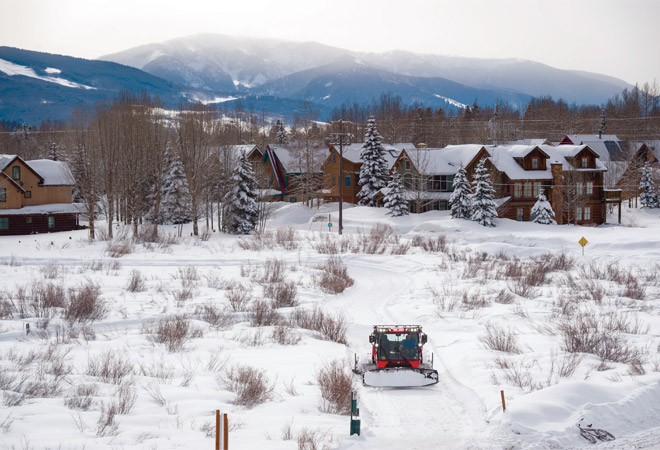 CB Nordic staff's trail faves
Crested Butte Nordic is a community non-profit offering 50 kilometers of groomed trails for cross-country skiing and snowshoeing, rental equipment, programs and events for both residents and visitors. By providing access to essential outdoor recreation, CB Nordic supports the community's health and well-being all winter long. Below, the Nordic Center staff share their favorite Nordic trails to explore this winter season. To learn more, to rent equipment or to get your trail pass, visit cbnordic.org.
Pooches' Paradise to Mike's Mile (5.3k)
Nordic Center staff love to take their pups out for early afternoon skis in the sunshine on this trail. The ski out Pooches' Paradise to Mike's Mile is mostly flat or gently undulating with only a few climbs, so it is a great place for beginners to learn, advanced skiers to skate fast and all users to enjoy spectacular views up Paradise Divide.
Ruthie's Run (5k)
This is where Nordic Center staff head for lunch-break training sessions, or just to enjoy the view of town. Ruthie's Run is located on "the Bench" just above the Nordic Center, and is a homologated (sanctioned) course. The eastern section of Ruthie's Run has challenging climbs and swift descents with sharp curves and is best suited for advanced skiers. Intermediate skiers will enjoy the rolling terrain through the pine trees on the western half of these trails.
Rudy's Rollers (1.5k)
This trail is a favorite for its fun, rollercoaster-like feel! Rudy's Rollers is perched just off the Rec Path between Crested Butte and Mt. Crested Butte. Surrounded by vistas of Whetstone, Red Lady, Snodgrass and Mt. Crested Butte, this open meadow affords beautiful views in all directions, whether you're hammering up the hills or quick-stepping around the curves on the descent. Rudy's Rollers are beginner/intermediate level, and hold sun until late afternoon due to their location on the "East Side" of the Nordic trail system.
Magic Meadows (4.6k)
There is something truly magical about these intermediate-level loops. Wind your way through pines and meadows, with slight uphills to get your heart moving and smooth downhills to enjoy the glide and look around. CB Nordic hopes to have the yurt at the heart of the Magic Meadows open on Sundays for coffee/tea, snacks and hanging out in addition to occasional fine dining.
Mordor (3.2k)
Ready for a challenge? The steepest and hilliest of Crested Butte Nordic's trails, Mordor lives up to its name. Mostly made up of long, steady uphills that wind up the lower flanks of Mt. Crested Butte, this trail travels on the summer's Upper Loop Trail. At its most southern point it drops steeply into the gulch. Whether going up or down, it's a doozy!