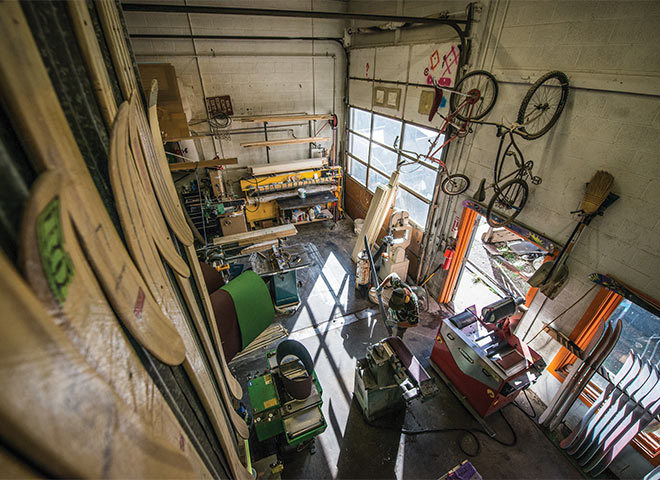 The ROMP Evolution
By Than Acuff
Back in 2010, thanks to the recession, the building industry had all but dried up and local brothers Caleb and Morgan Weinberg had an idea.
The Weinbergs grew up freeskiing and ski racing at Cannon Mountain in New Hampshire. Caleb made Crested Butte his home in 1992 followed by Morgan four years later.
Their father was a contractor and Caleb became a general contractor in the valley, but as the local economy slowed down, the work dried up.
So Caleb and Morgan decided to build skis in Morgan's garage. Not so much as a business – mostly just for fun.
"No one wanted houses built so we decided, let's build skis," says Caleb. "I was just really slow, I had time."
They started in classic bare bones fashion, moving Morgan's wife's car and the kids' toys out of the garage each time they made a pair of skis. Caleb had enough tools from his construction business for a majority of the ski building process. Without a ski or laminate press, they used a vacuum bag process for the final construction steps and by January 2010 they were on the hill, on their homemade skis.
As their skis started passing their own ski tests – suffice it to say former ski racers from the East Coast living in Crested Butte know how to test skis – they started cranking out skis for friends who also have a sense for what a ski can and should do.
"I got a chance to ski a pair in the early stage," says consummate ski tester Gabe Martin who owned Colorado Freeskier at the time. "It was super aggressive and carved really well and they're fat, so they also float in powder. "
In addition, then Crested Butte Mountain Sports Team Freeride head coach Woody Lindenmyer tried a pair and was also impressed from the start.
"I was really surprised," says Lindenmyer. "They were great and they skied really well, super-responsive."
With feedback like that, the Weinbergs decided that their new hobby could be a new business. 
"The response from everyone who tried them was so good that we decided to go for it," says Caleb. "Take the summer to build a factory and do it."
 They started their custom ski company, Romp Skis, and they moved to their current spot at 420 Belleview Avenue in the town of Crested Butte.
The past 11 years for Romp Skis has been quite the whirlwind. It's included adding more ski options to their line of custom skis, a couple of contracts to crank out skis for the U.S. military and now a new line for the 2021-22 season dubbed Romp Ready skis. It's a way to make their skis more available to the general public as well as skiers that can't afford the cost of a custom pair of skis.
"We had to raise the prices on our custom skis and we didn't want to price out the core skiers," explains Morgan.
They are offering five distinct models of Romp Ready skis, including a skimo type ski and one called the Zorro, the original Romp design available with an 89 mm waist, a 100 mm waist or a 115 mm waist. 
"We are going with our most popular skis in the Romp Ready line," says Morgan. "And we're launching them as 'families' of skis."
On the back end of the company, Romp is also working closely with Western Colorado University (WCU) to get students into their operation in a variety of intern positions, a real-life experience for WCU students. 
"It's been exciting and productive to work with them," says Morgan.
What does this mean for the consumer? Well, now Romp has skis in their shop ready to go out the door and once a model is sold, they will crank out another pair in their shop to keep their line of Romp Ready skis available for purchase.
Romp also has a Demo days schedule for the season and reviews of their skis should be popping up on Unofficial Networks as well as Blister Gear Review. 
Additionally, they're the brothers or the company looking to expand to shops throughout the Mountain West. Most corporate ski shops are already flush with the usual line of skis and lack the room or desire to carry Romp skis. As a result, Romp is looking to get into the smaller shops including CB Sports in Mt. Crested Butte.
"We think there's a lot of room for us to get into the independent ski shops," says Morgan.
"The interest in Romp Ready has been really good," says Morgan. "We just launched our new website (rompskis.com) and snow is falling."