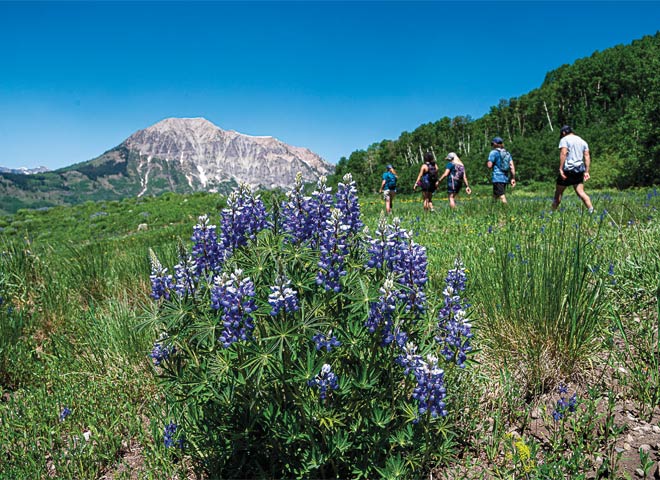 Stats:

251

0

Posted:

June 8, 2022

Category:

What To Do
Local Favorite Hikes
Woods Walk to Lower Loop
DEGREE OF DIFFICULTY: easy
LENGTH: about 6 miles round trip from Crested Butte
with options to make it shorter
ROUTE: Kebler Pass or Butte Avenue to Peanut Road
Woods Walk Trail is best accessed about a quarter-mile up Kebler Pass on the right. This is an easy walk from Crested Butte or you can drive to limited parking at the trailhead. This part of the Woods Walk passes through aspens especially splendid during wildflower season. The columbines can be stunning.
When Woods Walk breaks out of the aspens into sagebrush, you will see Peanut Lake and its distinctive island. This section of trail parallels Peanut Lake Road which provides alternative access to Woods Walk. Woods Walk winds past the old, reclaimed Peanut Mill site, where the trail trends right down the hill and into trees. The wide and surfaced pedestrian trail is signed with fun interpretive information for all ages.
Both trails lead to the Lower Loop Trail system which offers several different possibilities for exploration. Again, there is plenty of signage. Upper Lower Loop gives great views of the valley, and easily connects to GB Loop with its magnificent views of Oh-Be-Joyful waterfalls. From the waterfalls, GB Loop follows down the hill to Gunsight Road which in turn connects to Lower Lower Loop and eventually Peanut Road, which leads back to Crested Butte.
---
Oh-Be-Joyful Creek
DEGREE OF DIFFICULTY: easy to moderate
LENGTH:  4-12 miles round trip
ROUTE:  up and back
Named for one of the passionate red ladies of the mining days, Oh-Be-Joyful Creek flows from the heart of the Ruby Range in the Raggeds Wilderness down to the Slate River.  If you like mountain views, streams, wildlife and flowers, you will fall in love with Oh-Be-Joyful.
To find this beautiful valley, drive north out of Crested Butte on Gothic Road over Slate River bridge. Take the first left on Slate River Road and go 4.5 miles miles to Oh-Be-Joyful Campground. Park here and cross the foot bridge over the Slate River. Follow the old road for less than two miles to the Wilderness boundary. Oh-Be-Joyful Creek runs parallel to the trail, on your left.
Continue up the valley as far as you wish. The trail climbs gently for many miles on the north side of the creek, passing through colorful wildflower meadows, dark sub-alpine forests, and lush creekside wetlands. Near the head of the valley, the trail splits, with Blue Lake nestled at the top of the Basin on your right, and Democrat Basin and Oh-Be-Joyful Pass to your left.
---
Ferris Creek Loop
DEGREE OF DIFFICULTY: easy to moderate; 
some difficult toward the end
LENGTH: 5-6 miles
ROUTE: out and back or loop
To reach the trailhead, travel two miles south of Crested Butte on Highway 135. Turn left on Brush Creek Road toward Skyland Golf Course. Keep going past Skyland and continue around Crested Butte Mountain. Easy parking can be found before you cross East River on the left. Continue across the river and past Cold Springs Ranch until you reach a gate and style over the fence on your right. Park here and walk up the road. 
Ferris Creek Loop is a gateway to numerous other trail systems including FS Trail #409, Strand Hill and Brush Creek roads and trails. Consult maps or any number of smartphone apps to diversify your adventure. Ferris Creek Loop travels around Strand Hill through meadows and forests, and provides marvelous views of the back side of Crested Butte Mountain, Mt. Whetstone and Double Top. 
---
Green Lake Trail
DEGREE OF DIFFICULTY: moderate to difficult
LENGTH: 4 miles each way/8 miles round trip
ROUTE: out and back from town
Park in town, near the Crested Butte Nordic Center at Second Street and Whiterock Ave. The trail begins near the Nordic Center.
This trail provides a more aggressive and steeper trail from Crested Butte, and proceeds through private property during some of its length. Remaining on the marked trail is a requirement. Ends at Green Lake, with the return trip a back-track into Crested Butte. Once you get to Green Lake, take the time to relax, have some lunch and marvel at the water. It's a gorgeous high mountain lake.
---
Upper Loop
DEGREE OF DIFFICULTY: easy
LENGTH: 5 miles or more
ROUTE: bus to Hunter Hill Road; traverse front side of Crested Butte Mountain 
Upper Loop is an easy hike and can be undertaken in numerous ways. Ride the Mountain Express bus from Crested Butte's Four-Way Stop to the Hunter Hill Road bus stop. Walk Hunter Hill Road to the first switchback where there is a bench for resting and the trailhead for Upper Loop. This trail is well signed so you should easily find your way.
Upper Loop travels the front side of the mountain on one of those sagebrush terraces you can see from town. There are several alternative hikes diverging from Upper Loop; if you want to circle back onto Crested Butte Mountain singletrack, take the first left up Happy Hour trail. The easier route is to continue on Upper Loop to Tony's Trail which leads to McCormick Ranch Road, which leads back to Elk Avenue and Crested Butte. This is the easiest way down and out.
If you choose to keep hiking, take a left on Bridges Trail, which connects to Upper Upper Loop, and remember you will have a longer walk back to town on Brush Creek Road. There are several other choices for the descent including Skyland Connector and Whetstone Vista. If you continue on Upper Upper Loop, you'll find its terminus after descending to Brush Creek Road on the south side of Crested Butte Mountain. You now have a substantial but beautiful walk back to town.
---
West Maroon Pass
DEGREE OF DIFFICULTY: easy uphill walk, but long!
LENGTH: 8 miles round trip
ROUTE: out and back
West Maroon Pass is perhaps the most traveled hiking route between Crested Butte and Aspen. The trail is long, but the rewards are worth it, taking you through beautiful open meadows and into the red sedimentary rocks high up in the Elk Mountains. The hike itself is not difficult nor is the trail difficult to follow. However, it does have a substantial amount of vertical gain and that can make for a long day.
To reach the West Maroon Pass trailhead, take Gothic Road through Mt. Crested Butte, past the Town of Gothic and eventually over the top of Schofield Pass. From the top of Schofield Pass, you will encounter several switchbacks before descending into the meadow called Schofield Park.  Just after you drive through a creek, you will see a turn-off and campground on your right. This is the West Maroon Pass trailhead. (4WD vehicle recommended.)
After a short walk through the trees, the trail begins climbing switchbacks past the ruins of an old mill.  Continue upwards until the trail levels out somewhat and parallels the river. The trail traverses up the side to the valley for two and a half miles, gaining considerable altitude as you go.
The trail swings around the basin to a more northeasterly direction, still climbing, switching back upward again through lots of fairly thick willows. The switchbacks will deposit you on another level part of the basin. Stay on the right-hand fork to keep on West Maroon Pass, swinging left out of the meadow in the rocks.  At this point you are only a couple of switchbacks from the top of West Maroon Pass.
If your plan is to go on to Aspen, head downhill over the pass. Otherwise, after soaking up the views of the Elk Range, head back the way you came.