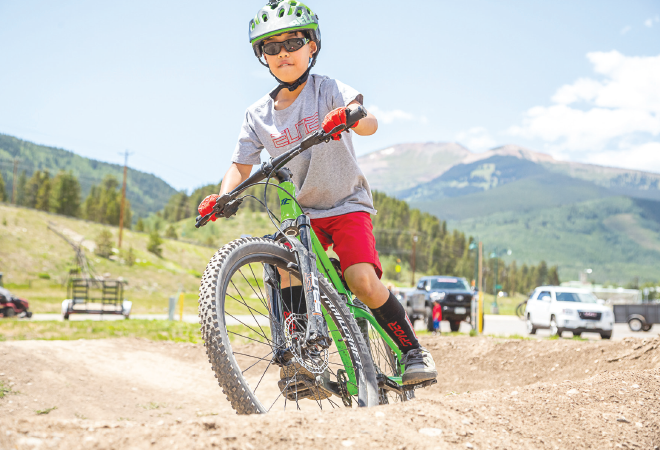 Family fun: Outdoor activities with kids
By Katherine Nettles
Parents know that having a range of different outdoor activities to choose from is key. Some days we need a satisfying full day outing for everyone and other times it might just be a quick morning trip before my daughter's nap. CB and the whole Gunnison Valley have plenty of pint-sized options for those pint-sized people, and these ideas are fun for the grownups too. Don't forget the sunscreen, the water and the never-ending snacks!
Go fish
For a half-day adventure, a trip to Roaring Judy fish hatchery in Almont is simple and fun. The Colorado Parks and Wildlife cold water fish hatchery is located on the East River, and it's home to the largest known kokanee salmon run in Colorado. The facility is perfect for feeding (or catching) fish, looking for bald eagles in the riparian zone and walking a nice, flat mosey-paced trail with the shade of cottonwood trees. An hour or two is plenty, and you can bring small kid bikes too. Bonus: easy walking for grandparents. Directions: From Crested Butte, head South on Highway 135 for 14 miles and it's on the right.
Lake life
Lake Irwin is a picturesque recreation area just outside of Crested Butte. The lake has camping, fishing, boating and hiking opportunities, with a 2-mile trail around it. You can bring SUP boards, rafts, or just yourselves. Older kids love jumping off the rock cliffs into the water below for an invigorating experience. Aim for morning before the afternoon winds pick up. Directions: From Crested Butte, take Whiterock to Kebler Pass Road and look for the Irwin Lake sign on the right after 9 miles.
Beaver Ponds
This is a great short, easy hike for little ones with potential for beaver sightings at the end. The first time I took my kids, the trail (one mile out and back) was speckled with golden aspen leaves in September. We've since learned to love it all summer long. It's a longer drive (about an hour), so you can time it to coincide with naps while you enjoy the views along Ohio Pass that are truly spectacular. Directions: From Crested Butte take Kebler Pass Road and stay left toward Ohio Creek Pass. Take Ohio Creek Pass for 3 miles until you see the Beaver Ponds Trailhead. Limited parking available.
Story Walk
Take the kids on the Story Walk out the Lower Loop, which is sponsored by the Crested Butte Library and Crested Butte Land Trust. Walk or bike along the trail, stopping to read pages of a book. This year, the story "Under My Tree" is written by Muriel Tallandier and illustrated by Mizuho Fujisawa.
Rec Path
The town of Mt. Crested Butte and Crested Butte are connected by a paved recreation path that crosses bridges, offers great places to stride with strollers or bikes and has plenty of places to stop and rest or play on the river banks. The path begins at the east end of Teocalli Avenue with the footbridge that crosses the Slate River.
Slate River
There are a several spots to enjoy the gentler banks of this river, and playing with the smooth, flat slate rocks that give the river its name provides endless entertainment. The rec path footbridge, Gunsight bridge, and the Lower Loop all offer access to it.
Gunsight Bridge directions: Take Gothic Road north .8 miles to Slate River Road, turn left and drive 3.6 miles before turning left on 739A. Park on the left side of the road next to the parking blockades to access the river. You can also bike or hike here from the Lower Loop.
Playgrounds
These are a staple of childhood, and there are plenty around CB with amazing mountain views if you just need to squeeze in some easy playtime before dinner.
Rainbow Park has picnic tables and a pavilion with shade along with a climbing rock.
Pirate Park is the newest on the local circuit, also with picnic tables, right behind the Center for the Arts.   
Henderson Park on Whiterock Avenue and Three Ladies Park on Butte Avenue are great for toddlers. 
Mt. Crested Butte has the Ted Scheske Park and playground north of the ski area on Gothic Road, below town hall. There is also a treehouse at Crested Butte Mountain Resort base area downstairs from the Brown Lab and Bakery. 
Bikes and boards:
The Crested Butte pump track behind the Community School has a great bike park, even for toddlers on balance bikes. 
Big Mine Park on Belleview Street has assorted ramps and half pipes for all levels of bikers, scooter riders and skateboarders.