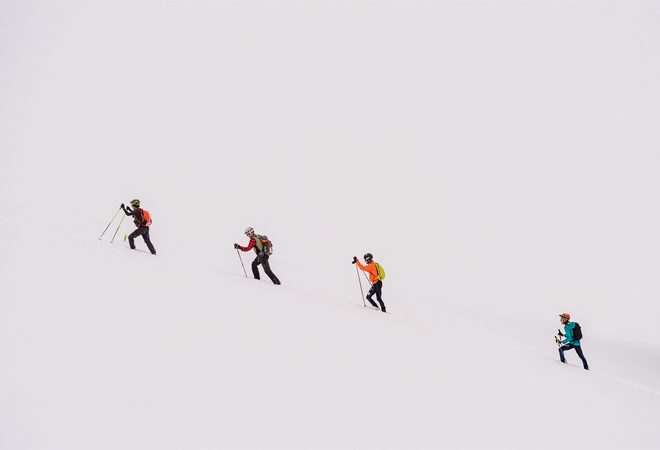 2020/2021 Winter events
Please note that all events are subject to change based on Gunnison County's current Covid-19 public health orders, and some events may have been updated since this issue's publication. Please check with each event website for the most up-to-date details and health protocols.
History at Home online speaker series – October 2020 – March 2021
The Crested Butte Mountain Heritage Museum is hosting "History at Home," an online speaker series exploring different themes from Colorado and local history. Join the Museum every Thursday at 7 p.m. for an hour of virtual presentations, discussions and panels. From fur trappers in the West to the Gunnison Valley Cora community, you'll hear stories from people in and out of the valley. The "History at Home" series is free but donations are appreciated. Visit crestedbuttemuseum.com to register or call 970-349-1880.
Holiday History Raffle – November 23 – December 30
Here's your chance to win a spring trip to Hawaii and more! The Crested Butte Mountain Heritage Museum's Holiday History Raffle features a week's stay in Kailua-Kona Hawaii, a week's stay in Molokai Hawaii, a custom pair of ROMP skis, $500 cash prize, $100 Crested Butte Personal Chef's dinner, $100 Speckled Goose dinner and a Museum membership package. Tickets can be purchased at crestedbuttemuseum.com or by visiting us at 331 Elk Avenue.
CBMR Opening Day – November 25
Lifts start spinning at Crested Butte Mountain Resort for the 2020/21 ski season.
Thanksgiving Nordic Ski Camp – November 26 – November 29
This annual early season training camp hosted by the Crested Butte Nordic Center offers on-snow group clinics with personalized coaching that caters to all ability levels. Camp is capped off Sunday morning with the first race of the Alley Loop Race Series.
Light Up The Night – November 27 – all winter long
The Crested Butte/Mt. Crested Butte Chamber of Commerce will be encouraging all businesses to light up at 6 p.m. each night starting November 27 and all winter season long. The tree in front of the Brick Oven will be lit and a tree will be placed in Mountaineer Square up on Mt. Crested Butte. Butte Bucks will also be available for purchase starting on November 27, which provide a 20 percent discount at local businesses during the holiday season.
The Alley Loop Race Series – November 29, December 19, January 9, January 16
Open to all ages and abilities, this Nordic ski race series hosted by Crested Butte Nordic is a great way to attain race fitness ahead of the annual Alley Loop Nordic Marathon. Points are accrued throughout the series, with awards for top cumulative point winners.
Virtual Avalanche Awareness Night – December 4
The Crested Butte Avalanche Center (CBAC) returns with a virtual night of informative and entertaining presentations and video to help you stay safe in the backcountry. And as always, the raffle of the year! Event will be from 6-8 p.m., and for more information on how to tune in, visit cbavalanchecenter.org.
Mountain Roots Food Project Gallery – December 4
Reception in the Center's Kinder Padon Gallery. Show runs December 4 through January 14. 5:30 p.m.
Beacon Brush Up – December 5
Dust off that avalanche beacon and head to the Crested Butte Community School with a backcountry refresher brought to you by the Crested Butte Avalanche Center (CBAC). Professional guides and avy forecasters will be on hand from 9 a.m. to 2 p.m. to help beginners to advanced users fine-tune their skills.
Historic Walking Tours – December 5 – March 27
Want to learn more about the history of our wonderful town and valley? Take a historic walking tour with the Crested Butte Mountain Heritage Museum! Tours meet at 2 p.m. in front of the Museum at 4th and Elk Avenue every Saturday. Private tours may also be scheduled for groups of three or more by calling the Museum at 970-349-1880.
Trailhead Family Movie Night at the Center – December 11, 27
Join the Trailhead Children's Museum with a night at the movies on December 11 and 27. These movie nights are for the whole family! To reserve your seat, visit crestedbuttearts.org.
Ballet Idaho film at the Center – December 15
The Center for the Arts and the Crested Butte School of Dance present a special film showing of Ballet Idaho's world premiere holiday production. For more info, visit crestedbuttearts.org.
How the Grinch Stole Christmas – December 17-21
The Crested Butte Mountain Theatre presents the holiday favorite, How the Grinch Stole Christmas on stage at the Center for the Arts Steddy Theater. Watch local actors of all ages this holiday season, cbmountaintheatre.org.
WinterFest – Begins the last week of December
Join the Crested Butte Film Festival at its annual WinterFest. The films will range from skiing, music, outdoor adventure, Best of the Fest and great storytelling. Check www.cbfilmfest.org for details.
Magic Meadows 7 hour Criterium – Virtual Competition open throughout the month of February
A criterium style Nordic ski event hosted by Crested Butte Nordic, which positions athletes in a competition to see who can tally the most kilometers skied in 7 hours around a 5k course. The event is a fundraiser for the Crested Butte Junior Nordic team. Like any good CB event, costumes are encouraged and there is shorter 1K loop offering fun for the whole family.
Alley Loop Nordic Marathon – February 6 – 7
A Nordic race like no other, starting, finishing and passing through downtown Crested Butte, with the novel experience of skiing along town's quaint streets, bridges and alleyways. Whether chasing after prize purse money in the 42k, or just out for a 5k cruise, nearly every participant comes to the Alley Loop as a costumed alter-ego.
Mardi Gras – February 16
The Crested Butte/Mt. Crested Butte Chamber of Commerce will most likely not hold a parade, but is planning to organize a pub crawl through town.
Move the Butte – TBD February 17-20 or March 4-7
The Crested Butte Dance Collective's wildly creative signature production, Move the Butte! Local dancers, artists and choreographers of all skill levels create this innovative, home-grown show—but you'll forget these dancers aren't all professionals. Sells out every year!
Gothic Mountain Tour – February 28
This Grand Traverse training race circumnavigates Gothic Mountain. Twenty-two miles, 5,000 vertical feet of elevation change and a backcountry yurt finish. It is not for the faint of heart!
The Grand Traverse Ski – March 27 – 28
An extraordinary Colorado backcountry route, the Grand Traverse is a point-to-point ski race from Crested Butte to Aspen that kicks off at midnight. Racers travel 40 miles across the Elk Mountain Range, climbing over 6,800 vertical feet.
KBUT's Disco Party – March TBD
Formerly known as KBUT's  Soul Train Night, the radio station's longest-running special event will be given a new TBD name in an effort to be more culturally appropriate and show solidarity for the Black Lives Matter movement. Year after year, crowds from throughout the Gunnison Valley don their grooviest digs to dance, party and crown a new King and Queen of Soul! This 21-and-over event is the premiere dance party of the year and will be held if the county is in a safe place to gather by March.
Flauschink – April 2-4
Celebrate CB's annual Flauschink Festivities.
Closing Day – April 4
The last day of 2020-2021 CBMR Ski Season. Enjoy the sun, some turns and live it up.
Mountain Words Literary Festival – April 8-11
A weekend of diverse literary programming in an intimate high mountain setting. Join us for workshops, readings, panel discussions, kids' events, live theater, podcast discussions, and more.