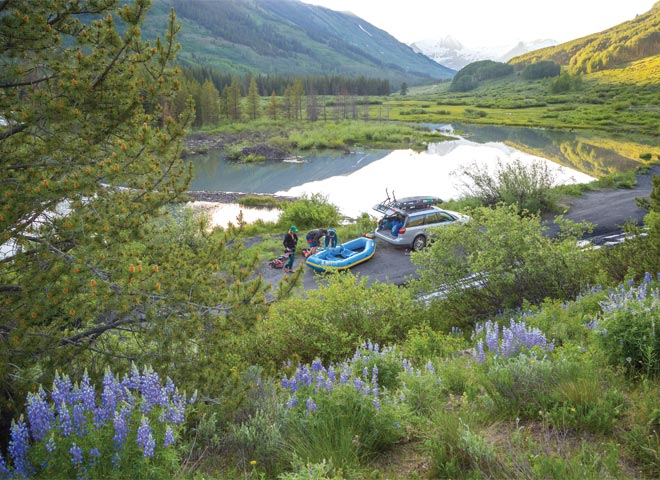 Stats:

239

0

Posted:

June 8, 2022

Category:

What To Do
go with the Flow
[  by Katherine Nettles  ]
While many of us come to the Gunnison Valley for the incredible mountain peaks, wildflowers and trails, there are also plentiful rivers and lakes to enjoy those warm sunny days and cool off from a hike or bike ride. If you want a guided river running or fishing adventure, there are several outfitters to choose from and there are also rentals available for do-it-yourselfers. Or simply get out your fishing gear, your swimsuit and see what alpine water fun is all about. Here are some of our favorite lakes and rivers. Always check the flow of a river before setting off and make sure you have the necessary safety equipment. 
Taylor Reservoir and Taylor River
The Taylor River is 48 miles long and forms deep in the Gunnison National Forest near Castle Peak and the Continental Divide. It flows south and then Taylor Dam feeds the Taylor Reservoir before the river continues through its breathtaking, namesake canyon. The reservoir provides plenty of activities and camping opportunities with great views of the Collegiate Peaks, and a marina. The Taylor Park Marina is open mid-May through September and offers a store, restaurant/grill, fishing guides and rental boats. Below the dam the river flows into class II, III and IV whitewater. Rafting, fly fishing and riverside recreation abound. 
The Upper Taylor is the most challenging section containing class III and IV rapids, and should be navigated only by experienced boaters or a guide. The Middle Taylor is also more challenging, with some class III rapids flowing through private property that makes it more complicated to navigate.  
The Lower Taylor is a great beginner and family friendly float section with relaxing class I and II rapids. In Almont the Taylor connects with the East River and Gunnison River, becoming a tributary to the mighty Colorado River. 
Gunnison River
The Gunnison starts in eastern Gunnison County where the East and Taylor Rivers join, flowing 180 miles downstream to the Colorado River. The upper section, from Almont to just north of the city of Gunnison, and the lower section that ends below Gunnison are similar, with gently flowing class I and II rapids, but there is an added perk on the lower section where the Gunnison Whitewater Park offers splashier manmade class II rapids. 
From Gunnison, the river continues on through the Black Canyon of the Gunnison National Forest, where a deep river gorge cuts 2,000 feet down into granite and forms the famous canyon. This section is more difficult to access and provides a more remote experience for half day or overnight rafting or fishing trips, with class II, III and IV rapids. This should also only be done by experienced boaters familiar with the area or by a guide.
Slate River
The Slate River is a scenic float trip stretching from Oh Be Joyful Campground through the town of Crested Butte and out to Skyland Bridge 10 miles downstream. It is widely popular among paddle boarders and those with smaller boats and its winding curves max out at class II, although plenty of people get caught off guard by a riffle (small rapid) and take a plunge. The Upper Slate River hosts a delicate population of great blue herons each spring, so a voluntary no float period from March 15 through July 15 on the section from Oh Be Joyful Campground to the Rec Path bridge in Crested Butte protects the herons while they are raising their young. 
Long Lake
Up Washington Gulch, Meridian Lake, or Long Long Lake as it is most commonly known, offers great swimming and sun worshipping opportunities with a relatively short path up and around the southern end of the lake. People can often be found swimming or noodling around on an inflatable watercraft on a warm summer day. There is a port o potty stationed along Washington Gulch Road and a mellow trail to explore and at the parking area trailhead. After crossing Washington Gulch Road, a newly rerouted and relatively short trail brings you to the top where you can pick your landing spot. Make sure to avoid the private ranching property to the north.
Lake Irwin
Up Kebler Pass about 9 miles from Crested Butte is another iconic lake at Irwin with views of the Ruby Range to the west. Known for excellent swimming, fishing and floating, you can set up for the day along the shoreline and jump off the rock formations or wade in gradually from the beaches, and explore the gentle, flat loop trail around the lake by foot. 
Emerald Lake
Named for its deep green water, this beautiful (but brisk) mountain lake near Schofield Pass in the Gothic Valley is situated among spectacular views and makes for a great add-on to a day out exploring the Gothic area by bike or on foot. Be prepared for a rough road after passing Gothic townsite.
Blue Mesa Reservoir
Just outside the city of Gunnison, Blue Mesa is the largest reservoir in the state of Colorado, spanning almost 20 miles long with several access points and 96 miles of shoreline to explore. Blue Mesa allows motorized boats, as does Taylor Reservoir, and at a lower elevation it is often much warmer. Blue Mesa released water to Lake Powell in 2021 to alleviate water shortages, so the reservoir is only expected to fill to an estimated half of its capacity this year. Nevertheless, it is a treat for a relatively warm swim or sun and sand experience. The Elk Creek Marina and Pappy's restaurant will not be open for 2022, but the Lake Fork Marina and boat ramps will be open. 
Outfitters, guides and rentals
Scenic River Tours
Three Rivers Resort & Outfitters
Taylor River Lodge
Gunnison River Expeditions
Wheelies and Waves Adventure Company
Float Shack Paddle Board Rental and Delivery