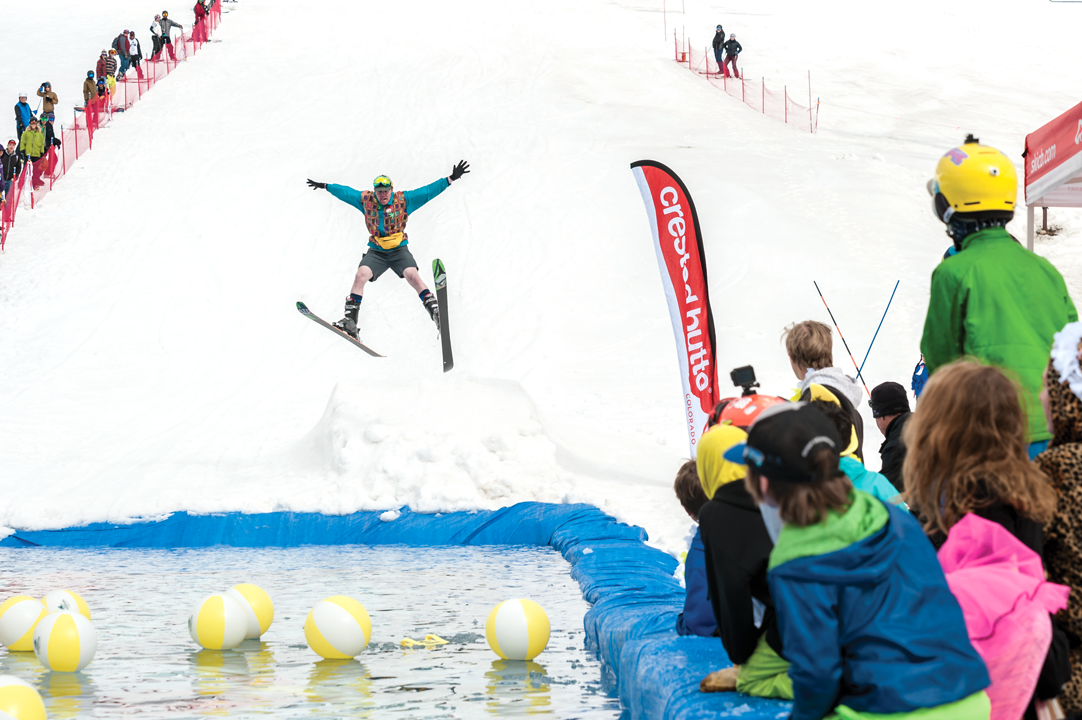 Stats:

881

0

Posted:

May 15, 2019

Category:

What To Do
Winter 18/19 Events
Donation Day – November 21
Support the Crested Butte Snowsports Foundation on Wednesday, November 21 by donating $15 to ski all day. One-hundred percent of net proceeds go to the Foundation to support their mission to provide financial support to local youth as they pursue sportsmanship, passion, excellence and discipline through snow sport experiences.
Opening Day at CBMR – November 22
Celebrate the official first day of season passholder access to Crested Butte Mountain Resort!
Thanksgiving Nordic Ski Camp – November 22-25
Prefer skinny skis? This ever-popular training camp hosted by Crested Butte Nordic offers small-group clinics with personalized coaching that caters to all fitness levels. With additional wax clinics, kids camps, strength training and the first of the Alley Loop Race Series, it's a great way to kick off the Nordic season.
The Alley Loop Race Series – November 25, December 8, January 5, 13 and 26
Join Crested Butte Nordic and the Mountain Store for this series of five Nordic races, open to all ages and ability levels. Ending just two weeks before the Alley Loop Nordic Marathon, it's a great way to get in shape for the main event! Points are awarded in each race and tallied at the end of the series for awards.
KBUT Bingo – November 30, March 8
This ain't your grandmother's bingo. KBUT community radio is known for its wild and fun bingo nights. On November 30, join in the fun at Kochevar's, the oldest tavern in town, and on March 8 limited tickets are available for a special night of bingo at Crested Butte Nordic's Magic Meadows Yurt. Compete for cash, gift certificates, and more, all while supporting local community radio.
Avalanche Awareness Night – December 1
Avalanche Awareness Night is back, hosted by the Crested Butte Avalanche Center (CBAC) and presented by Black Tie Ski Rentals to help you stay safe in the backcountry. Head to Mountaineer Square at CBMR for informative and entertaining presentations and videos, plus pizza, beer and a *big* raffle that makes this event a local favorite.
Beacon Brush Up – December 2
Follow up Avy Night by dusting off that avalanche beacon and heading to the free Beacon Brush Up at the Crested Butte Community School. Hosted by the CBAC and Irwin Guides, they'll have professional guides and forecasters on hand to help everyone from beginners to advanced users finetune their skills.
Santa Night at the Museum – December 2
Let the holiday season begin. Santa Clause will be stopping by the Crested Butte Mountain Heritage Museum with hot cocoa, cookies, crafts and cheer. Bring the family and the camera for admission into the museum, holiday crafts, and pictures with Santa—all complimentary.
Light Up Nights – December 7, 8
The holidays kick into high gear with two more opportunities to meet Santa and his trusty sidekick, Santa Dog. On Friday, CB's Light Up Night starts at the Four-way, where Santa leads the way to the Brick Oven in his firetruck. He'll light the tree and take free pictures with everyone. Afterward, enjoy a Reindeer Scavenger Hunt and holiday treats from shops around town. On Saturday, Santa heads to Mt. Crested Butte for a second tree lighting in Mountaineer Square. Bring your little ones to have their photo taken with Santa and tell him what they want for Christmas.
Santa Ski and Crawl – December 15
CBMR is setting out to break its world record for the most skiers, boarders and bladers in full Santa costumes. Don't have a season pass? If you're in a full Santa suit, lift tickets are only $40. Make or use your own suit, or purchase one in advance from www.cbsantacrawl.com—just make sure it has a top, bottom, hat and beard.
Backcountry Film Festival – December 15
Celebrate winter and wild places with the fourteenth annual Winter Wildlands Alliance Backcountry Film Festival at the Center for the Arts. This collection of short films is full of snowy, cinematic adventure sure to inspire backcountry enthusiasts and armchair travelers alike. Proceeds benefit High Country Conservation Advocates (HCCA), a grassroots nonprofit advocating on behalf of local wildlands.
Rock on Ice – December 17-20
The Rock on Ice team returns to CBMR for an ice carving festival. Two of the world's most renowned carvers transform blocks of ice into larger-than-life-sized sculptures of animals, holiday characters and other iconic figures. Check them out in the courtyard at Mountaineer square, including daily ice carving demonstrations and interactive sculptures perfect for family photos.
Torchlight Parade and Santa's Sleigh – December 24
Ho Ho Ho! Bring the whole family to the Butte 66 deck on Christmas Eve and watch as Santa comes down the mountain on a sleigh pulled by a snowcat. He'll be followed by the Crested Butte Ski and Ride School torchlight parade, after which he'll hand out candy canes and take photos with good little girls and boys.
New Year's Eve Torchlight Parade and Fireworks – December 31
Join CBMR at Butte 66 for music and drink specials, and watch from the upstairs deck as CB's finest ski and snowboard instructors wind their way down the mountain during the torchlight parade. The fireworks show starts as the first instructors make their way into the base area.
12th Night Bonfire – January 4
Taking down the tree and packing up the ornaments needn't be a sad affair. The Crested Butte Chamber of Commerce keeps the festivities going with a Christmas Tree bonfire at the Four-way parking lot. Join in the fellowship and give your Christmas tree one last hoorah.
The Magic Meadows 7 – January 13
This fundraiser for the Crested Butte and Gunnison Nordic teams has something for everyone who loves to play in the snow. Held at the Magic Meadows Yurt, the main event is a 7-hour, criterium style Nordic ski race but a snow "playground" and shorter 1K loop offer fun for the whole family. Like any good CB event, costumes are encouraged.
Food Pantry Donation Day – January 13
Get in some turns and help people in need. Crested Butte Mountain Resort is hosting a food drive to support the Gunnison Country Food Pantry. Guests who donate three non-perishable, non-expired food items or one pack of diapers will receive a discounted full day lift ticket for $50, valid that day only.
Mountain High Music Festival – January 16-19
The annual Mountain High Music Festival proudly presents a diverse lineup of performers, including world class singer-songwriters and recording artists as well as music's future hit-makers. Presented by Dean Dillon, this year's festival includes music by the likes of Jamey Johnson, Kierfer Sutherland, Pam Tillis, Dean Dillon, Sundance Head, and more. Benefits Tough Enough to Wear Pink and the Adaptive Sports Center.
5th Annual Crested Butte Skimo Academy – January 18-19
Kick off your winter of fitness and fun with this three-day training camp powered by gO Orthopedics. Skiers of all levels learn from inspiring Grand Traverse winners, US National Skimo Team members, industry-leading ambassadors & gO Orthopedics athletes. Includes training programs, nutrition and injury prevention education, and a peak at the newest, cutting edge gear in ski mountaineering. Demo gear available.
Butte Banked Slalom – January 19
In celebration of World Snowboard Day, CBMR is holding a modified banked slalom competition at Gold Link. This snowboard-only event is open to all ages for $10 per person, with one run per competitor and best time wins. Awards will be held at Butte 66 with great prizes from Burton.
Borealis Fat Bike World Championships – January 23 – 27
Fat bike fanatics from all over the world unite in this one-of-a-kind event. Features epic fat bike venues, a free demo day, a vendor showcase, free beer, branded burgers, tons of swag, prizes, giveaways and live music. As organizers say, fat bikes, fat parties, fat fun.
Movie Nights at the Museum – November 30, January 25
Give new meaning to Flashback Friday with movie night at the Crested Butte Mountain Heritage Museum. On November 30, see one of the first ski movies ever filmed. Ghost Town Skiers features local skiers, terrain, and characters who shaped Crested Butte what it is. On January 25, King of Hearts features a WWI French town taken over by escapees from the local insane asylum. Wildly costumed, this odd assortment of people run the local shops and throw silly parties—a favorite of 1970s Crested Butte residents. Popcorn and cash bar available, and a $10 donation to the Museum is appreciated.
IFSA Junior Regional Freeskiing Competition – February 1-3
The International Freeskiers and Snowboarders Association was established in 1996 by freeskiing pioneer Shane McConkey, and CB was one of the first resorts to host their competitions. The Junior Big Mountain Freeskiing and Snowboarding competition platform is comprised of regional events, national events, and one rotating North American Championship. CBMR plays host to a one-day regional competition, where Junior competitors ages 12-18 compete in the famed Crested Butte Extremes.
Alley Loop – February 2
This unique Nordic race starts, finishes, and passes through the heart of downtown Crested Butte on snow covered streets, down narrow alleys, and across one lane bridges. In addition to seeing impressive competitors, you could see oompa loompas, Super Man, fairies and myriad other costumed skiers. Don't forget the cowbells when you head out to cheer.
2 Star Freeride World Qualifier – February 8-9
Crested Butte Mountain Resort and the International Freeskiers and Snowboarders Association will host a 2 Star Qualifying event in conjunction with the Freeride World Tour. The top athlete in each category will be awarded a complimentary "wildcard" spot in the 4 Star Qualifier at Crested Butte on February 10.
CB Unplugged – February 9, March 16
Head to the base area at Crested Butte Mountain Resort for an après show you don't want to miss! CB Unplugged is a free music series sponsored by the town of Mt. Crested Butte featuring nationally touring artists in an après setting.
4 Star Freeride World Qualifier – February 10-11
CBMR and the International Freeskiers and Snowboarders Association host a 4 Star Qualifying event in conjunction with the Freeride World Tour. Dubbed the US Freesking Extreme Championships, this event is considered the longest standing freeski competition in the country. Come spectate and cheer on these top athletes in person as they take on terrain that gave birth to the extreme skiing movement.
The Grand Traverse Skimo School – February 11, 18, March 4
Whether you're out for a PR or simply want a grand adventure, being prepared for the Grand Traverse backcountry ski race is essential. Now you can get ready with help from five-time skimo national champion Cam Smith. Choose from three group clinics designed as an intro to all things GT, ideal for first timers, or optimize your performance with a two-hour session tailored to you or your team.
Move the Butte – February 19-23
The Crested Butte Dance Collective's wildly creative signature production, Move the Butte, returns for its 10th year. Local adult dancers, artists and choreographers of all skill levels create this innovative, home-grown show—but you'll forget these dancers aren't all professionals. Past productions included a stunning variety of dance, from the tango to contemporary to aerial, and they always sell out.
Prater Cup – February 21-24
This youth ski race will bring 250 of Colorado's top 12- and 13-year-old alpine ski racers to CBMR. Expect some high speed skiing as these athletes look to qualify for the Junior Olympic team and the chance to outrace their competitors in the annual Nations Cup team event. Racers compete individually and in 18 different "nations" in order to meet new friends and promote sportsmanship.
Gothic Mountain Tour – February 23
This Grand Traverse training race circumnavigates Gothic Mountain and covers 22 miles with 5,000 vertical feet of elevation gain and loss. It is not for the faint of heart. It starts in Crested Butte and finishes at the Magic Meadows Yurt, passing through Mt. Crested Butte, Snodgrass, the Gothic Townsite, Top of the World, and the Slate River Valley on the way. It's an impressive fete!
Boardercross – March 1-3
This is the mountain's most intense head to head to head to head competition on the same course at the same time. Open to all ages, skiers and snowboarders, it takes place on the Cross Course at Gold Link. Races start with individual seeding and then competitors are placed into brackets to compete against each other, up to four racers in a heat. Each day is its own separate competition, totaling three individual races, each with its own set of winners.
Crafted Tasting Event – March 2
Are you a foodie? Do you enjoy regionally crafted spirits, beers or wine? Enjoy spring skiing and then check out CRAFTED, a tasting that features Colorado's best craft brews, spirits and local fare. The event is held at the Elevation Hotel in the CBMR base area and includes live music in addition to libations and tasty treats. Tickets are required.
IFSA Junior Regional and National Competitions – March 8 – 10
The International Freeskiers and Snowboarders Association was established in 1996 by freeskiing pioneer Shane McConkey. The Junior Big Mountain Freeskiing and Snowboarding system is comprised of regional events, national events, and one rotating North American Championship. Crested Butte Mountain Resort hosts Nationals, where junior competitors ages 12-18 will compete in the famed Crested Butte Extreme Limits terrain.
Red Lady Ball – March 16
Thanks to the hard work of the community, the iconic mountain above town, Red Lady, remains mine-free. High Country Conservation Advocates (HCCA) can't help but celebrate with its annual fundraiser the Red Lady Ball at Public House. It's a night full of live music, drinks, raffle prizes, gratitude, plenty of red and the crowning of the Red Lady—a local recognized for their commitment to the cause.
All Star Camp with Aaron Blunck – March 16
This inaugural event is open to young skiers and snowboarders between the ages of seven and 10 to inspire and develop skiing and snowboarding as a healthy, fun lifestyle for underprivileged kids. The camp will focus on developing respect for the sport through camaraderie, proper skiing technique and fundamentals, injury prevention and fun in the park/pipe, downhill and free ski and snowboard disciplines.
Elan's Women's Weekend – March 22-24
What do you get when you combine award-winning skis, an incredible mountain and fun après events for women? A ripping good time at this weekend ski experience for women, intermediate level and above. Demo award-winning Elan Ripstick freeride skis while skiing with a Ski and Ride School instructor. A chance to develop skills in a supportive environment, while exploring big mountain terrain with like-minded women.
Al Johnson Uphill/Downhill Telemark Race – March 24
In tribute to a rugged 19th century mailman, competitors in wacky costumes and Telemark skis climb 660 vertical feet, then descend 1,200 feet down double-black diamond steeps, some having never telemarked at all. Prizes for best times, best costumes, and best fall. The race can be tag-team or individual, or enjoyed as a spectator.
The North Face Grand Traverse – March 28 – 30
The Grand Traverse is a backcountry ski race from Crested Butte to Aspen. Competitors travel 40 miles and climb over 6,800 vertical feet. For safety, they must have a partner, carry mandatory gear, and start at midnight, when avalanche danger is low. If you're still awake at 12 a.m. Saturday, you can catch the start at the base area of Crested Butte Mountain Resort.
Soul Train Night – March 29
KBUT's Soul Train Night is the radio station's longest-running special event. Year after year, crowds from throughout the Gunnison Valley don their grooviest digs to dance, party and crown a new King and Queen of Soul! This 21-and-over event is the premiere dance party of the year, and a must-attend event for long-time residents and visitors alike.
SkiTown Breakdown April 5 – 7
Celebrate the end of yet another wonderful winter on the slopes with Crested Butte's annual closing weekend festival. This multi-day lineup of nationally touring artists will have you dancing all weekend long. Kick off the weekend with an evening at the Center for the Arts on Friday, and check out free shows in the base area on Saturday and Sunday.
Flauschink – April 3-8
The last weekend of the ski season could be a ho-hum, hang up your boots kind of farewell in some towns. In Crested Butte, "Colorado's Last Great Ski Town," the expected never happens. Locals and visitors will be flushing out winter and welcoming spring. A historical slide show on Wednesday, coronation ball and polka dance on Friday, parade on Saturday morning, and a ski slope salute to the king and queen of Flauschink on Sunday are just part of the wacky fun. (Has not been confirmed)
Pond Skim – April 6
The end of ski season is one last excuse to celebrate, dress up in silly costumes and have wacky events, like the Pond Skim, where contestants skim across water on their skis and snowboards all while trying to put out the best trick. Come get in your last turns of the season and go out with a bang!
Closing Day – April 7
The last day of 2017-2018 Ski Season. Enjoy the sun, some turns, and live music!