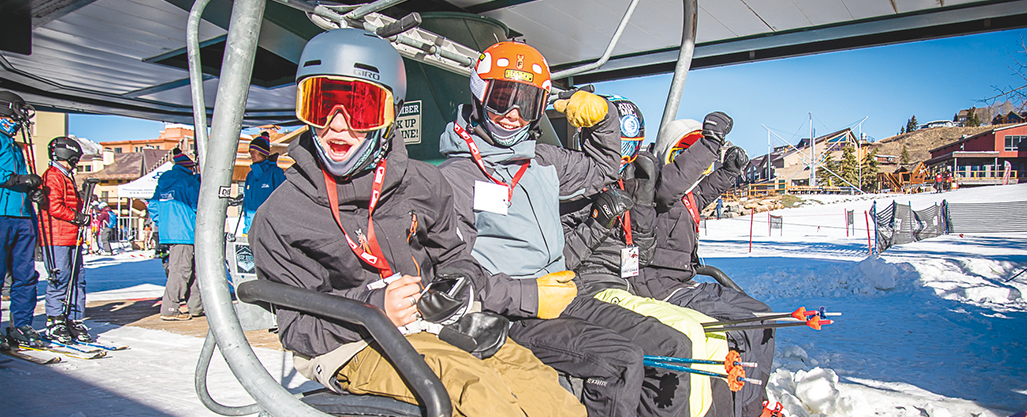 Stats:

902

0

Posted:

November 25, 2019

Category:

What To Do
Event Line Up: Winter 19/20
CBMR Opening Day and Community Giving Celebration – November 27
Lifts start spinning at Crested Butte Mountain Resort! New this year, donations made to the Crested Butte Snowsports Foundation by opening day will be matched by the Epic Promise Foundation up to $10,000 as part of the first annual Community Giving Celebration.
Thanksgiving Nordic Ski Camp – November 28-December 1
This annual event hosted by Crested Butte Nordic offers personalized instruction, on-snow training and clinics for every ability. Plus, the first of the Alley Loop Race Series!
The Alley Loop Race Series – December 1, 7, 14, January 12, 18
Open to all ages and abilities, this Nordic ski race series is a great way to get in shape for the annual Alley Loop. Points are awarded throughout the season, with awards for cumulative point winners.
KBUT Bingo – November 29, February 6, 7
As the locals like to say, this ain't your grandmother's bingo. It's a wild evening of numbers, competition for cash, gift certificates, KBUT swag, and more. November 29 is Family Jammy Bingo and Yurt Bingo takes place February 6 & 7.
Mt. Crested Butte Light Up Night –December 7
Santa makes another appearance to light the tree in Mountaineer Square in Mt. Crested Butte, with hot cocoa, popcorn, crafts, free pictures with Santa and the Reindeer Scavenger Hunt throughout the weekend.
Avalanche Awareness Night – December 7
The Crested Butte Avalanche Center returns with informative and entertaining presentations and video to help you stay safe in the backcountry. And as always, the raffle of the year! In Mountaineer Square at CBMR.
Beacon Brush Up – December 8
Dust off that avalanche beacon and head to the the Crested Butte Community School. Professional guides and avy forecasters will be on hand to help everyone from beginner to advanced finetune their skills.
Santa Night at the Museum – December 8
Cocoa, cookies and crafts with friends, plus free admission into the Crested Butte Mountain Heritage Museum and a visit from Santa.
Movie Nights at the Museum – NOvember 29, December 14, January 11, February 8, March 14
Head to the museum for some classic, throw-back films like Ghost Town Skiers, Snowbeast, Mountain Family Robinson, King of Hearts, and Snowball Express. You won't find these films playing anywhere else.
Rock on Ice – December 17-20
Two of the world's most renowned ice carvers create larger than life sculptures of animals, holiday characters and other iconic figures in the Courtyard at Mountaineer Square. Includes daily ice carving demonstrations and interactive sculptures perfect for family photos.
Backcountry Film Festival – December 21
This collection of short films is full of snowy, cinematic adventure sure to inspire backcountry enthusiasts and armchair travelers alike. Proceeds benefit High Country Conservation Advocates (HCCA).
Trailhead's christmas movie night – December 23
Bring the whole family to this free movie night hosted by the Trailhead Children's museum at the old Center for the Arts.
Santa's Sleigh – December 24
One last chance to visit Santa at Butte 66 in the base area of CBMR. Hot cocoa bar, Christmas cookie decorating, and candlelit caroling with local musicians.
WinterFest – December 29-January 1
Join the Crested Butte Film Festival at its first annual WinterFest. The films will range from skiing and outdoor adventure to music and feature great storytelling.
New Year's Eve Torchlight Parade and Fireworks – December 31
Head to the base area at CBMR for the annual torchlight parade, where ski and snowboard instructors wind their way down the mountain holding torches. Fireworks start as the first instructors make their way into the base area, with music and drink specials at Butte 66.
The Grand Traverse Skimo School – January 4, February 15
These full day sessions offer an intro to all things Grand Traverse. Learn proper technique and skills from the ground up. Ideal for the first-time racer looking to prepare themselves for the GT.
12th Night Bonfire – January 6
Round out the holiday season with this annual Christmas tree bonfire at the Four-way parking lot.
The Magic Meadows 7 – January 12
This 7-hour, criterium style Nordic ski race at the Magic Meadows Yurt is a fundraiser for the Crested Butte and Gunnison Nordic teams. Like any good CB event, costumes are encouraged and there is shorter family-friendly 1K loop.
Mountain High Music Festival – January 16-18
Nashville Songwriter Hall of Fame Inductee Dean Dillon hosts world class singer/songwriters and recording artists, along with music's future hit-makers, in concert settings designed for intimate and profound performances in Mt. Crested Butte.
Borealis Fat Bike World Championships – January 24-26
Fat bike fanatics from all over the world unite in this one-of-a-kind event featuring epic fat bike races, free demos, free beer, burgers, and the first ever Fat Bike Worlds Bike Polo Tournament.
Alley Loop – February 1
The Nordic race like no other, starting, finishing, and passing through downtown Crested Butte on snow covered streets and alleyways, and across one lane bridges. In addition to impressive competitors, you could see oompa loompas, Superman, fairies and myriad other costumed skiers.
Crafted Tasting Event – February 1
This annual favorite features some of Colorado's best craft breweries, wineries, cideries, distilleries and local fare. Held in the CBMR base area, it includes live music.
Move the Butte – February 19-22
The Crested Butte Dance Collective's wildly creative signature production, Move the Butte! Local dancers, artists and choreographers of all skill levels create this innovative, home-grown show—sells out every year!
Murder in the Mountains Mystery Festival – February 21-23
A thrilling weekend celebrating all things murder and mystery, including author conversations, a live panel exchange with Scottish crime writers, mystery writing workshops, and more!
40th Annual Dan Prater Memorial Cup U14 Qualifiers – February 21-23
Crested Butte's marquee annual youth ski race brings Colorado's top U14 alpine ski racers to town. Expect high-speed skiing and tons of fun as these athletes look to qualify for the Rocky Central team and the chance to beat out their competitors in the annual Nations Cup team event. Catch the action from the Silver Queen lift.
Gothic Mountain Tour – February 23
This Grand Traverse training race circumnavigates Gothic Mountain. Twenty-two miles, 5,000 vertical feet of elevation change, and a backcountry yurt finish. It is not for the faint of heart!
Mardi Gras Parade – February 25
Head to Elk Avenue for Crested Butte's own Fat Tuesday parade.
Al Johnson Uphill/Downhill Telemark Race – March 21
In tribute to a rugged 19th century mailman, competitors in wacky costumes and Telemark skis climb 660 vertical feet, then descend 1,200 feet down double-black diamond steeps, some having never telemarked at all.
SkiTown Breakdown March 21
When you're done skiing, cruise down to the base area for live tunes, cold drinks, and good vibes at CBMR's free spring concert on snow at the base of the Red Lady Express Lift.
The North Face Grand Traverse – March 27-29
This point-to-point ski race follows an extraordinary backcountry route from Crested Butte to Aspen. Racers leave at midnight, when avalanche danger is decreased, and travel 40 miles, climbing over 6,800 vertical feet.
Red Lady Ball – Date TBD
High Country Conservation Advocates' annual party celebrates the fact that the iconic mountain above town, Red Lady, remains mine-free. It's a night full of live music, drinks, raffle prizes, gratitude, plenty of red and the crowning of the Red Lady.
Soul Train – Date TBD
KBUT's Soul Train Night is the radio station's longest-running special event. Year after year, dancers don their grooviest digs to dance, party and crown a new King and Queen of Soul! This 21-and-over event is the premiere dance party of the year.
Flauschink – April 8-12
This annual tradition flushes out winter and welcomes spring with a historical slide show on Wednesday, coronation ball and polka dance on Friday, parade on Saturday morning, and a ski slope salute to the King and Queen of Flauschink on Sunday.
Pond Skim – April 11
The end of ski season is one last excuse to celebrate, dress up in silly costumes and have wacky events, like the Pond Skim, where contestants skim across water on their skis and snowboards all while trying to put out the best trick.
Closing Day – April 12
The last day of 2019-2020 Ski Season. Enjoy the sun, some turns, and live it up.
All dates are subject to change.