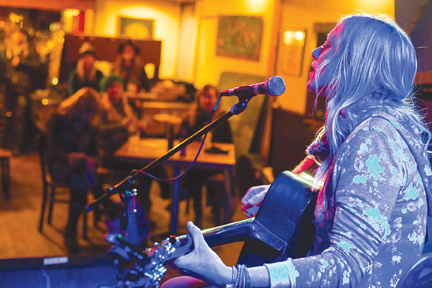 Dining Guide 18/19
Avalanche Bar & Grill
The Avalanche Bar & Grill is located at the base of the ski area in Mt. Crested Butte. We feature lunch and dinner daily with huge sandwiches, colossal salads, homemade soups, pizza, a great kids' menu, delectable desserts and all your favorite comfort foods. We celebrate happy hour from 3-6 p.m. daily with cheap drinks and marvelous munchies. Dine in or take out. Serving 11 a.m. – 9 p.m. daily. (970) 3497195. www.avalanchebarandgrill.com. Free Bus Pass with every drink!
Brick Oven Pizzeria & Pub
The best pizza and beer since 1993 with over 101 world-class beers to choose from. Enjoy pizza-by-the-slice, deep dish or thin crust pizza on our sunny patio or bring in the family and watch your favorite sports on one of our large HDTVs. Gluten-free crust and non-dairy cheese available. Appetizers, Subs, Juicy Burgers and the Best Salad Bar in town with over 30 fresh items and homemade dressings. Stop by for high-end tequila, spirits and wine and enjoy daily Drink Specials. Lunch and dinner served everyday from 11 a.m. til 10 p.m. STUMPTOWN Coffee all day long. Dine in, take-out, take and bake and FREE DELIVERY on all menu items. (970) 349-5044. Come visit us Downtown, the locals hangout for over 25 years! Order Online – www.BrickOvenCB.com.
Camp 4 Coffee
Denver Post says, "Best Coffee in Colorado." "Best of the Butte" award every year. Stop by our historic license plate coal shed-—the most photographed place in town and see for yourself! Locally roasted and fresh every day. Take a bag home! We ship all over to satisfied customers. We ship for FREE when you buy 5 pounds. www.camp4coffee.com.
Donita's Cantina
Donita's Cantina, is Crested Butte's Oldest Restaurant. Now in its final year, the Cantina continues to serve darn good, tasty made-from-scratch food and excellent 100% Agave Tequila fresh-lime margaritas! Our eatery is a time-honored local and visitor FAVORITE (ask our RAVING Fans!) with Fun Friendly Service and affordable pricing. Legendary salsa and homemade chips are always included free with our meals. Fajitas, Enchiladas, Burritos, Chimichangas, Tacos and Tostadas are filled with slow-cooked shredded barbacoa beef, pulled pork, carne asada, marinated grilled chicken and gourmet veggies. Gluten-free Spicy Green Chile, Red Chile and Nightly Special Sauces top our meals with great flavor. Try the nightly dinner special, our most popular dish and a unique creation that always gets a thumbs up. Donita's Cobbler and Ice Creams are made in-house and are the best dessert in Crested Butte. Margarita Happy Hour Nightly! KID and SENIOR FRIENDLY! Donita's Cantina is one of the largest venues in Crested Butte, ideal for large parties. We accept reservations for groups of 8 or more. For up to date info, Full Menu, CantinaCam web cam, Gift Certificates go to www.donitascantina.com. Call us for TO GO FOOD! (970) 349-6674. Located at 330 Elk Avenue, Downtown Crested Butte.
Frank's Deli @ Creative Catering
525 Red Lady Ave – next to Clark's market. Monday – Saturday 10:30 a.m. – 6:30 p.m. Serving freshly prepared meals for large and small groups, Using all natural and organic ingredients in their interesting seasonal soups, salads and side dishes, something for everyone! Find unique cheeses, seafood and specialty grocery items, Voted best sandwich made on freshly baked bread. Deli (970) 349-5011. www.crestedbuttecatering.com.
Lil's Sushi Bar & Grill
Open at 5 p.m. Offering a nightly Happy Hour at the Sushi Bar and Bar only from 5 to 6:30 p.m. Lil's is a "family friendly" restaurant that promises to provide you with an incredible dining experience. Although we are known for our killer sushi, we offer an array of seafood and meat entreés, as well as options for the kids! Our fish is of the highest quality, flown in 6 days a week and on our doorstep within 24 hours from the docks- it doesn't get any fresher than that in the Rockies! Reservations are recommended. Closed Sunday and Monday. Come to Gunny and check out our sister restaurant Blackstock Bistro. Visit www.lilssushibarandgrill.com or call (970) 349-5457. Located in the Historic District @ 321 Elk Ave.
Marchitelli's Gourmet Noodle
Join your host Michael, for traditional, regional Italian cuisine passed down to Michael from his grandmother. In our cozy, relaxed atmosphere, you can enjoy dishes ranging from unique pasta and sauce combinations to seafood, veal, chicken and elk. Gourmet homemade desserts and a full bar and wine list. Open nightly from 5 p.m. Downtown C.B. Reservations recommended (970) 349-7401.
Octopus Coffee
Located at the Historic End of Elk Avenue, Octopus Coffee is the best breakfast party in Crested Butte! Don't wait to make your day great-our Disco Fabulous Bar is waiting! Breakfast served all day: hearty breakfast burritos, tasty bagel sandwiches huge salads, fresh lunch wraps. Go to www.octopuscoffeecb.com and order for pickup! Our drink menu is vibrant with craft beverages, hot chocolates and milkshakes. Try a Stardust Mocha (Callebaut, House Vanilla, Cayenne), Jasmine Honey Tea Latte, or a Sweet Hamilton Latte (Fresh Nutmeg, House Vanilla, Cinnamon). Need lift line snacks? Try our bakery treats: Organic flour, eggs and sugar in every bite! Himalayan Salt Chocolate Chip Cookies, Cream Cheese Frosted Cinnamon Rolls, Chocolate Drenched Peanut Butter Brownies, and our scones are light and delicious. Have a special dessert need? Go to
www.octopuscoffeecb.com. We roast in house, bake from scratch, & have a sweet upstairs for lounging…yes, we have wifi.
Public House
Public House is a modern execution of an historic Colorado saloon. Public House celebrates Colorado craft breweries, wineries, distilleries, seasonally relevant and farm-driven food, generous lodging, and the conviviality of live music. Located at 202 Elk Avenue, we offer lunch, dinner and daily happy hour specials. Check us out on Facebook or on our website at www.publichousecb.com for latest music schedules, menu and other specials. (970) 349-0173.
Rocky Mountain Chocolate Factory
Desserts extraordinaire: 16 fabulous flavors of ice cream, fine chocolates, fresh baked cookies, hand-made fudge, hand dipped caramel apples, illy® cappuccino & espresso, sugar free chocolates, kids candy, gourmet jelly beans, hot chocolate, Pepsi® Products, assorted chocolates in wooden gift boxes with the Crested Butte logo, assorted chocolate gift boxes and white chocolate dipped dog bones. We are located downtown at 314 Elk Ave., Crested Butte. Open Late. WE LOVE VISITORS!
Rumors Coffee and Tea House
Rumors Coffee and Tea House is a cozy spot on Elk Avenue for a great drink and a comfy seat. We are also home to Townie Books, Crested Butte's independent bookstore. While drinking a nice hot drink, browse our local history, non-fiction, historical fiction, young adult, and children's books. Our cafe has breakfast burritos and breakfast sandwiches for those deep powder mornings when you just need to grab something and go. We also have delicious pastries from Frank's Deli to go with our organic coffee, large variety of chai, and hand blended loose leaf teas. Locals and visitors alike love our space for meetings and getting a little work done while away from home. Our friendly baristas and booksellers are here to help you find that perfect book for your time in Crested Butte and provide a great hot drink for cold winter days. 414 Elk Ave. (970) 349-7545.
The Sherpa Cafe
313 Third Street (off of Elk Avenue). (970) 349-0443. The Sherpa Café has been described by many words, the latest being "addicting" and "beautiful." Other words include awesome, excellent, very good, very very good, sooooooo good and outstanding. We are family-owned and run business which serves classic Nepali, Indian and Tibetan cuisine such as Chicken Tikka Masala, Saag Paneer as well as a few dishes traditional to the Sherpa Culture (like our Sherpa Stew – yum!). Our naan breads (plain, garlic, cheese or even date naan) are also coveted by many. So, come by this winter after your snowy day of recreation for some warm and spicy comfort food!
Wooden Nickel – Bar and Steakhouse
The original and best steakhouse in Crested Butte since 1981, the iconic Wooden Nickel, one of the few remaining historic, ski-town bars, is known for serving the finest steaks in town. The Nickel specializes in USDA Prime graded, tender Filet Mignon, N.Y. Strip, Rib Eyes and our famous, succulent Prime Rib. Our menu additionally features Elk Tenderloin, Rack of Elk, Alaskan King Crab, Duroc Pork Rib Eye, Rack of Lamb, Buffalo Rib Eyes, grilled Seafood and fresh Garden salads. The largest and best Burgers, Buffalo Burgers and Chicken Fried Steak add to your menu choices. Giant Lobster Tails and a variety of Surf and Turf specials are available nightly. The historic bar offers a wide range of martinis, your favorite liquors and, to complement your meal, a select wine list at attractive prices. Please join us for your special evening out at Crested Butte's oldest bar and best steakhouse. Classic yet casual. Bar opens at 4 p.m. with Happy Hour till
6 p.m. Dinner till 10 p.m.—222 Elk Ave. Downtown Crested Butte—Open year-round. Reservations please call (970) 349-6350 after 4 p.m.
www.woodennickelcb.com.
Mt. Crested Butte
Butte 66 Roadhouse Bar & Grille
(844) 295-7755. Treasury Center, Mt. CB Base Area. Handcrafted smokehouse specialties, hearty salads and roadhouse-style burgers. Check out our live music and the best deck in the base area! Open Seasonally, Year-Round.
Coal Breaker Coffee Co.
(844) 295-7755. Treasury Center, Mt. CB Base Area. Serving coffee, breakfast items, pastries and handcrafted deli sandwiches for lunch. Open Seasonally, Year-Round.
Crested Butte Burger Company
Enjoy our mouth-watering burgers! Our grab n' go handcrafted burgers are made with 100% Angus Beef and served fresh on a hot buttered bun with fries made from Colorado potatoes hand-cut daily in-house. We look forward to seeing everyone this winter season at our location at the base area of the ski-resort. Visit us at www.cbburgercompany.com for more information and to view our menu.
Jefe's Mexican Eatery
(844) 295-7755. Mountaineer Square Breezeway. Freshly made Mexican fare and margaritas. Come and join us on the patio por favor! Open Seasonally, Year-Round.
Paradise Warming House
(844) 295-7755. On-Mountain at the Bottom of the Paradise Express Lift. Casual dining in the heart of the Elk Mountains featuring a huge sun deck, great music and a lively bar.. Open Throughout the Winter Season.
Spellbound Pizza Co.
(844) 295-7755. Treasury Center, Mt. CB Base Area. Fast, friendly counter service pizza and deli. Call in advance to order your pizza! Open Throughout the Winter Season.
The Ice Bar at Uley's Cabin
(844) 295-7755. On-Mountain Below the Top of the Red Lady Express Lift. The elevated cuisine and cozy atmosphere has made lunch at Uley's Cabin a favorite on-mountain destination. Don't miss the legendary bar made out of ice serving our signature drinks. At night, after a starlit ride in a snowcat-drawn sleigh, enjoy a handcrafted dining experience and impeccable service in the elegance of our alpine cabin. Open Throughout the Winter Season.
Trackers Bar & Lounge
(844) 295-7755. Lodge at Mountaineer Square. Enjoy a libation at our relaxed après spot featuring fireside seating and outdoor patio. Open throughout the winter season. Open Throughout the Winter Season.
Umbrella Bar at Ten Peaks
(844) 295-7755. On-Mountain at the Top of the Painter Boy Lift. Enjoy spectacular mountain views and a craft beer or specialty cocktail at 10,150 ft. Open Seasonally, Year-Round.
WoodStone Grille
(844) 295-7755. The Grand Lodge, Mt. Crested Butte. Featuring custom stone oven pizza and pasta with our signature marinara sauce! Open Seasonally, Year-Round.
CB South
The CB South General Store
Serving lunch and dinner everyday to our CB South neighbors. Known for our tasty burgers and hand tossed pizzas. Our dough and buns are homemade daily! We also offer a variety of gourmet panini grilled sandwiches, salads, and appetizers. Now serving scooped ice cream to satisfy that sweet tooth! Happy hour 3-5 p.m. daily with $1 off all appetizers, beer and wine. We also have a variety of convenience items and groceries to save you a trip to town. Our gas station is open and we carry Non-Ethanol Premium Gas! Come hang out with your neighbors and let us fill you up! 228 Elcho Avenue, CB South, (970) 349-2783.
Tassinong Farms Food & Wine
By day, customers can stop in and buy the produce we grow on-site and the yummy products we make. Customer's can stay and enjoy one of our specialty salads with homemade salad dressings and many other made-from-scratch items. Local, seasonal and from-scratch are important to us. By night, customers 21 and over are invited to come and relax in a chill atmosphere. Sample a large rotating collection of wines from our Italian self-dispensing wine machines, buy a bottle of bubbly or cider to share with your friends or enjoy a craft beer. Generous cheese and charcuterie boards, flatbreads and many other tasty menu items are available. 241 Gillaspey Ave. #3 Crested Butte South. (970) 648-0545. www.tassinongfarms.com.
Gunnison
The Café at Gunnison Vitamin
Fresh Cooked! Real Food made from Scratch! Full Menu All Day! Mon-Sat 8 a.m. to 3 p.m. The Café at Gunnison Vitamin serves delicious Breakfast Sandwiches and Burritos all day long with a free cup of Camp 4 Coffee as well as good for you smoothies and baked goods. Other local favorites include Signature Sandwiches, Salads, Noodle Bowls and Brown Rice Bowls. Fresh Real Food! Made to Order from natural, organic, local and non-gmo foods. Gluten Free, Vegan and Vegetarian always available. Grab n' Go also available all day. Located 804 N. Main in Mtn. Meadows Mall Gunnison. (970) 641-5928.
Garlic Mike's
Garlic Mike's located just north of Gunnison city limits on the Gunnison River on the way to Crested Butte. Don't let the rustic cabin exterior deter you. Once inside, enjoy a glass of specially selected wines, including a Caymus Cabernet-a guest favorite or craft cocktail made by one of the friendly bartenders sharing stories of local happenings in the valley. Your fireside table should you request it, or the "Mafia Table" famously known as table 43 awaits you.Mike and his culinary team will prepare dishes from his frequent visits to Italy, family recipes as well as many traditional Italian mainstays. Dinner special features change every Thursday. Garlic Mike's serves dinner nightly from 5 p.m. Closed Sunday's November – February. Family friendly. Something for everyone! Follow Mike on Facebook and Instagram. Reservations highly recommended. (970)641-2493. 2674 Highway 135, Gunnison.