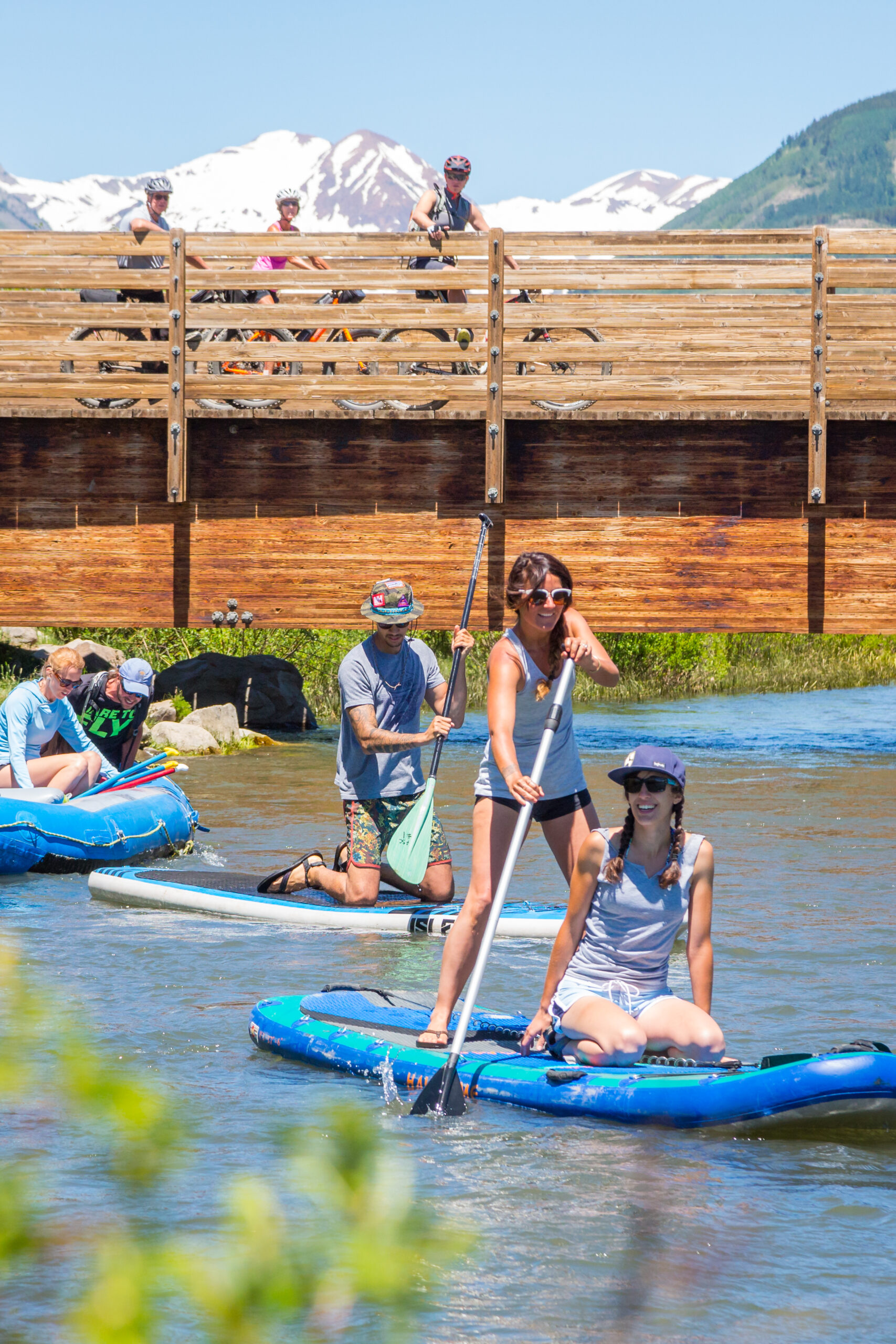 Stats:

39

0

Posted:

June 21, 2023

Category:

What To Do
Activities Guide
ADAPTIVE SPORTS CENTER
The Adaptive Sports Center provides exceptional outdoor adventure-based activities that enhance the quality of life of people with disabilities and their families. Summer activities include mountain biking, hand-cycling (on-road and off-road), rafting, canoeing, paddleboarding, hiking, camping, rock climbing, and our challenge course. We custom-tailor adventures for families, groups, and individuals. This summer we are hosting a Ladies Session camp at the end of July and the Adaptive Mountain Biking World Championships in mid-August. Registration is required and scholarships are available. The Adaptive Sports Center is located in the Kelsey Wright Building at the base of Crested Butte Mountain Resort. For more information about activities and special events, or to register, call (970) 349-2296, email info@adaptivesports.org or visit www.adaptivesports.org.
ADAPTIVE SPORTS CENTER'S CRESTED BUTTE OPEN: AUGUST 6-7, 2023
The Adaptive Sports Center hosts this annual two-day event to raise funds for their program, providing life-enhancing adventures for people with disabilities. The fundraiser starts with an evening Gala Dinner on Sunday, August 6 and a Golf Tournament on August 7 at the Club at Crested Butte. There is a silent auction that is open to everyone. www.adaptivesports.org/cbo
BIG AL'S BICYCLE HEAVEN 
Big Al's Bicycle Heaven is a locally owned and operated bike shop in downtown Crested Butte. We have an extensive rental and demo fleet with bikes for the whole family. Our experienced service department is always ready to get you back on the trail quickly. Come see us at Big Al's and our friendly staff will help you find the gear and information you need to explore the extensive biking in Crested Butte. Big Al's Bicycle Heaven is located at 207 Elk Avenue, (970) 349-0515 or www.bigalsbicycleheaven.com.
Butte & Co / Elevate
Located at the base of Mt. Crested Butte, Elevate Ski & Bike offers a wide range of bikes to make your vacation the best ever!  We carry downhill, cross-country, hard-tail and kids bikes for the bike park and all of CB's epic mountain biking trails.  Not only do we have a full-time repair crew, but we offer clothing from Rhythm, Rapha, FW, Strafe and anything else you may need during your stay.  Wanna take it super easy?  Take a Super 73 E-bike for a ride about town!  Make reservations at http://www.crestedbutteskirentals.com or give us a call to book a bike at 970-251-3050. See you this summer!
CB MOUNTAIN MENTORS
CB Mountain Mentors offers mountain bike lessons, clinics, and a variety of youth programs throughout the summer and fall seasons. Based in the town of Crested Butte, our professional coaches will help you gain confidence on the trail by building your skill set in engaging and positive environment. Summer long youth sessions provide comprehensive programming including mountain biking, first aid skills, navigation, leadership, and volunteer opportunities within our community. Inquire about our custom progression sessions, available for youth and adults. Mountain Mentors' knowledgeable coaches and instructors will create memorable experiences, empowering participants through adventure-based outdoor education. Check out our monthly skills clinics, including Introduction to Mountain Biking and Ladies Mountain Bike: Refresh Your Skills. Clinics and private lessons can be booked online at www.cbmountainmentors.com.
CB/MT. CB ROTARY RUBBER DUCKIE RACE
The 34th annual CB/Mt. CB Rotary Rubber Duckie Race will be held on August 6, 2023. Tickets can be purchased in person on Saturdays at the Post Office, the Farmers Market (July 23rd and 30th), or at The Arts Festival (August 4th-6th). The Rubber Duckie Race has raised hundreds of thousands of dollars for our community over the last 34 years through $10 ticket sales. Last year we raised $65,000 to give as college scholarships to local high school seniors and multiple grants to our Valley's many amazing non-profits. Duck sales also fund our Rotary Youth Exchange Program, allowing high school juniors an opportunity to spend a year abroad.  All money raised goes back into our community with a primary focus on the youth. Please consider supporting this worthy fundraiser by purchasing a Duck to compete in our race. There are many great prizes from our wonderful sponsors, and you do not need to be present to win. Every $10 ticket makes a difference! Crestedbutterotary.org.
CENTER FOR THE ARTS
The Center for the Arts is proud to welcome you to its stunning, reimagined arts facility. Join us for a year-round schedule of programming in the performing, visual, literary and culinary arts. Check out monthly live music, gallery exhibitions, literary festivals, films, art classes and more. As the Western Slope's premier arts venue, the Center's spaces include the 305-seat, cutting-edge Steddy Theater and the Kinder Padon Gallery, showcasing local, regional and nationally recognized visual art exhibitions. In addition to our popular signature events, including the Alpenglow summer concert series, the Crested Butte Wine + Food Festival, the Crested Butte Watercolor Symposium and Mountain Words Literary Festival, the Center gratefully serves as the community hub and central events venue for local community organizations. Together, we bring the arts to the heart of Crested Butte. The Center also offers rental space for meetings, weddings or social gatherings in the King Community Room, the Jones Performance Hall or the third-floor Comiskey Terrace with panoramic views of Paradise Divide and Mt. Crested Butte. www.crestedbuttearts.org. (970) 349-7487.
CHALLENGER SPORTS INTERNATIONALCORE SOCCER CAMP
Bringing International Coaches To Your Field! Coached by our team of international and US-based staff, our week-long soccer camp improves your child's soccer skills whilst providing a unique cultural experience. We use age appropriate practices to help players develop at their own pace, learn brand new skills and become an all-around better player…while having an amazing time with our international coaching staff! Includes an educational approach that uses soccer to teach the core values of responsibility, integrity, respect, sportsmanship and leadership. All campers receive a soccer ball and t-shirt at camp, a jersey for early registration and a certificate of completion. Different programs for ages 3-14. Gunnison: July 31-August 4, Crested Butte: August 7-11. Please register at challengersports.com and contact camps@challengersports.com with any questions.
CRESTED BUTTE ARTS FESTIVAL: August 4-6
The 2023 Crested Butte Arts Festival will again be the cultural highlight of the summer season presenting a weekend of fine art exhibition intertwined with live entertainment, participatory dance, outdoor film screening, children's craft tent, art auction, food trucks and picnic lawn. Patrons are invited to explore the work of 130 visual artists, working across 12 artistic mediums.
More info at www.crestedbutteartsfestival.com.
CRESTED BUTTE CLAY STUDIO
Crested Butte Clay Studio is a fully equipped community ceramics studio in town offering kids and adult clay classes, workshops, private lessons, memberships for independent clay artists, party rentals, community outreach and a gallery of local ceramics. Please visit www.crestedbutteclaystudio.com for more information and follow us on Instagram @crestedbutteclaystudio to see the latest happenings. We are located at 423 Belleview Avenue (in the alley).
CRESTED BUTTE FARMERS MARKET 
Sundays, May 28 – October 8, 9 a.m.-2 p.m. at the top of Elk Avenue. We welcome SNAP! Visit our website for more information, www.cbfarmersmarket.org.
CRESTED BUTTE JEWELRY SCHOOL
The Crested Butte Jewelry School offers fun and engaging jewelry workshops and retreats in the heart of Crested Butte's Creative District as well as Online Silversmithing Courses. Our classes are designed for students with no experience to those who wish to build a business as an artist and designer. Our school has been named 1 of 5 "top champion educators" in the industry. Silversmithing, Stone-setting, and Metalworking workshops are taught by Jeweler, Meaghan Young. Our 5-day retreats are designed for art and travel lovers and focus on business, wealth building and personal development. For our class descriptions and summer/fall schedule, visit us at www.cbjewelryschool.com. Located at 411 Third Street.
CRESTED BUTTE MOUNTAIN BIKE ASSOCIATION 
The Crested Butte Mountain Bike Association (CBMBA) works to connect people to trails, nature, and each other through recreation and conservation. We host trail workdays, rides, and other events to foster a community grounded in fun and stewardship. We also run the Crested Butte Conservation Corps, CBMBA's trail and stewardship crew that cares for the backcountry. For events, trail reports, volunteer opportunities, backcountry news, or to support our mission,
visit www.cbmba.org.
CRESTED BUTTE MOUNTAIN RUNNERS 
The Crested Butte Mountain Runners hold a series of trail runs throughout the summer on various trails in the Crested Butte area. Experienced or first-time trail runners are welcome to attend. Distances vary from 5 to 12 miles with all runs on dirt roads or singletrack trails. Refreshments are provided after each run. For a full schedule please go to www.cbmountainrunners.org or call Martin Catmur at (970) 275-7763.
CRESTED BUTTE MOUNTAIN THEATRE
Producing theatre for over half a century, The Crested Butte Mountain Theatre is the longest continuously running community theatre on the Western Slope. We provide an open venue for creative expression through community participation in all aspects of a theatrical production and foster the growth of theatre as an art form through original, classical, and contemporary productions. The Crested Butte Mountain Theatre, home of the Mallardi Cabaret Stage, is located downtown in the historic Old Town Hall at 2nd & Elk. We offer a diverse season of plays, adult workshops, youth programs, film and musical events throughout the year. We also offer private rentals for your party or reception. www.cbmountaintheatre.org, (970) 349-0366, office@cbmoutaintheatre.org.
CRESTED BUTTE/MT. CRESTED BUTTE CHAMBER OF COMMERCE VISITOR CENTERS
Looking for information on what to do during your stay in the Crested Butte area? With two locations, the Chamber of Commerce Visitor Centers are a great resource for information on trails, designated camping, hiking, biking, shopping, dining, events, activities and festivals. The Crested Butte Visitor Center is located at the 4-Way Stop, corner of Sixth Street (Hwy. 135) and Elk Avenue and is open 7 days a week from 9 a.m.-5 p.m. The Mt. Crested Butte Visitor Center is located in the Transit Center in Mountaineer Square and is staffed 7 days a week from 9 a.m.-5 p.m from mid-June to early October. Brochures, newspapers, maps and guides are accessible at the 4-Way Stop from 7 a.m.-11 p.m. Give us a call at (855) 681-0941 or (970) 349-6438 or visit our website at www.cbchamber.com. We also have relocation and local business information available. We look forward to engaging with you soon!
CRESTED BUTTE MUSEUM
The Crested Butte Museum preserves, shares and celebrates the history and traditions of Crested Butte and the Gunnison Valley. Through engaging educational and cultural experiences, the Museum connects people to the past, the place and each other. We are located in a preserved historic 1883 building in downtown Crested Butte, the previous home of the town's central hardware store, affectionately known as "Tony's Conoco." We have dedicated a portion of the building to showcasing what the hardware store used to look like, and also have curated exhibits showcasing the history of railroads, mining, ranching, mountain biking, skiing and the world record Plute Elk rack. We host historic walking tours on Elk Avenue as well as specialty "Wander with History" tours, historic pub crawls, virtual education series, and other community celebrations. Our gift shop features many local artists' work, jewelry, souvenirs, artwork, books, games, toys, and other unique goods. We are a lovely historic and charming venue that's centrally located for your next special event and host many fun and engaging events of our own. Check out our website for upcoming events, opportunities to volunteer, and much more at www.crestedbuttemuseum.com or call us at (970) 349-1880. We are located at 331 Elk Avenue, Crested Butte, CO 81224. Follow us at @CBMuseum on Instagram!
CRESTED BUTTE PUBLIC POLICY FORUM
The Crested Butte Public Policy Forum has been bringing distinguished speakers to the valley on issues of international, national and local significance since 2003. Its mission is to promote civic dialogue, debate and community engagement. Each Tuesday, beginning June 27th through August 8th, the Forum will present a speaker with recognized expertise on a topic of significant importance and interest. PLEASE NOTE –  DUE TO THE HOLIDAY, THE FORUM WILL TAKE PLACE ON WEDNESDAY, JULY 5th. The Forum values possibilities and solutions by presenting balanced information, steering away from the divisiveness that dominates much of today's policy discourse. Join us at 7 p.m. each Tuesday at the Center for the Arts building. Visit www.crestedbutteforum.org for complete program line-up.
CRESTED BUTTE WILDFLOWER FESTIVAL: JULY 7-16 
The Crested Butte Wildflower Festival is ready to celebrate the return of summer and our spectacular wildflowers! The Festival will be offering 163 events, including a few special Member's only workshops. The schedule includes many art and photography events in addition to the traditional and amazing hikes among the wildflowers. Learn about geology, birding, butterflies, and the history behind Crested Butte and our wildflowers! Events are generally limited to 15 participants this year and we are selling out fast. View our Program Guide and start registering for events now through our website: www.crestedbuttewildflowerfestival.org/program-guide/ 
DOS RIOS GOLF CLUB 
Welcome to Dos Rios Golf Club, your number one option for a round of golf in Gunnison, Colorado. We have everything you need to create a truly unforgettable experience, incredible terrain to unmatched service. Don't forget to stop in the clubhouse and say hello when you visit, we can't wait to meet you. Gunnison Golf at its finest. Prepare yourself for an unparalleled golfing experience. Our course is a pleasure for golfers of any skill level to play. Dos Rios Golf Club will challenge you while providing a relaxing picturesque backdrop. All in all our goal is to provide you with a quality experience that includes exceptional service in a comfortable atmosphere. We offer a championship 18-hole course, fully stocked pro shop, excellent practice facility, bar & grill, and a beautiful patio for outside dining. Come and experience Dos Rios and let us spoil you. Visit www.dosriosgolf.net for more information.  
FANTASY RANCH HORSEBACK ADVENTURES 
Looking for a great vacation adventure? Look no further! Get a true taste of the Rocky Mountain West on a one or two hour, half-day or full-day trail ride. Ride up into the mountains crossing wildflower fields and winding through aspen groves. For reservations or more information call (970) 349-5425. Come experience Crested Butte's beautiful backcountry by horseback! www.fantasyranchoutfitters.com.
FAVOR THE KIND TRUNK SHOWS
Richard Schmidt Jewelry Trunk Show – Memorial Day to Labor Day Saturday, June 3rd- JLM Permanent Jewelry Pop-up. Thursday, July 13th-Sunday, July 16th – Fraulein Boot Company Trunk Show322 Elk Avenue, downtown Crested Butte, (970) 349-7261, www.favorthekind.com, instagram: @favorthekind_cb
GUNNISON PIONEER MUSEUM 
Recent visitors to our extensive 16-acre campus have called us the "Smithsonian of the West", and our amazing collection of Western heritage and local history is certainly one of the largest and varied in Colorado. Featuring one of the most famous railroad engines in state history, Baldwin 268, known more affectionately as "Cinder Ella of the Rockies", along with numerous related narrow gauge rail exhibits. The Andy Mallet Car Barn offers guests over 6,500 years of automotive history while our Jordan Building houses an intriguing collection of military relics from around the globe. Ranching, mining, toys, dolls, vintage fashion, early transportation, Native American displays and so much more can be found throughout the museum. Located at 803 E. Tomichi and open daily 9 a.m.-5 p.m. from May 15 through September 30. Follow us on Facebook and check out our new website at www.gunnisonpioneermuseum.com for Gunnison country history galore!
IRWIN GUIDES  
Irwin Guides sets the standard in creating remarkable guided experiences in the world of adventure activities by hiring the most qualified and enthusiastic guides. Our trips are transformative adventures that encourage people to become the best version of themselves, step outside of their comfort zone, and most importantly, be inspired to continue exploring. Join Irwin Guides for a full array of summer adventure including rock climbing, mountain biking, wildflower hikes, 14er climbs, alpine climbs, stand up paddle boarding, rafting, kayaking, and fly fishing! With years of experience, accreditation from the world's most respected outdoor organizations, and a passion for sharing remarkable experiences – our guides are constantly setting the standard in the outdoor industry for delivering safe, challenging and memorable adventures for all of our guests. This summer Adventure Like A Local! (970) 349-5430. www.irwinguides.com.
KBUT's KAMPOUT WITH OZOMATLI: AUGUST 11-12
Join KBUT this summer for the Kampout, a music and community festival FUNdraiser at the I Bar Ranch in Gunnison on August 11-12.  Enjoy music from Ozomatli and local Gunnison Valley bands as well as dancing, food, fun activities, morning yoga with live music, and camping under the stars in the Rocky Mountains! Ozomatli has been an international touring band for 25+ years playing a unique blend of salsa, hip-hop, reggae, rock, merengue and funk. For more information and tickets visit: www.kbut.org.
KISSIDUGU FOUNDATION: CAMP MERVEILLES
The Kissidugu Foundation is a non-profit dedicated to education, connection, and cultural preservation. This August, at the Center for the Arts, join multiple African artists to celebrate the 20th anniversary of Camp Merveilles, a movement, music and education conference. A youth cultural arts camp will run August 14-18 for ages 7 and up, with daily classes in drum, dance, art, storytelling, acrobatics, break dance, and more! The adult conference is August 16-20 with a wide variety of music and dance class opportunities. All abilities welcome! Programming also helps to support artists, educators, and youth at our school in Guinea, West Africa. Don't miss the dynamic and exciting theater show on Saturday, August 19, showcasing youth and adult students and the amazing African artists for an unforgettable all-ages show. Registration, tickets and detailed information can be found at www.crestedbuttearts.org. For questions, donations of support, or further details contact Angela Carroll at campmerveilles@western.edu.
LIVING JOURNEYS 
No one in Gunnison County has to fight cancer alone. And you can help support Living Journeys' mission by attending one of our summer events, making a donation, or signing up to be a volunteer. On July 9, join us at the I Bar Ranch in Gunnison for a benefit concert with Stephen Marley, the acclaimed son of reggae icon Bob Marley. Performing for one night only, this will be the concert of the summer and you don't want to miss it! We're also excited to be hosting the annual Summit Hike & Trail Runs on July 29 on Mt. Crested Butte. With multiple ways to celebrate the day, including the inaugural 10K trail run, there are opportunities for all ages and activity levels to gather in honor or memory of loved ones affected by cancer. Afterwards everyone comes together for a delicious brunch at the base area. All events' proceeds go directly to individuals living with cancer in the Gunnison County. Learn more at www.livingjourneys.org.
NATIVE NECTAR 
Native Nectar is Crested Butte's newest boutique and spa, conveniently located right on Elk Avenue. Experience our plant-based skincare, indulgent bath + body products and hand-poured candles as well as curated goods for both lifestyle and beauty. Our modern and tranquil spa area is perfect for rejuvenation with treatments that include fully customized facials, massage, infrared sauna, acupuncture, sound healing and more! Stop by 330 Elk Avenue Unit A or call (970) 251-5164, www.nativenectarbotanicals.com.
PARAGON PEOPLE'S FAIR
The Paragon People's Fair is a non-juried arts and crafts festival that helps regional artists showcase their artwork. This two-day event is held on Elk Avenue, downtown Crested Butte, on Labor Day weekend. The Fair features live music, food vendors and an adjacent Farmers Market on Sunday. Also expect sidewalk sales held by the local stores, Nature's Educators birds of prey and reptiles, a dog show hosted by Oh Be Dogful Rescue and tons of fun to be had in the mountain sunshine. Come join the festivities and a community truly invested in enjoying the little things in life. Located between 2nd & 4th Street on Elk Avenue. September 2, 10 a.m.-5 p.m. and September 3, 10 a.m.-4 p.m.www.paragonartgallery.com.
SYNERGY
Synergy Athlete, home of Crested Butte CrossFit, is the premier training facility in Crested Butte. We have a variety of classes to suite your level of fitness from CrossFit, Strength, Pilates, cardio base, youth and vitality class (55 and older) and yoga. In addition to classes, we a have peloton available for reservation and open gym times to do your own thing. Let us help you get fit, stay healthy and crushing it in the mountains. Drop-ins welcome or we will meet you where you are at! Visit www.synergyathlete.com or email carriejo@synergyathlete.com for more information.
THE MOVEMENT CENTER
The Movement Center offers private training and group classes on the Pilates mat, reformer, low chair, jump board and trapeze table, as well as TRX and barre. We also offer private training in the GYROTONIC EXPANSION SYSTEM®. Whether you're a beginner, recovering from injury, or an old pro, our knowledgeable instructors will guide you to improve movement patterns and find new strength and flexibility. Bodywork services include Ortho-Bionomy® and Scar Therapy. Conveniently located at the Four-way stop in Crested Butte. Visit www.crestedbuttemovementcenter.com to sign up, or text/call (970) 596-4617 with questions.
THE SALIDA ARTS FESTIVAL 
The 9th annual Salida Arts Festival means, fabulous artists from many mediums, Sculpture, Jewelry, Paintings, Photography, Mixed Media, Wood, Fiber, Ceramics and more. This is a small boutique arts festival with about 70 artists, in beautiful Riverside Park in downtown Salida, CO. A town recognized as a Creative Arts District and well known for Mountains and the Arts: Salida is a perfect location for an excellent Arts Festival. This is a juried show. The show was rated #53 in the Contemporary Crafts Category by Sunshine Artists magazine. There are artists from many mediums, including Sculpture, Jewelry, Paintings, Photography, Mixed Media, Wood, Fiber and more. Afternoons, feature beautiful music by Red Tischer. We're only 1 1/2 Hours from Crested Butte, Come to Salida, buy some Art, enjoy The Arkansas River. Have lunch, make a day of it! Learn more at www.SalidaArtsFestival.com. July 15th & 16th at Riverside Park in Downtown Salida, CO.
THE TRAILHEAD CHILDREN'S MUSEUM
Let's Play…at the Trailhead! Come play at the Trailhead Children's Museum's NEW location, 501 Elk Avenue in Crested Butte. Explore, create, play, and learn with your senses, your imagination, and your friends. This summer, don't miss art and play camp at the Trailhead. Explore and expand fine art skills and mediums in Studio Art and get inspired by the world around you in Valley Voyagers and Explore, Create, Play. We have a camp for every artist and adventurer, ages 3 through 5th grade. Visit www.trailheadkids.org to learn about our art camps, outdoor play camps and more! Become a Trailhead Annual Member today to save on programs, as well as take advantage of museum perks. For more information please contact The Trailhead at director@trailheadkids.org and (970) 349-7160, or visit our website at www.trailheadkids.org.
THRIVE YOGA CRESTED BUTTE
Thrive Yoga Crested Butte is a wellness community on Elk Avenue that prioritizes the well-being of its students. We offer multiple daily yoga and barre classes in a variety of styles and levels, so there's something for everyone! We also have many amazing workshops and special events to choose from. See what interests you at www.thriveyogacrestedbutte.com or stop by and visit our boutique, perfectly curated with clothing, yoga props, jewelry, gifts and more! At Thrive, taking care of one another is a core value and making healthy decisions is normalized. We understand that the most important yoga is done off of the mat and encourage our students to integrate their practice into their daily lives, as we know how much the practices have improved ours.
TOUGH ENOUGH TO WEAR PINK
Tough Enough to Wear Pink is celebrating our 18th year in the Valley and thanks to the incredible community support, we have the #1 TETWP fundraiser in the country, again!  Every dollar raised stays here and is dedicated to providing local funding for cancer awareness, prevention, education, support, breast screenings, and equipment. The need of our community spoke for itself and when TETWP began offering our programs to patients and families effected by all cancers, our transportation, lodging and screening programs were here and ready to help. We are #GunnisonTough because of the sponsors, donors, volunteers, and TETWP family that pulls together to stand in the fight with us against cancer. We invite you to join us in the fight, join our family, and learn more about our growing partnership with Gunnison Valley Hospital and the big dreams we have for rural health and cancer care in our valley. Socials @GunnisonTETWP, www.gunnisontetwp.com.
WEST ELK SOCCER ASSOCIATION (WESA)
WESA's summer programming has changed for 2023! New and improved structure to help develop the new soccer player as well as the experienced player. Improve your soccer skills all summer long, ages 8-18. WESA believes that every player is unique and we coach based on players' needs. No one coaching method fits all! Our coaches have been through nationally recognized courses along with in-house training to make them knowledgeable coaches on current coaching methods. Advanced registration is required. For detailed clinic and camp information and to register visit www.westelksoccer.org. Questions westelksoccer@gmail.com.