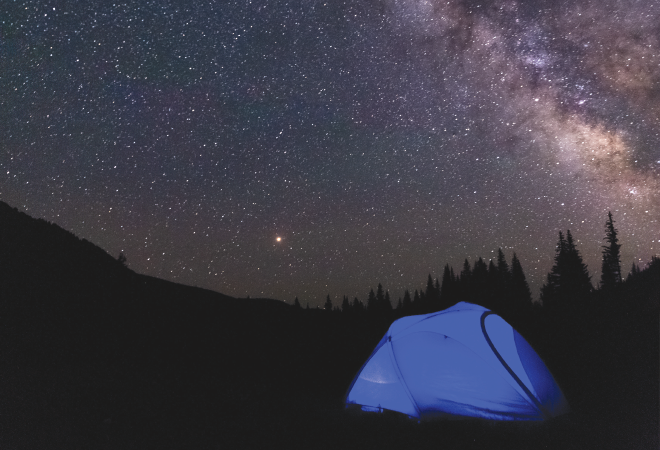 Crested Butte Camping Primer
Camping in Crested Butte is a special treat. No matter where you choose to pitch your tent or park your trailer, scenic views are endless, wildflowers are your friendly neighbors, trails are bountiful and Crested Butte's charming town amenities are never too far away. This summer as we seek fresh air and room to breathe after a quarantined spring, the camping opportunities in Crested Butte offer solace and escape.
Given an uncertain summer surrounding COVID-19 health and social distancing regulations, campers are encouraged to plan ahead and check local health regulations before they come, as fewer amenities will be available. The U.S. Forest Service and Bureau of Land Management (BLM) recommend that visitors come prepared with all the essentials, including food, water and emergency supplies, and to be prepared for limited or no services, including restroom facilities and garbage collection at established campsites.
"Folks can expect social distancing and occupancy restrictions in developed campgrounds as both we and our concessionaires move to open sites in compliance with local health orders," says Kim Phillips, public affairs officer for the local Grand Mesa, Uncompahgre and Gunnison (GMUG) National Forests. "Visitors should plan ahead, check local and county health headlines before heading out and take CDC precautions to prevent COVID-19. Look for social distancing messages at recreation sites and campsites across Forest Service and BLM public lands and be aware of campground and road status prior to your visit. Visit recreation.gov for more camping information and to reserve a campsite.
Campers familiar with camping in the local area will see some changes to established campgrounds. Campsites at the popular Oh Be Joyful Campground located along the Slate River can now be booked ahead of time. New this summer, 11 RV sites, eight tent sites and one group campsite are available for reservation through recreation.gov. The remaining sites at the campground, in addition to the five nearby River Flats walk-up sites remain on a first-come first-served availability. The BLM is also finalizing an ADA-accessible group site that should be available for reservations and use by July.
Also new this year, a footbridge over the Slate River has been added to provide safe, all-season access to the Oh Be Joyful falls and foot trail, as the vehicle ford has been permanently closed. Construction for a new hike/bike trail is scheduled to begin in August to connect the Oh Be Joyful campground to the Gunsight Bridge and provide day users access to Oh Be Joyful without having to drive from town.
---
Whether you decide to utilize one of Crested Butte's nearby established campgrounds, dispersed spots or RV sites, there's a little bit of something for whatever kind of camper you are. Some highlights:
Kebler Pass
Lake Irwin Campground – 32 sites, reservation and first-come first-served
Dispersed camping – throughout Kebler Pass Road, no facilities
Washington Gulch
Dispersed camping – 5 miles down Washington Gulch Road, no facilities
Slate River
Oh Be Joyful Campground – 30 sites, reservation and first-come first serve
River Flats walk-in campsites – 5 sites, first-come first-served
Dispersed camping sites starting about 6 miles up BLM Road 3220
Brush Creek
Dispersed campsites about 6 miles up Brush Creek Road, no facilities
Cement Creek
Cement Creek Campground – first-come first-served
Taylor Canyon
Campfire Ranch – 19 sites by reservation
In Town
Crested Butte RV Resort – 21 sites, reservation only, 2 miles south of town
Wherever you decide to camp this summer, please always follow Leave No Trace principals and outdoor ethics and leave our beautiful valley the way you found it.