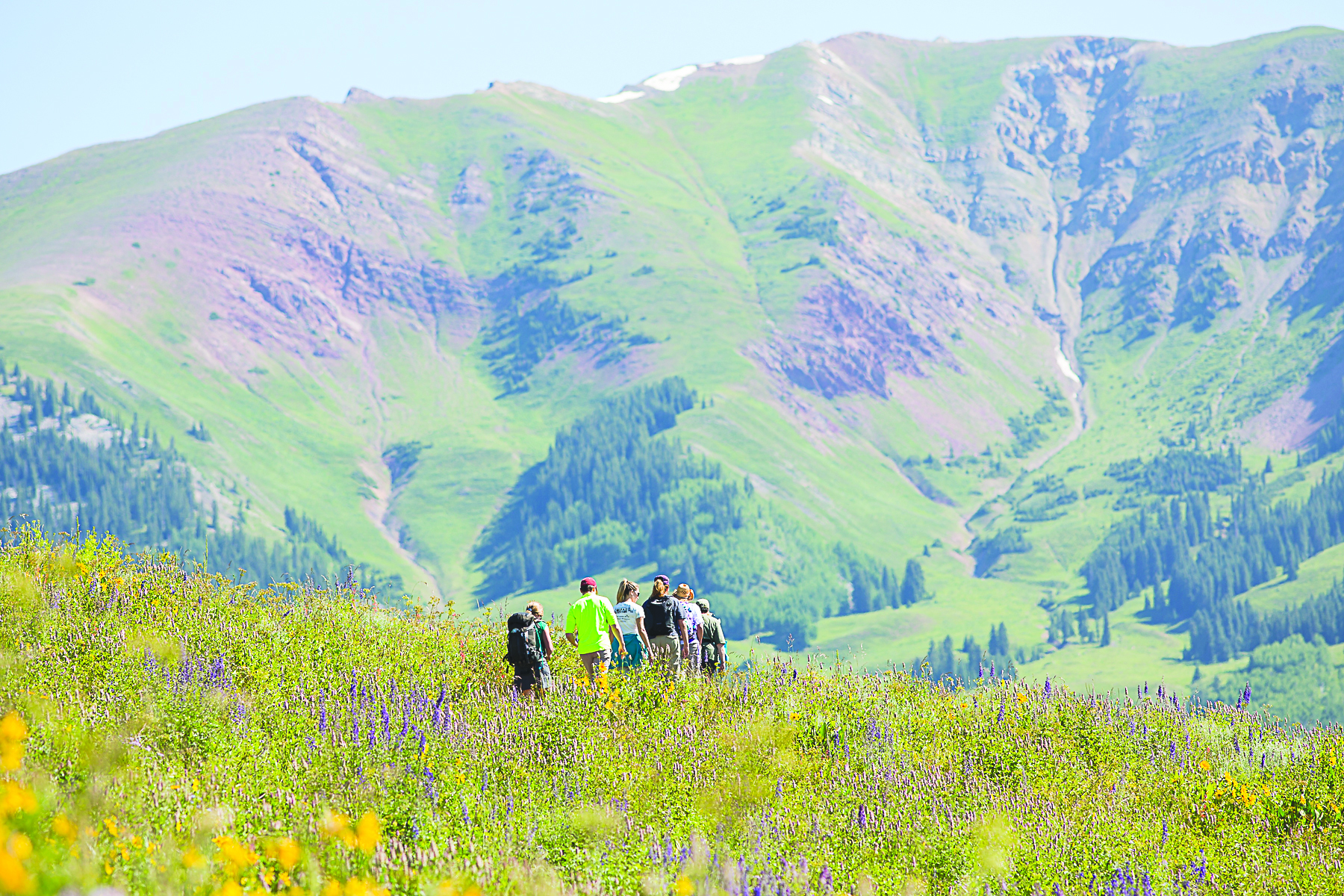 Stats:

87

0

Posted:

June 21, 2023

Category:

What To Do
Summer Trails Etiquette
Play the right way in Crested Butte & the Gunnison Valley
By Rachel Gearhart
Summer in Colorado is full of opportunities for adventures. There are 1,200-plus miles of trails and over 2 million acres of public lands in Gunnison and Crested Butte. You can mountain bike, hike, camp, off-road, horseback ride, gravel bike and e-bike. Part of a good experience on the trails includes being respectful to others and following good trail etiquette.
Leave No Trace
Leave No Trace applies every time you recreate outside. Practicing these principles helps keep you and others safe. It also protects the environment.
Plan ahead and prepare
Make sure you know your route ahead of time. Have a map and compass you can read and navigate with. Bring plenty of water, snacks and sunscreen. Colorado often gets afternoon thunderstorms, so bring appropriate rain gear just in case.
Travel and camp on durable surfaces
Stay on the trail, and don't cut across switchbacks. If the trail is extremely muddy, turn around and come back another day. Using a muddy trail can damage the trail. If you're camping, learn the rules of the area you're in ahead of time. Before your trip to the Gunnison Valley, learn about the changes to dispersed and designated camping in Crested Butte. (More on that later.)
Dispose of waste properly
If you pack it in, pack it out. Don't litter on the trail, to include things like fruit peels or cores. To relieve yourself go 200 feet away from camp, trails and water. Most solid human waste can be disposed of by digging a six-inch-deep hole and burying the waste. Some areas may require human waste to be packed out. Contact the area's land manager for more information. Learn more about different options for disposing of waste from Leave No Trace.
Leave what you find
Removing anything from a natural area alters the way the ecosystem functions. Leave behind rocks, sticks, animals, leaves, feathers, etc.
Minimize campfire impacts
If you plan to have a campfire, make sure there are no fire bans in effect. Always drown campfires fully when you're done with them. We keep our travel alerts page updated with all fire information for the county and surrounding public lands.
Respect wildlife
Always observe wildlife from a distance. Never approach them or feed them. Make sure all your food and trash are secured. If you're in the Gunnison Valley, you're in bear country.
Be considerate of others
Be kind and considerate of other trail users. Know when to yield and make yourself known when passing. Don't play loud music that will disturb the peace. If you're taking your dog out, always maintain control of them and clean up after them. Check out the many dog-friendly activities in Gunnison and Crested Butte. Pack out all your trash, and leave campsites better than you found them for the next visitor.
Mountain Biking Trail Etiquette
Gunnison and Crested Butte is home to over 800 miles of classic Colorado singletrack. As one of the birthplaces of mountain biking, you have miles and miles of rocky desert rides at Hartman Rocks to flowy alpine descents in Crested Butte to choose from. Though the area has some famous mountain biking trails, there are lesser-known but just as amazing trails in Crested Butte and Gunnison. No matter what you ride, you're guaranteed a breathtaking mountain view.
How to prepare for a ride:
Be respectful of all trail signs and regulations. Don't bike on trails that aren't open to biking or are closed. If you're unsure, contact the land manager for the area.
Bikers yield to hikers and horseback riders. Slow down or stop to let hikers pass. For horses, come to a complete stop and move off the trail to make sure the horse doesn't spook. Uphill bikers have the right of way. Always slow down or stop to let uphill riders pass if you're going downhill.
Always stay in control of your bike, and ride within your limits. This will help keep you and others safe.
If a trail is very muddy, consider another option. Riding on muddy trails can damage them.
Bring the proper safety gear, including a helmet, water and snacks. Know your equipment and how to repair it if necessary.
Hiking Trail Etiquette
The hiking in Crested Butte and Gunnison is abundant. Trails range from the sage-filled alpine desert of Hartman Rocks to high alpine meadows dotted with wildflowers in Crested Butte. Most trails that are available for hiking have a variety of uses, so it's important to share the trail and be mindful of your surroundings.
Hiking trail tips:
Know who has the right of way. Uphill hikers have the right of way.

 

Downhill hikers should step off the trail to let uphill hikers pass. Bicyclists yield to hikers. Bicyclists and hikers yield to horses and other pack stock.
Make yourself known by giving a friendly hello if you pass other hikers.
Only hike on the designated trail. Getting off the trail can cause damage to the vegetation.
Respect wildlife by maintaining your distance; never feed or disturb them.
If the trail is too muddy or wet, don't hike on it. Please don't damage the trails by using them when they are muddy. If you do encounter mud, ride or hike through it, not around it. This will make things easier for the amazing trail organizations that take such good care of our local trails.
Don't play loud music while hiking. This is disruptive to wildlife and other trail users.
Pack plenty of water, snacks and sunscreen and be prepared if the weather turns inclement.
Horseback Riding Trail Etiquette
With 2 million acres of public lands, there are plenty of trails for horseback riding in Crested Butte and Gunnison. There are several outfitters that offer private trail rides. Booking a private ride means the outfitter will saddle up the horses and navigate, making it an easy day for you to relax and enjoy the scenery. You are also allowed to bring your own horse on many trails in the area. Wilderness areas in particular are closed to motorized vehicles, providing a quiet riding experience.
Tips for horseback riding:
Make sure all equipment is secure before beginning to ride.
Communicate what side you will pass on if you're planning to pass another rider.
Hikers and bikers should yield to horses. If a hiker or biker seems unsure of what to do, communicate clearly with them.
Be sure you can manage your animal before taking them out on a multi-use trail.
Know how to monitor your horse's vital signs.
Respect all trail closures and regulations. Contact the local land manager if you're unsure of the rules.
Camping Etiquette
National Forest Service camping in Crested Butte is now nearly all designated camping. This change was made to help reduce the impact of cars and humans on the land. When choosing a campsite, please be sure you're allowed to camp there. Campsites in areas with designated camping only will be marked with a sign. There are also paid campgrounds that can accommodate RVs and fifth-wheel trailers, as well as tents. Research sites ahead of time so you know what to expect. Private campgrounds may have their own set of rules, so be sure to abide by those.
Camping tips:
Leave your campsite better than you found it. Clean up any trash you see.
Only camp where camping is allowed. Pitching your tent or setting up your camper in areas that don't allow camping could result in damage to the environment.
Make sure there are no fire bans in place if you plan to have a campfire. If you're coming from out of town don't bring firewood with you. Buy it or collect it once you arrive. Find out ahead of time if firewood collection is allowed.
Watch your noise levels at night and in the morning to not disturb wildlife or other campers.
If bathroom amenities are unavailable, go at least 200 feet away from camp and any water sources to relieve yourself. Most solid waste can be disposed of by digging a six-inch deep hole and burying it, but some areas may require you to pack it out. Contact the land manager if you're unsure.
Secure all food in a bear box or inside your camper. If you're keeping food in your car, make sure it isn't visible. If those are not available, use a bear canister or hang a bear bag.
If you bring your dog, always maintain control of them so they don't disturb wildlife or other campers.
E-bike Etiquette
E-bikes, or electric bicycles, are gaining popularity not just as a form of transportation around town, but also to get out on the trails. There are many e-bike friendly trails in Gunnison and Crested Butte, but not every trail open to mountain bikes is open to e-bikes.
E-biking trail tips:
Know what type and class of e-bike you have before going out. Not every kind of e-bike is allowed on trails.
Make sure the trail you want to ride is open to motorized traffic. E-bikes count as motorized vehicles and can only be ridden on motorized trails.
Always stay on the trail.
Just because you can ride really fast doesn't mean you need to! Maintain a responsible speed and stay in control of your e-bike at all times.
Avoid muddy trails.
E-bikes have the same yield and right of way rules as mountain bikes. Yield to hikers and horses. Uphill bikers have the right of way.
Bring the proper safety gear, including a helmet, plenty of water, sunscreen and snacks.
Gravel Bike Etiquette
There are thousands of miles to gravel bike in Gunnison County. National Forest service roads alone make up 1,169 miles. The Bureau of Land Management and county roads provide hundreds more. Gravel biking is a good way to get out and explore more remote areas.
 Gravel Bike tips:
Use hand signals to signal turns.
Ride with the flow of traffic.

I

f passing another rider, let them know what side you're going to pass on.
Bring the proper safety equipment, including a helmet, plenty of water, sunscreen and snacks.
Know your equipment and how to repair it if necessary.
OHV Etiquette
There are plenty of trails open to motorized vehicles in Gunnison and Crested Butte. ATVs, Jeeps and side-by-sides will find miles of dirt, rock and mud to explore. Dirt bikers have miles of motorized singletrack trail networks to ride in the Elk and Sawatch mountains.
Off-roading tips:
Make sure your vehicle is properly registered before taking it out.
Know the rules of a trail before you go. Follow all signs and regulations.
Always stay on the trail. Don't drive over vegetation. Drive over obstacles instead of around to avoid widening the trail.
OHVs yield to bikers, hikers and horses.
Signal to oncoming traffic how many people are in your group. For example, if there are three people behind, you hold up three fingers. The last person in the group should raise their fist to signal they are the end.
Uphill vehicles have the right of way. Common sense should prevail here though. If it is easier and safer for the uphill vehicle to pull over and let the downhill vehicle pass, you should do that.
Be aware of your surroundings. If there is a vehicle in front of you, give it plenty of space in case it rolls or loses traction. Never stop in the middle of the trail or on a blind curve. Always keep track of everyone in your group.
Editor's Note:  Many thanks to Rachel Gearhart and our friends at Gunnison Crested Butte Tourism for sharing this piece for publication. For more information on stewardship efforts in Crested Butte and the Gunnison Valley, visit gunnisoncrestedbutte.com/stewardship.