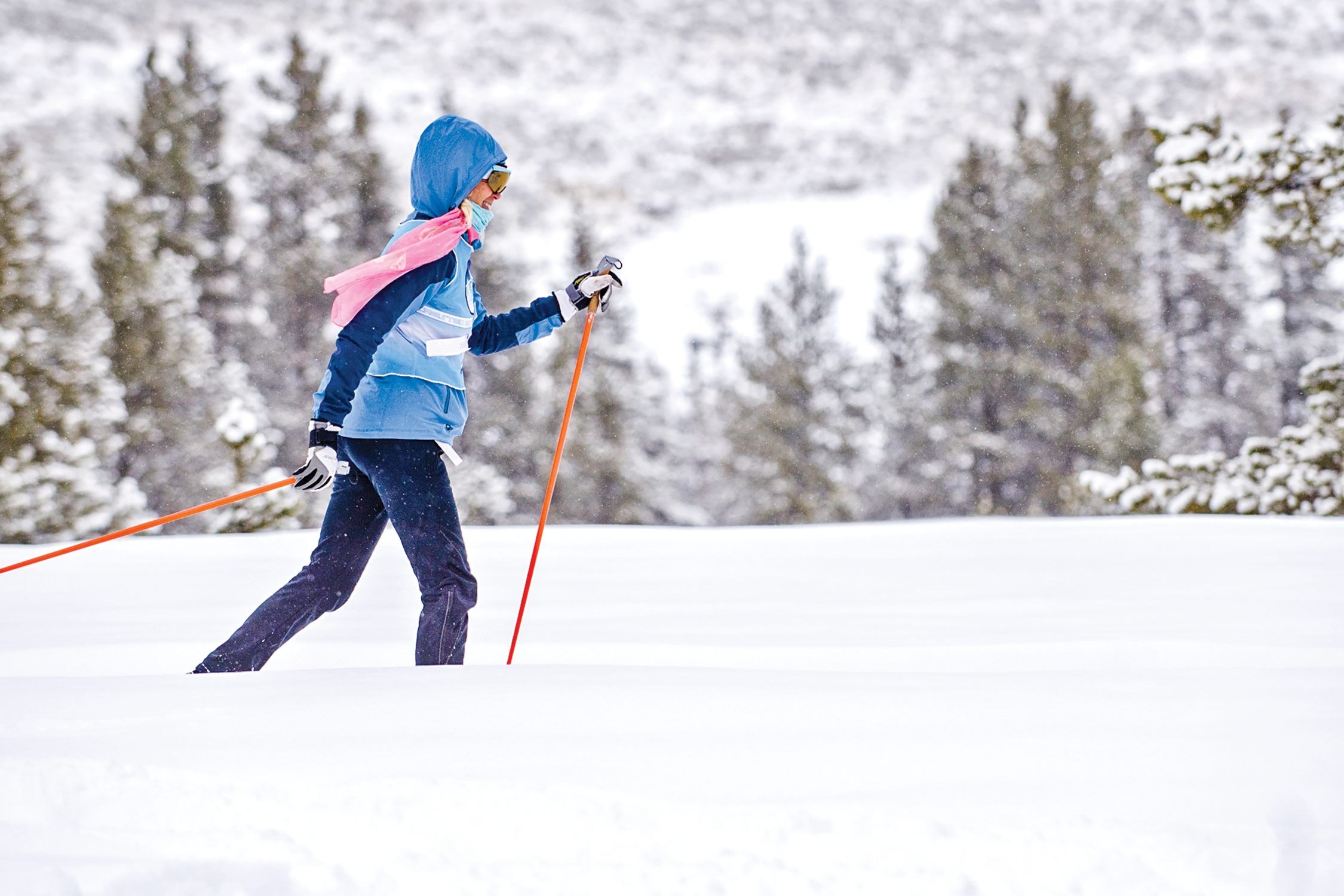 Stats:

1116

0

Posted:

November 25, 2019

Category:

What To Do
A Guide to Our Favorite Trails
It's a winter playground here in one of the most beautiful valleys in the world. We've put together some of our favorite Nordic trails, fat biking locations and runs on the mountain for any level skier or snowboarder. Take a look on the following few pages for your guide to winter trails.
CB Nordic Staff's Trail Faves
Crested Butte Nordic is a community-owned and operated, world-class Nordic ski destination maintaining 50 kilometers of groomed cross-country skiing trails, while serving as a central pillar of fitness, training and events in the local community. Crested Butte Nordic's mission is to provide people of all ages and abilities the opportunity to learn, enjoy and improve in the sports of cross-country skiing and snowshoeing. Crested Butte Nordic offers rentals, lessons, tours, and gourmet ski-in dining. Here, Nordic Center staff share their favorite Nordic trails.
Pooches' Paradise to Mike's Mile (5.3k) – The ski out Pooches' Paradise to Mike's Mile is mostly flat or gently undulating with only a few climbs, so it is a great place for beginners to learn, advanced skiers to skate fast, and for all users to enjoy spectacular views up Paradise Divide.
Ruthie's Run (5k) – Ruthie's Run is located on "the Bench" just above the Nordic Center, and is a homologated (sanctioned) course. The eastern section of Ruthie's Run has challenging climbs and swift descents with sharp curves and is best suited for advanced skiers. Intermediate skiers can handle the western half of these trails.
Rudy's Rollers (1.5k) – Rudy's Rollers is perched just off on the Rec Path between Crested Butte and Mt. Crested Butte. Surrounded by vistas of Whetstone, Red Lady, Snodgrass and Mt. Crested Butte, this open meadow affords beautiful views in all directions, whether you're hammering up the hills or quick-stepping around the curves on the decent. Rudy's Rollers are beginner/intermediate level, and hold sun until late afternoon due to their location on the "East Side" system.
Magic Meadows (4.6k) – There is something truly "magical" about these intermediate-level meadows. The yurt in the middle of Magic Meadows is open on Sundays for coffee, tea, snacks and hanging out in addition to weekend fine dining.
Mordor (3.2k) – The steepest and hilliest of Crested Butte Nordic's trails, Mordor lives up to its name. Mostly long, steady uphills that wind up the lower flanks of Mt. Crested Butte, this trail travels on the summer's Upper Loop trail. At its most southern point it drops steeply into the gulch. Whether going up or down, it's a doozy!
Insider's Guide to the Mountain
Kids Run
Painter Boy – Bring the kiddos over to Painter Boy – it's a playground for families. The Painter Boy area in general is a great spot for kids and families, and home to Ten Peaks Progression Park. The park includes some man-made features, including small jumps and terrain features.
Beginner Run
Poverty Gulch – A run that is often missed on Red Lady is Poverty Gulch. For beginners this is a great run that typically has fresh grooming well into the afternoon. Also if you are starting to explore the trees or skiing with kids who love tree trails there are some great tree trails on both sides of the run, providing something for the entire family.
Intermediate Run
Meander to Rosebush Glades – Meander to Rosebush Glades oftentimes offers powder fields and tree skiing fun off the beaten path and is accessed by the newly upgraded four-passenger Teocalli Lift.
Advanced Run
Gully Glades – If you like tree skiing this will be the run to check out. Located in-between Black Eagle and Double Top Glades, Gully Glades will be sure to make you spend more time on the East River Chairlift.
Extreme Terrain
The Glades on the North Face or the trees between The Headwall and Big Chute – Hands-down a favorite run on the mountain to ski is the area between Big Chute and the Powder 8 gully on the Headwall. If you are looking for an adventure start on one side and work your way to the other. Every run will make you feel like you are on a totally different mountain. Take the natural halfpipe from the top of the High Lift T-Bar and when it gets to the traverse at the bottom, point your skis in a different direction each run. Note to self: be careful as you work your way down the chutes, the trees tend to get thicker and tighter as you get to the bottom.
For a great run off the North Face Lift check out Hard Slab to Old Pro. It's always a great line with a few surprises around each corner that keep you motivated. On your first run make sure you take a look over each roller before hitting it at top speed…it drops off quick.
Get on that fat bike
Lily Lake Loop (Kebler/Splain's/Lily Lake) – Seventeen miles from town or 11 miles from the Kebler Trailhead, this groovy loop is very well maintained by the Gunnison County Sno Trackers. A steeper approach from the Ohio Valley/Kebler Pass side, this loop goes both directions and gets you way out! Lily Lake area gets four times the amount of snow that the town of Crested Butte does, and it's a winter wonderland up there. Views of the West Elks and the Castles can often be found in the southwest corner of the loop, and you can tack on even more miles by continuing up to Lake Irwin, and sometimes over to Horse Ranch Park, depending on how much the Sno Trackers have groomed. Check them out on the intergoogles for how to support, and follow them on social media for latest updates and reports. This is snowmobile country and open to motorized use, so ride single-file and be respectful of all users.
Cement Creek Road – 7 miles south of Town, next to the sleepy hamlet of CB South, is the glorious Cement Creek Road. Four miles up from highway 135, at the winter trailhead, Super Al Smith of Camp 4 works under a CBMBA permit to groom Cement Creek for ALL users! An amazing amenity for all, Al grooms wide track for snowmobiles, skiers, walkers, dogs… ALLZ of the PEEPLZ! When conditions allow, Al will groom and pack in up to Hunter Creek. A winter recreation amenity for the ages! And all the users… it starts by going up, but it mellows out and provides a winter wonderland playground for all.
North Village Track and Teddy's Winter Trail –Forty two -inch–wide groomed winter singletrack, these two loops provide a little taste of the magic that results when trails are made for winter and all kinds of non-motorized winter uses. Park at the Snodgrass Trailhead (end of Gothic Road) or just below the Snodgrass trailhead at the North Village parking area (look for the stables). Jump right onto groomed singletrack and ride North Village in both directions, then head up Snodgrass Road for the Teddy's Winter Trail turnoff and dig into more groomed winter track, courtesy of CBMBA. Throw in Snodgrass Road and Gothic Road for some more miles and more groomed track. They're non-motorized use, open to all forms of non-motorized, muscle-powered winter travel. Many thanks to Mt. CB, the Crested Butte Land Trust, and CO Open Space for the opportunity!
Snodgrass and Gothic Roads – Snodgrass Road, groomed by CBMR, is a popular side-country ski, hike, bike, and hill climb, right from the trailhead, with amazing views of Mt. Crested Butte, Gothic, and the East River Valley. Steepest in the beginning, the road mellows out and provides a great fatty hill climb and screaming descent back down. Also accessed from the Snodgrass Trailhead and running parallel to the start of the Snodgrass climb is Gothic Road. CBMBA is proud to groom fat bike/winter track on the road from the trailhead down to the Townsite of Gothic for a six-mile round-trip overlooking the breathtaking East River Valley. There is still some elevation gain/loss but Gothic Road is the "easier" option of the many listed. It's open to all forms of non-motorized, muscle-powered winter travel.
For maps and trail conditions visit cbmba.org.