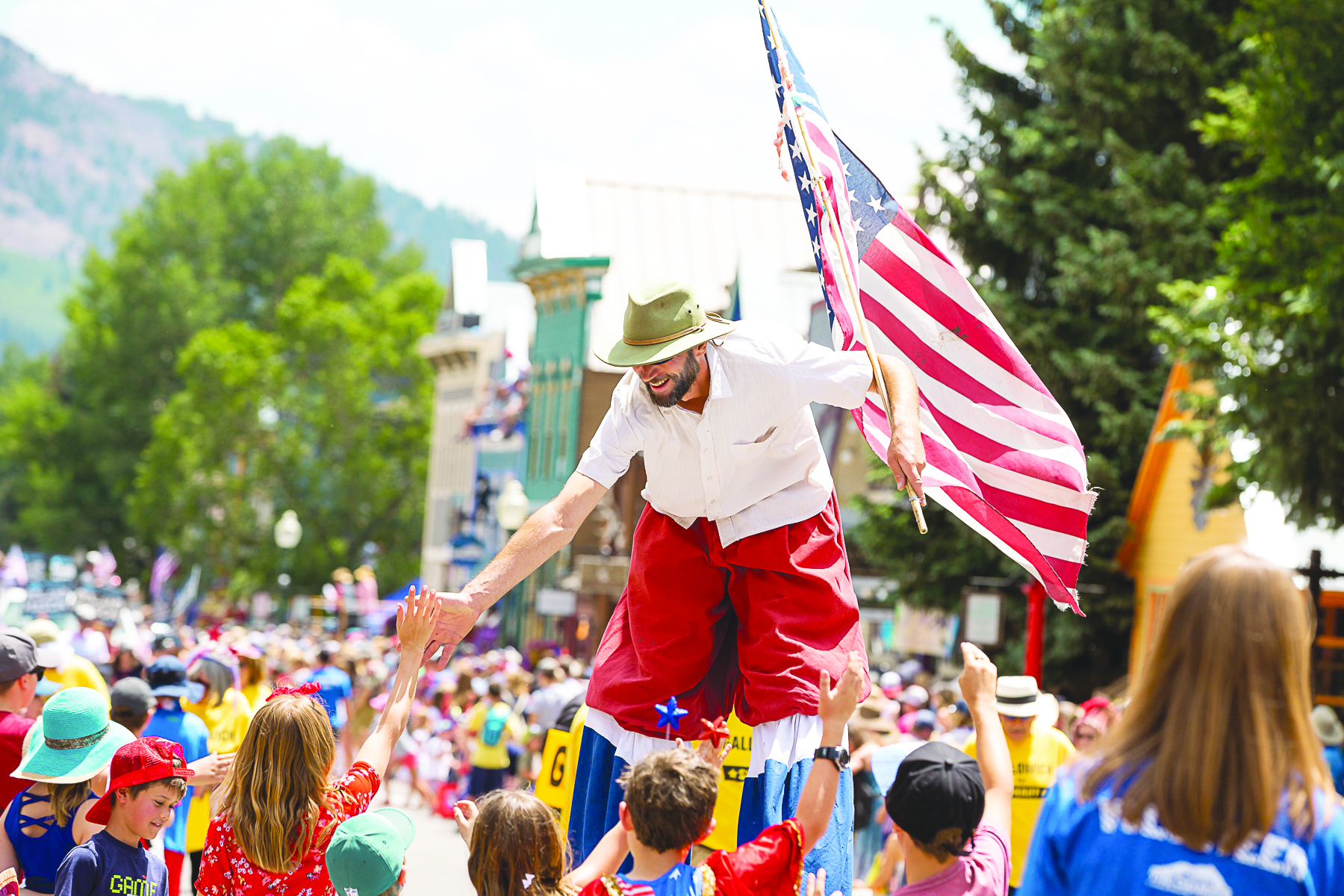 Stats:

1066

0

Posted:

July 2, 2019

Category:

What To Do
Events: Crested Butte Classics
Alpenglow—Mondays, June 18 – August 20
Alpenglow is the Center for the Arts' free summer outdoor concert series held Monday evenings. Popular with locals and visitors alike, most concerts take place at The Center's outdoor stage in Crested Butte (check the schedule, though, for performances in Crested Butte South, seven miles south of town). Bring a picnic, spread out on the lawn and enjoy some great music (food and beverages are also available on site, but outside alcoholic beverages aren't allowed).
Live from Mt. Crested Butte! Summer Concert Series—Wednesdays, June 26 – August 14
Free music abounds, with another popular concert series taking place in Mt. Crested Butte. Sponsored by the Mt. Crested Butte Town Center Community Association, this exciting lineup of musicians play with Crested Butte Mountain as a backdrop. All shows take place at the Red Lady Stage at Crested Butte Mountain Resort from 5:30 – 7:30 pm.
KBUT's Friday Night Fish Fry – June 14
This annual event is a favorite with the locals, celebrating Crested Butte's community radio station and "The Friday Night Fish Fry," a show broadcast over the local airwaves for over 20 years. Join KBUT in Crank's Plaza right outside the studios for catfish, crawfish beignets, coleslaw, cornbread, red beans & rice with Andouille sausage, homemade desserts, and Colorado microbrews. More info and tickets available at KBUT.org.
Monthly Film Series – June 20, July 7 & 14, August 1 & 15, September 19
Every month, the Crested Butte Film Festival and The Center for the Arts partner to bring a powerful line up of diverse and inspiring films to Crested Butte, including audience favorites and new independent cinematic masterpieces.
Public Policy Forum – June 25 – August 13
Crested Butte might feel a world away from all the issues, but the people here like to be informed and engaged. The Public Policy Forum of Crested Butte is one great example of how they do it. The forum hosts a wide range of speakers and topics—this year, that includes a closer look at the polarization of the political parties, the revolution in genetic testing and the #MeToo movement's global reach, among others. Join the discussion Tuesdays at 7 p.m. at the Crested Butte Center for the Arts. Admission is free.
Black and White Ball – June 30
Don your finest black and white attire (formal or funky—this is Crested Butte after all) and head to Fourth Street between Elk and Maroon. This 17th annual summer street dance raises funds for the Crested Butte Mountain Heritage Museum, and dancing shoes are a must. 6 – 10 p.m.
Fourth of July Festivities – July 4
Fill up on pancakes
No small town Fourth of July celebration is complete without a pancake breakfast, and the Crested Butte Fire Protection District comes through every year. You can eat your fill between 7 and 10 a.m. at the fire station in Crested Butte, and feel good about indulging because you'll be helping to raise funds for the Crested Butte Fire & EMS Squad Fallen Firefighter Fund.
Run from Gothic to CB
If you prefer to start your day by burning calories, consider the Annual Gothic to Crested Butte Run, Walk or Crawl 1/3 Marathon. Beginning at 8 a.m. in Gothic, the course winds through aspen woods and meadows to Mt. Crested Butte and ends in downtown Crested Butte. Proceeds benefit the nonprofit Rocky Mountain Biological Laboratory (RMBL), and for some it's an annual rite of passage.
Let loose at the parade
Expect funky and fun as people line Elk Avenue at least four deep. Beginning at 11 a.m., the Fourth of July parade is nothing short of a spectacle. Past parades have featured waterslides on flatbeds, fire breathers and skiing on snow (yep, you read that right: snow in July). Our friends at RMBL also have a reputation for sporting skunk cabbage leaves in place of their clothes.
After the parade, you'll find live music, kids activities and delicious food at Third and Elk until 2 p.m. Just take note: if getting wet isn't your idea of fun, stay away from the top of Elk Avenue—after the parade, it's known to be the scene of a water fight, complete with a fire truck.
Annual Crested Butte Music Festival – July 1-August 28
For more than 20 years, this iconic Crested Butte festival has been bringing unparalleled music to the mountains. Look for of all types to performances, from classical and bluegrass to opera and Gypsy Jazz. Not to be missed for music lovers!
18th Annual Caddis Cup Fly-Fishing Tournament – July 12, 13
Fish the award-winning waters of Gunnison County during this signature event of the Crested Butte Land Trust. The fun kicks off with a party on Friday night and an unforgettable day of guided fishing and friendly competition on Saturday. Supports the Land Trust's efforts to preserve the incredible lands and waters surrounding Crested Butte.
119th Annual Cattlemen's Days – July 5-14
Since 1900, the people of the Gunnison Valley have celebrated the western way of life with the "Granddaddy of Colorado Rodeos." Cattlemen's Days is an all-in-one western event: parade, county fair, horse show, horse racing, bull riding, barrel racing, and of course rodeo. The rodeo dates are July 11, 12, and 13, with most events taking place at Fred R. Field Western Heritage Center and other venues in Gunnison.
Annual Crested Butte Wildflower Festival – July 5-14
This annual festival has been celebrating Crested Butte's unforgettable wildflowers since 1986—a fitting event for a town designated the "Wildflower Capital of Colorado" by the state legislature. More than 200 individual events take place during the height of wildflower season, including photography and art classes, hikes and walks, garden tours, culinary classes, and birding & butterfly events.
Living Journeys Summit Hike and Half Marathon – July 27
These special events honor those whose lives have been touched by cancer. Both the summit hike and the half marathon start at the base area of Crested Butte Mountain Resort Saturday morning. Don't feel like running 13.1 miles straight uphill to the peak? All fitness levels and ages can participate in the Summit Hike. Participants have the option to hike the challenging 11.5 miles round trip or ride the chair lift, which covers 2,000 vertical feet in 15 minutes, before finishing the last mile on foot. All funds raised go directly to individuals living with cancer in Gunnison County.
Crested Butte Wine & Food Festival ­– July 25-28
Now in its 10th year, this festival promises to be more incredible than ever. A fundraiser for the Crested Butte Center for the Arts, it promises over-the-top winemaker's dinners, brunches, and lunches; a new Reserve Tasting featuring only premium, highly rated wines; and a wide range of educational seminars for the novice and connoisseur alike will be held at the new Center for the Arts building.
47th Annual Crested Butte Arts Festival – August 2-4
This is one of the biggest weekends of the summer. Open-air booths line Elk Avenue, featuring world-class artists from all 50 states and several international exhibitors. You'll also find fantastic cuisine, exhilarating entertainment, artist demonstrations, children's activities and an art auction. The festival kicks off on Friday evening from 5 p.m. until dusk and continues on Friday and Saturday from 10 a.m.-5 p.m.
Crested Butte Open – August 4-5
The Adaptive Sports Center hosts this annual two-day event to help make life-changing adventure possible for people with disabilities. The fundraiser starts with an evening Gala Dinner featuring a silent auction and after-dinner dancing. The next day, 30 teams of golfers take to the green at the Club at Crested Butte for a shotgun start (breakfast and lunch included).
RMBL Historic Preservation Dinner – August 20
A celebration of history, this evening is an opportunity to enjoy a fine dinner at the beautiful Rocky Mountain Biological Laboratory in Gothic. After dining in the billy barr community center, guests will tour the town site and RMBL's historic buildings, learning about its founding as a mining town and transition into one of the world's premier biological field stations.
KBUT Kampout – August 23-25
Celebrate community radio and good music at the KBUT Kampout, the station's signature music festival held at the I-Bar Ranch in Gunnison. Two days of music, two nights of DJ sets, plus local vendors with great food and drink and free camping at the base of scenic W Mountain.
Mt. Crested Butte Chili & Beer Festival – September 7
Kick off fall with the 21st Annual Mt. Crested Butte Chili & Beer Fest. Enjoy the best of Colorado craft beers alongside homemade chili and live music on the mountain. It's the perfect weekend to enjoy what fall in the Rockies is all about: crisp air, warm sun, good beer and no shortage of fun.
Crested Butte Film Festival – September 26 – 29
The Crested Butte Film Festival arrives in town for four days of award-winning films from around the globe, filmmaker talks, guest celebrities and actors, parties and events. The festival is the perfect way to indulge your passion for film, with close to 80 films, including narratives, documentaries, outdoor adventure, and shorts, as well as children's programs.