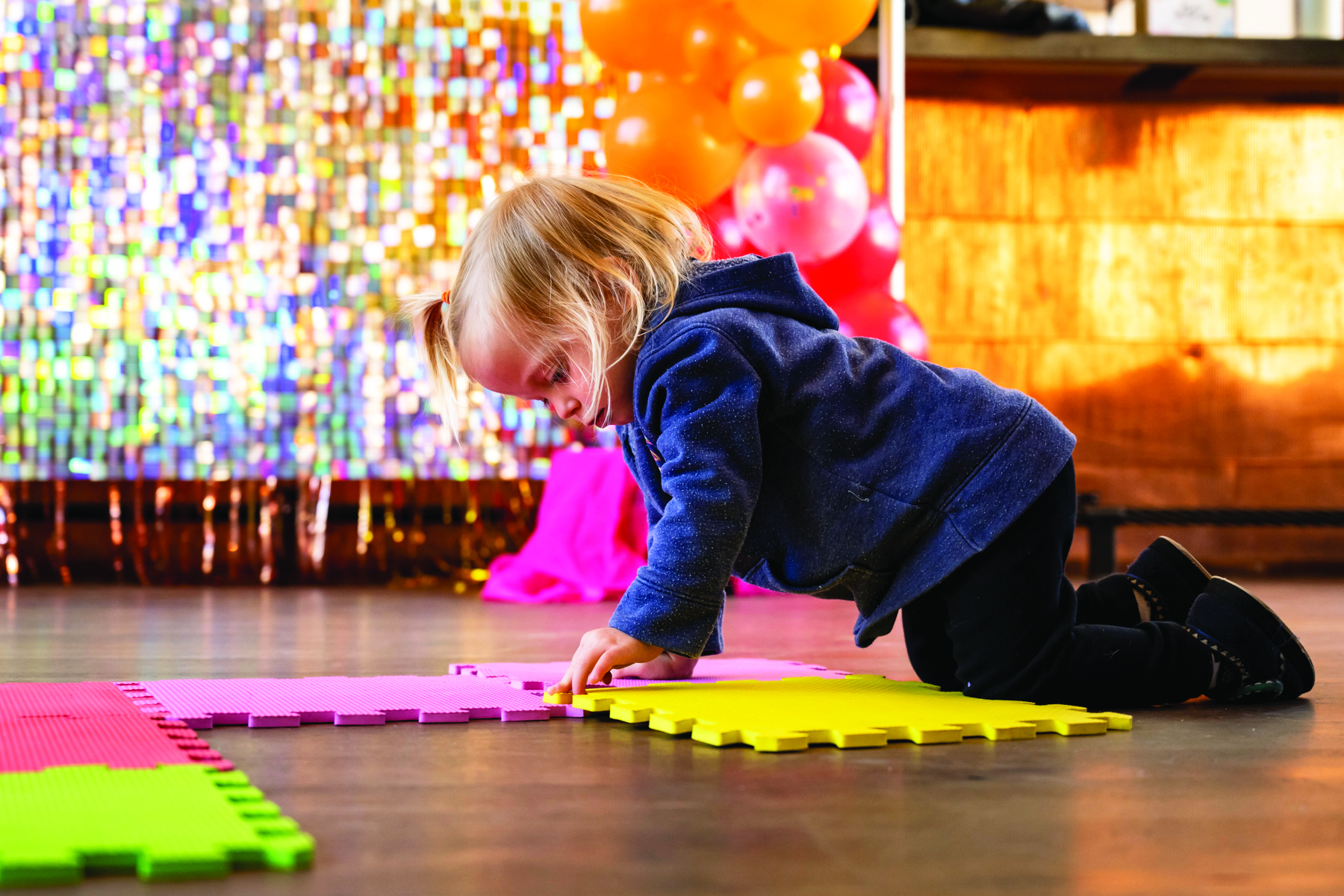 Stats:

75

0

Posted:

June 21, 2023

Category:

What To Do
Trailhead Children's Museum Reopens on Elk Avenue
Block party, membership drive and a summer filled with activities
By Katherine Nettles
The Trailhead Children's Museum is settling into a new space at 501 Elk Avenue, and reopening just in time for summer. The dedicated play and art space for children will continue offering some beloved staples from its previous locations while incorporating some exciting new elements—including an indoor playscape called Nature's Playhouse and an oversized front deck for enjoying water play and sunny days.
The reopening in early June is a testament to the Trailhead's resiliency and to the deep connections in the community around it. As board president Katie Mueller points out, "There are a lot of creative people in this town. And we play well in this town," which are both key elements in creating and sustaining a children's museum. Celebrations include a block party in July, an ongoing membership and sponsorship drive and, of course, the excitement around a newly established space to enjoy. 
Placemaking
It has been a few years since the Trailhead has had a physical place to call home, but that has never stopped the organization from having an enduring presence in the Gunnison Valley. The Trailhead first opened as a museum space in 2009 at the Treasury Center in Mt. Crested Butte. Its programs and variety of open-ended and often-rotating activities quickly established the children's museum as a staple for families, whose loyalty has proven itself even as the Trailhead was displaced by various circumstances and moved to different spaces in Mt. Crested Butte and Crested Butte over the past 14 years. 
The Trailhead worked with the Crested Butte Center for the Arts for the past few years in an effort to reopen in the old Center building after the new Center was built; however cost-prohibitive repairs ultimately led the town and the Center to officially close that building to occupancy.
Meanwhile, the Trailhead forged on. From pop-up science play and discovery events to art camps and classes, movie nights and makerspace booths at local markets, festivals and other places, the children's museum has continued offering a creative outlet to children up and down-valley, year round. 
"We never gave up," says Mueller of the many families, volunteers and staff members who have continually worked to find an enduring space for the museum. 
That space turned up when the Trailhead staff and board of directors found a partner in real estate group the Walter Group. The Walter Group owns several buildings in and around Crested Butte, and when the Trailhead's executive director Sarah Broadwell reached out, they happened to have the space on Elk Avenue available.  
The two organizations reached an agreement this spring and an army of Trailhead loyalists have been pitching in to help get the new space ready for its June reopening. Those efforts have come in a variety of forms: donations, time, material, labor and general enthusiasm. 
 

A reimagined space

 "It's been great," says Broadwell. "When we've been in here working, old board members, people who have kids or who have kids that used to come to the Trailhead and are now older, have all been poking their heads in, excited. A lot of people have served this organization over the years. And we've also been talking to people who were not familiar with the Trailhead too, and they are pumped." 

Many people poking in their heads have been delivering materials, picking up a paintbrush or asking how they can help. Both Mueller and Broadwell say that the community connections run deep and have made settling into a new space not only possible but shaping up to be better than ever. 

Grants have come from both the towns of Crested Butte and Mt. Crested Butte and, according to Broadwell, "The Walter Group seems committed to making this a long-term relationship and supporting us however they can." 

  Mountain Colors's owner and former Trailhead board member Kim Raines donated all new paint and lighting fixtures, which have given the space a bright, fresh interior.

"It's a true community effort," says Mueller. "People that love the Trailhead just keep showing up for it."

The new space will allow for a dedicated art room, an open-ended "art bar," STEM-based building and tinkering spaces, interior play structures and, in summer, an outdoor area for water activities and sunshine.

Mueller says the art classroom will be available for art and play classes, workshops, private lessons and private rentals such as birthday parties. The classroom will also be key to building upon a preschool art and play program, which the Trailhead relaunched last winter. 

"We're really looking to dedicate some energy toward growing those programs, just because there is such a big need for it in the community," Mueller says. 

Broadwell explains the art bar concept, which has been a signature part of the Trailhead for a long time. "The focus is on getting unique and high quality art supplies into kids' hands, with some prompts and ideas and projects but also the invitation to do whatever you like and get inspired by the materials." The Crested Butte Arts Festival awarded funding to the Trailhead for both the art classroom and the art bar to help with infrastructure and planning. 

There will be a quieter space for sensory play and several pockets throughout the museum will hold rotating materials and stations, many sponsored by local companies and individuals. The main area will hold four exhibit areas: a nature playscape, which will include ample opportunities for imaginative nature play; a loose parts area where kids can build and collaborate; a Glow Theater that will rotate between a kid-sized theater and dark room, and a STEM lab with several exhibits, including a Maker-Space, Flight Lab, Magnet Wall,  and a collaborative STEM-based exhibit in partnership with the Western Colorado University's Rady School of Engineering aimed at bringing engineering to life.

"There will be a lot of opportunities to build and practice with simple machines and mechanical advantage," says Broadwell. This might include a pulley system, a gear system, rubber band building and more.

"The real basis of our mission is creativity. So any ways that kids can pull things out and come up with their own ideas, we want to keep it as open-ended as possible," says Mueller. "We feel like those are important twenty-first century skills for kids to have, so giving them the opportunity to be in creative control and make these decisions when they are young can help them have confidence to do that as they grow." 

She adds that kids collaborating with other kids of varying ages, skills and interests within these exhibits helps all kids with much needed social-emotional development.

Last, the street-facing outdoor deck will enable gathering and dining spaces as well as room for a water table and other "messy play" styles, as Broadwell describes it. 

The Trailhead will host summer camp classes, from pre-K through elementary grade levels, and also plans to continue doing satellite events as it has been doing the past few years.

Mueller reflects that while the journey to find a new location has had challenges, in retrospect, everything makes sense.

"We were all ready to reopen the museum a year ago, but instead took advantage and did a lot of board development work that you don't always get to do when you're in a move-in or re-start phase," Mueller says. "We worked on our strategic plan, grew our board, reshaped policies, we did all kinds of great things in that down time. I feel really good about where we're at as an organization moving into this next phase." 

In conjunction with its reopening, the Trailhead is launching a discounted membership drive, a business sponsorship campaign, and looking for annual underwriters and other donations to help with maintenance, programming and those beloved pop-up events around town. It also offers volunteer memberships for families to help keep membership accessible for everyone.

The Trailhead is hosting a summer block party and fundraising benefit with the Okee Dokee Brothers, an American folk band, in Mt. Crested Butte on July 27. More information on classes, programs, membership and events can be found at www.trailheadkids.org.