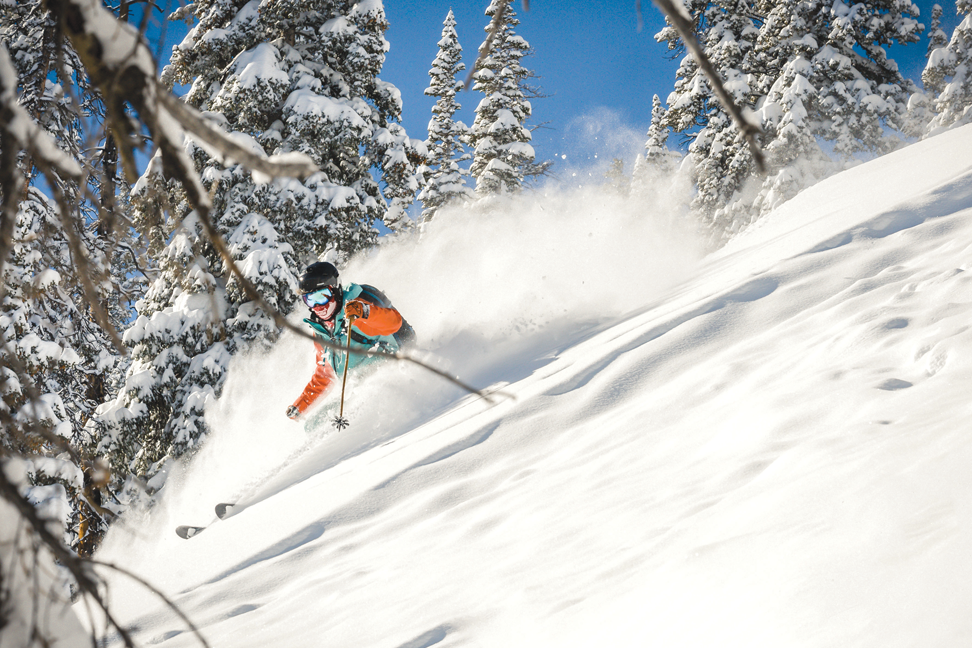 Five things to love about the CB backcountry
Ski guide Steve Banks leads clients all over the world, but still loves coming home to Crested Butte. Here are some of his favorite reasons why.
by Steve Banks
Crested Butte is surrounded by what is commonly referred to as the backcountry. With little infrastructure and fewer people and harder to access, the backcountry provides locals and visitors with ample space to spread their wings and enjoy the relative solitude of the mountains. In the wintertime, savvy backcountry travelers can access world-class skiing, snowboarding, sledding and snowshoeing right out the back door. Here are a few of my favorite attributes of the Crested Butte backcountry.
Access
Crested Butte is the hub of the wheel, with five major drainages coming into it. The miners loved that and so do backcountry travelers. There is a lot of diversity in these areas as to where good snow is, what the terrain is like, whether it is more for motorized access or human-powered access, as well as popularity with other users. If you want to get out there and not see anyone, that is totally possible. The best part is that all these areas are less than a 15-minute drive from town.
Abundant snowfall
Sure, last year sucked. The ski area didn't get much snow and the backcountry didn't either. But you never get skunked entirely in the Elk Mountains. The riding wasn't epic last year, but it was there. We had snow and you could play in it. On the East Coast when they say, "It didn't snow," they mean that literally. The ground is dirt. And in the good year? Well, there is no better place to be than the Crested Butte backcountry.
Something for everyone
There is something for everyone in the Crested Butte backcountry. Pick your pleasure. Kebler Pass is designated as "motorized use" and has become a popular place for snowmobiles used for ski access, commuting to the Irwin Townsite and just for fun. The Gunnison Sno Trackers keep the road maintained, often all the way over to the other side of Kebler Pass, making for a scenic ride. The Gothic corridor is designated human-powered only and makes a great destination for Nordic and backcountry skiers, snowshoers and anyone looking for some solitude. Brush Creek, Washington Gulch and Slate River are mixed use for the hybrid users. Want to get away from everyone and everything? There are plenty of off-the-beaten-path options (but I won't tell you where).
Resources
The Crested Butte Avalanche Center can keep you abreast of changing backcountry conditions, weather and, of course, the current backcountry avalanche danger level. This should be the first stop for anyone headed into the Crested Butte backcountry in the wintertime (www.cbavalanchecenter.org).
Gunnison Sno Trackers (www.gunnisoncountySnoTrackers.com) is a good resource for snowmobilers looking for beta on where to ride and snowmobile regulation in the area.
For backcountry skiers, the Off-Piste Ski Atlas is a great resource easily found at one of the gear or bookstores in town and has an app that is helpful to show where you are and where you are headed.
Public lands
Almost 80 percent of Gunnison County is public lands, with more than a million acres of national forest to play on. There is a mix of Bureau of Land Management and recreation areas nearby, an often overlooked national park, and several hundred thousand acres of designated wilderness. With Crested Butte being at the end of the road, we are literally surrounded by these public lands. Of course there is a lot of private land as well, and backcountry travelers need to know where they are and whose land they are on, but for the most part This Land is Our Land.