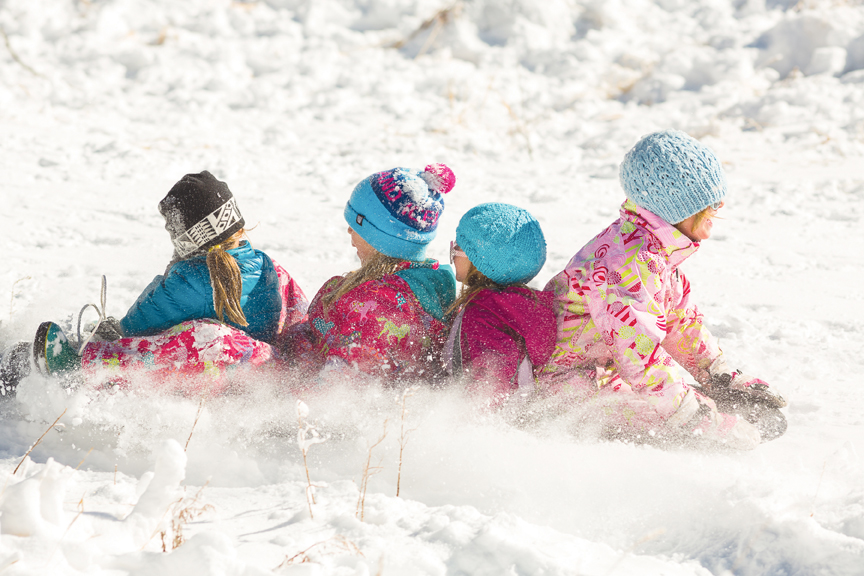 Stats:

903

0

Posted:

May 15, 2019

Category:

What To Do
Fun off the mountain
The Great Outdoors
Try a change of pace
Slow things down and take in the scenery on snowshoes or Nordic skis. CBMR offers daily, guided snowshoe tours on ski area trails—90 percent of the tour is downhill or flat, but you'll be treated to an energizing workout along the way. Snowshoes, poles, water, a light snack and a lift ride are included in the cost for the two-mile outing.
You can also explore the spectacular terrain around Crested Butte with a Crested Butte Nordic guide. Tours explore the valleys of the Slate River, Washington Gulch, Brush Creek, and the historic mining town of Gothic, as well as other pristine destinations with safe, friendly, knowledgeable, and experienced guides.
Lace up the skates
Big Mine Park is home to a covered, outdoor skating rink. Open from early December to late February (weather-dependent), use of the rink is free if you bring your own skates. Crested Butte Nordic rents figure and hockey skates, and the town of Crested Butte schedules open skate times. Call the ICE LINE at (970) 349-0974 for schedules.
Opt for four-legged horsepower
Crested Butte is home to plenty of four-legged friends that love to play in the snow as much as we do. There's something special about letting horses or sled dogs guide you through a winter landscape, and the Crested Butte area offers both.
For dog sledding, check out Lucky Cat Dog Farm to experience firsthand how excited those pups can be to hit the trail (luckycatdogfarm.com).
Or consider traveling by horse-drawn sleigh. In Almont, Fantasy Ranch Horseback Adventures offers 30-minute sleigh rides with hot cocoa to warm you up at the end of the ride. If you're feeling particularly adventurous, you can also saddle up a one-hour horseback ride with a stop for hot cocoa on the trail (fantasyranchoutfitters.com).
Visit the Adventure Park
Crested Butte Mountain Resort's Adventure Park features bungee trampolines, rock climbing and a lift-served tubing hill. A guided zipline tour allows you to see the mountain like you've never seen it before. This one-of-a-kind adventure includes five ziplines ranging from 120 to 400 feet in length—you'll feel your adrenaline pumping as you step off the platform, then feel like you're flying as you soar through the air. Check out the options at www.skicb.com.
Dine a different way
Culinary adventure takes on new meaning when you snowshoe or Nordic ski to Crested Butte Nordic's Magic Meadows Yurt for a fine dining experience. Offered on full-moon evenings and around the holidays, these events sell out quickly. For reservations, visit cbnordic.org.
You can also ride in an open sleigh pulled by snowcat to CBMR's on-mountain venue, Uley's Cabin. The menu features Colorado cuisine with French influences, and a handpicked wine list is available to complement the dining experience. Go to skicb.com for more information.
Protected from the Elements
Take in some culture
Crested Butte is an officially recognized Creative District in Colorado. You'll find that theatre, the arts and history abound in this mountain valley.
Crested Butte Mountain Theatre, established in 1972, presents several productions each winter and spring. For tickets and a performance schedule, visit cbmountaintheatre.org.
Crested Butte Center for the Arts offers a winter line-up of concerts and rotating art exhibitions. The Center offers classes and workshops all winter long in literary arts, culinary arts and more. The Gunnison Arts Center hosts theatre productions, art exhibitions, art classes and more year-round. For information go to www.crestedbuttearts.org and GunnisonArtsCenter.org.
And on Elk Avenue, stop at the Crested Butte Mountain Heritage Museum to step back in time. Tony's Conoco, or "The Hardware," was the longest running business in Crested Butte, beginning as a blacksmith shop in 1883 and later becoming a garage and hardware store before closing in 1996. Now a museum, in it you'll find old-time memorabilia, a model train and replica of 1920s Crested Butte, a mountain bike exhibit, and exhibits about mining, ranching, and skiing. For hours and information, call (970) 349-1880.
Relax and rejuvenate
When it's time to rejuvenate, Crested Butte has plenty of options. Yoga for the Peaceful and Crested Butte Community Yoga Coop both offer a wide selection of yoga classes.
Town also has a number of gyms to choose from, offering everything from Pilates to personal training to group classes. The Crested Butte Movement Center, Core, Synergy Athlete and the Gym each offer a unique take on health and fitness, so check out their websites to see which one is right for you.
And of course, what vacation workout would be complete without a massage, a steam room, or some other form of self-care? On the mountain, you'll find Elevation Spa in the Elevation hotel, and in Crested Butte, you can check out Creekside Spa or Sea Level Spa on or just off of Elk Avenue.
Crested Butte is also home to many incredible massage therapists. You'll find many of them by visiting www.wellbeingconnection.org.
Indulge your inner artist
Head to the Art Studio of the Center of the Arts to paint your own pottery, take a workshop on silversmithing or listen in on an ArtTalk. The studio is also available for private art lessons, art events and parties.
Reservations are required for classes and can be made online at the Center for the Arts by calling (970) 349-7044 or online at classes@crestedbuttearts.org. The Art Studio is at 111 Elk Avenue.
Take in the big screen
The Crested Butte Film Festival partners with the Center for the Arts to present a monthly film series of diverse and inspiring films, audience favorites and new independent cinematic masterpieces. Shows play at the Center for the Arts; more information can be found at crestedbuttearts.org.
The Majestic Theatre, next to Clark's Market, offers three screens and a rotating selection of current films. In addition to traditional movie favorites like buttered popcorn, you'll find organic snacks and a full bar.
Visit the galleries
From outstanding landscape photography to unique sculptures, there's no shortage of spectacular artwork in Crested Butte. Visit the galleries on Elk Avenue at any time or watch for ArtWalk evenings, sponsored by the Artists of the West Elk, to meet artists and mingle with art lovers.