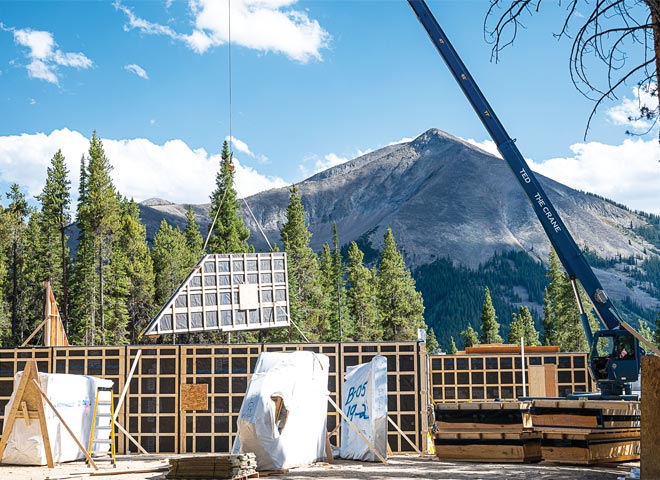 North Valley Real Estate Report
Property sales are hot in the valley as things get snatched up quickly
[  by Mark Reaman  ]
More wealthy people looking for a nice place to visit or live, combined with limited inventory and more national and global visibility, continues to make the Crested Butte and upper Gunnison Valley real estate market a so-called "seller's market." While the area has seen record numbers in terms of dollars spent on real estate and number of properties sold in the last couple years, the volume mark is likely to drop off simply because there are fewer properties on the market for people to buy. 
Local realtors continue to hear from clients that this area is attractive because of the unique community, the growing amenities, the opportunity to easily access nature and the still good value compared to more famous mountain resort communities like Aspen and Vail.
"The tight level of available inventory is causing numbers to slow down," said Kiley Flint of Crested Butte Collection at LIV Sotheby's. "This is in part because properties that come on the market are selling faster. We have more buyers than listings. Values and pricing continue to increase because of this. I do not sense any pullback right now. It is more finding available properties for buyers that I am representing."
"It is still a seller's market," agreed broker/owner, Coldwell Banker Mountain Properties – Crested Butte, Molly Eldridge. "However, there are some properties that are sitting on the market if they are overpriced — so the sky is not the limit necessarily. Dollar volume continues to increase, but the number of transactions is down from last year. Last year was record setting in terms of number of transactions and dollar volume and this year is still one of the top years for number of transactions, but we didn't start with a lot of inventory, so sales are coming from new properties coming on the market. I expect that properties will continue to come on the market through the summer and fall and that they will sell if priced appropriately."
Bluebird Real Estate general manager Patti Hensley said buyers seem to be purchasing "with more urgency than in years past, partially due to the COVID effect, the Vail Resorts purchase of the ski area and Crested Butte being more visible internationally," she explained. "Year to date, the average sales price of a single-family home in the north end of the valley is $2,177,409. This represents more expensive luxury home sales compared to this time last year, as well as overall price increases from inflation and the effect of historically low interest rates." 
New money a factor in recent growth
While interest rates are going up, the financial caliber of the typical client has changed a bit so wealthier individuals and families that can afford to pay cash for a property are finding their way here. 
"We no longer have the younger buyers looking to have their first investment condo because we don't have much in the $200,000-$300,000 range. We have always had cash buyers, but we are seeing even more high wealth individuals than before," said Eldridge.
"In the last year, I have had more buyers paying with cash," agreed Flint. "I am seeing more buyers from the Front Range — Denver/Boulder as well as California. We are still seeing buyers come from our Texas markets such as Dallas, Houston and Austin."
Gary Huresky of LIV Sotheby's International Realty said the demographic of buyers in the valley is changing. "The current buyer is younger than we have seen in the past. But they are coming in with higher down payments and cash in a lot of scenarios," he said. "If you look back at the outlying areas in the past, they were mainly folks setting up for retirement in their 60s and 70s wanting a summer place with acreage. Today's buyer is wanting to be closer to amenities such as town, transportation and convenience of trails, etc."
Chris Kopf of Coldwell Banker Mountain properties is seeing the same amenity driven trend with people looking for property in the area. "Geographically, birds of a feather flock together so we see a lot of folks coming from the same point of origin," he said. "The majority are probably Texas. And then Oklahoma, Louisiana, Arkansas, Arizona. I would say that the Epic Pass poured gas on the fire with more Front Range people from Colorado Springs, Denver, and Boulder. The Epic Pass has definitely exposed Crested Butte to more skiers. 
"As for demographics, they are similar people, but with higher income and net worth than what we've seen in the past," Kopf continued. "There are less real estate buyers who are going skiing and packing a lunch. More people who appreciate and can afford a higher level of service are buying here. Look at the membership of the Club at Crested Butte and the sold-out Slopeside Ski Club. They offer nice facilities, food service, ski lockers, parking pass and a ski valet. It's a great amenity and offers services that cater to a more affluent demographic." 
Eldridge said the wealth factor and people looking for amenities is a key to the current market. "The main impact has to do with the increase in the number of wealthy people in the world. According to the Institute for Luxury Home Marketing, "the global population of individuals with a net worth of $5 million+ reached more than 3.6 million globally in 2021," she explained. "That was an increase of almost 20 percent over 2020 and a notable difference from 2020, which saw only a 2.2 percent gain over 2019. This extraordinary wealthy population growth led to a real estate expansion like we have never seen before. A new map for luxury opened up new locations and multiple homeownerships in greater numbers. Home as a safe haven became the rallying cry for our time."
Reasons people like it here…
Hensley is seeing a much broader range of buyers. "Overall, we still have a lot of buyers from Texas and the Front Range," she said. "But with the additional exposure that our area has experienced in recent years, we definitely have lookers from the West Coast, the East Coast and abroad. The Vail effect really took off in 2020 through the initial COVID shut-down. Since then, carryover inventory has been depleted and the market is no longer able to maintain record sales without new inventory being produced. Buyer sentiment is still impacted by the pandemic making remote work more easily attainable and reprioritizing things like proximity to mountains and trails, amenities and home features such as home offices, workout facilities, and available Internet bandwidth. We have seen families relocate here for the schools, active people seeking early retirement and still plenty of second home purchases. The mix seems to be more diverse than in years past."
The south end of the valley around Gunnison is also feeling the impacts of the real estate boom. Audrie Townsend of the Clarke Agency Real Estate said she is seeing more cash buyers and it remains a seller's market there too. Normally a Texas/Oklahoma-based market, Townsend said that too shifted with COVID. 
"Over the last couple of years, I would say that the majority of buyers (other than locals) have come from the Front Range of Colorado," she said. "With the ability to work from home, buyers are migrating to more rural areas. There are a wide variety of reasons for people to move here. Some commonalities are the ease of access to outdoor recreation, less traffic and commute times."
Kopf also believes the quality school in Crested Butte along with the active lifestyle is attracting people. "The majority of my buyer clients are second-homeowners who aspire to live here more – or be full-time at some point. We have seen many people who could live here because of their ability to work remotely. We know that the school is awesome – and that has been key for many families who have moved here," he said. "We see people who retire here who are younger and/or very active. Most realize that this is not a final retirement place due to harsh winters and challenges getting old."
The sense of community a huge draw
The local realtors are hearing that people want to live in a small community that has the attributes we offer.
"People love our community! It still feels like a 'real ski town' when people come to visit," summed up Eldridge. "The beauty of our valley remains a huge draw as do the people. All of our accessibility to trails in summer and winter, plus Elk Avenue and the ski area being so close to everything."
"Clients that I work with love the strong sense of community that Crested Butte has," added Flint. "Values are increasing in other resort communities to a point that buyers are getting priced out. Crested Butte is currently a great value compared to Telluride, Vail, etc."
"It's not just here," said Huresky. "According to my colleagues within the Sotheby's network it is every mountain town, every beach town, every lake town that is getting blown up. I believe Crested Butte was headed in this direction regardless, however Vail, the Epic Pass and COVID hit the accelerator. People want to enjoy life more. Remote working has certainly had its impacts on every desirable destination to live."
Kopf said the ability to get involved and make a difference is a big draw. "The great outdoor mountain experiences in a historic mountain town is an attraction. The clients I work with enjoy the amenities of the Club at Crested Butte – the golf, tennis, fitness and skiing amenities plus the social aspects. I have many clients who enjoy fly fishing, and certainly hiking, and mountain biking. Obviously alpine skiing, plus Nordic and uphill skiing in the winter is a draw. A favorite gathering opportunity with family and friends is for sure the Alpenglow concerts on Monday afternoon/evenings at The Center in town – as well as the Wednesday evening music at the base area. 
"Most of my clients are involved in multiple non-profits in the valley," Kopf continued. "I help my clients to get involved in the community and to understand the many options available. This provides a great opportunity for them to give back with their time, effort and as a donor. My clients say they enjoy this connection with the community and there are many events to support and attend." 
As for what type of property is selling at the moment: "Everything!" said Eldridge. "There are very few single-family homes listed for between $1 – $2 million so those that come on the market generally sell quickly. Condo prices are through the roof, so the low end is closer to $500,000 instead of $300,000 or less, but people still feel that the investment makes sense due to the rental income or just having a place to use in Crested Butte. Most of the vacant land that had been for sale for years sold in the first quarter of 2021 so there isn't as much to choose from, but people still like the idea of creating their dream home so when land comes on the market it generates a lot of interest."
Townsend said while prices are certainly rising everywhere, the Gunnison market remains a value. "Historically, down-valley prices have been lower than up-valley prices. I would say that's still the case," she said. "Anything affordable is hot! The highest demand right now is for residential real estate, though vacant land sales have increased too."
Buckle up
As to what to expect in the future, no one can say for sure. "We expect the market to equalize somewhat this year, following the mental freeze and pent-up demand that COVID brought," Hensley postulated. "This should free up inventory and help our buyer clients get into the homes they have been watching and waiting for."
"No matter what, we are in for an interesting summer on Elk Ave.," concluded Huresky. "The experience of visiting any destination town is going to have its challenges. So for the folks coming to Crested Butte, please have patience for the service and the staff that are here to serve you. After all…they are the ones that showed up!"