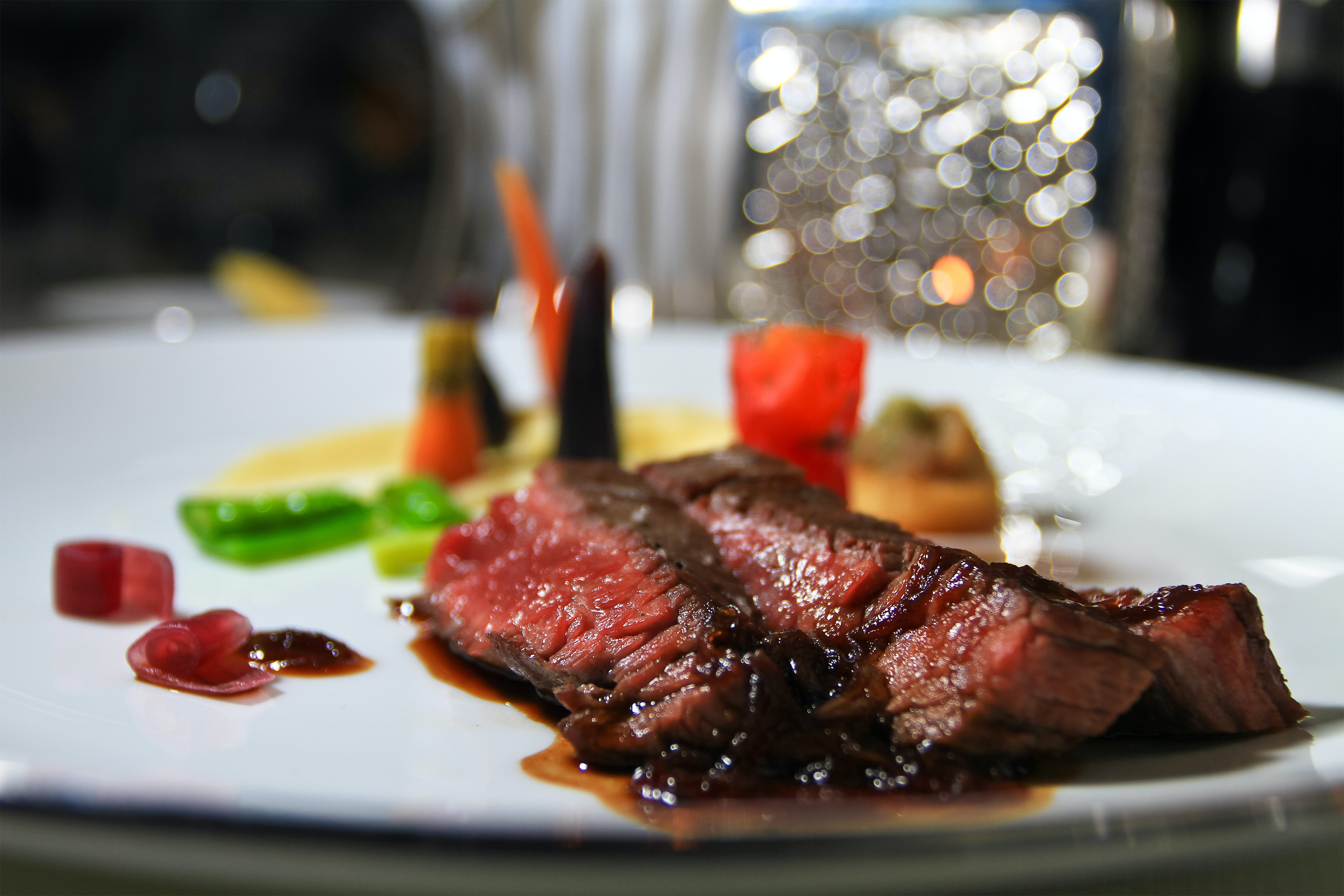 Dining Guide Summer 2020
Crested Butte
Camp 4 Coffee
Denver Post says, "Best Coffee in Colorado." "Best of the Butte" award every year. Stop by our historic license plate coal shed­—the most photographed place in town and see for yourself! Locally roasted and fresh every day. Take a bag home! We ship all over to satisfied customers. We ship for FREE when you buy 5 pounds. www.camp4coffee.com.
Frank's Deli @ Creative Catering
525 Red Lady Ave. – next to Clark's market. Monday-Saturday 9:30 a.m.-6 p.m and Sunday 10 a.m. to 3 p.m. Now offering Frank's Deli Dinner Club, great for large and small groups weekly menus on the website. Using all natural and organic ingredients in their interesting seasonal soups, salads and side dishes, something for everyone! Find deli items, seafood and specialty grocery items. Voted best sandwich made on freshly baked bread. Deli (970) 349-5011. www.crestedbuttecatering.com.
Lil's Sushi Bar & Grill
Lil's Sushi Bar and Grill is tucked away in a quaint setting located in the heart of Crested Butte on Elk Avenue. This exquisite, up-scale casual, fine dining establishment is about great food and a culinary experience steeped in tradition. From a variety of seafood, meat, and vegan entrees to an extensive array of sushi grade fish, which is flown in fresh from the Hawaiian Islands. Lil's specialties include the finest Japanese select brews, sakes, wines, and fresh juice infused cocktails. The exceptional staff is dedicated to providing a curated and memorable experience. Open at 5 p.m., Tuesday through Saturday. Information regarding The Private Chef Experience can be found online. Lil's Sushi Bar and Grill is a reservation only establishment with an adult environment. To order online or reserve a table, visit www.lilssushibarandgrill.com. For other inquiries, contact (970) 349-5457. Located at 321 Elk Avenue.
Marchitelli's Gourmet Noodle
Join your host Michael, for traditional, regional Italian cuisine passed down to Michael from his grandmother. In our cozy, relaxed atmosphere, you can enjoy dishes ranging from unique pasta and sauce combinations to seafood, veal, chicken and elk. Gourmet homemade desserts and a full bar and wine list. Open nightly from 5 p.m. Downtown Crested Butte. Reservations recommended (970) 349-7401.
Mikey's Pizza
Everybody loves Mikey's Pizza! We offer pizza by the slice, specialty pies, pasta, oven baked sandwiches, fresh salads and a variety of appetizers. We also serve breakfast all day with fatty breakfast burritos and egg sandwiches. Located across from the skate park, you can come pick it up or let us deliver to you. We are open 7 days a week. Delivery every night at 5 p.m. Mikey's pizza slices and breakfast items are also sold at Ace Hardware in CB. Order online and view the full menu at www.mikeyspizza.net. Call in your order at (970) 349-1110.
Montanya Distillers
A working distillery and tasting room in downtown Crested Butte offering obsessively crafted, pot distilled, single barrel rum. Montanya serves artisan cocktails as well as seasonally-inspired appetizers and small plates, including gluten-free options. Free tours, tastings, and live music. Voted #1 restaurant on Tripadvisor in 2019 and best cocktail by Best of the Butte. As a certified B Corp, we're part of a global movement to prove business can be a force for good. 212 Elk Avenue, Crested Butte. Visit www.montanyarum.com for more information.
Public House
Public House is a modern execution of an historic Colorado saloon. Public House celebrates Colorado craft breweries, wineries, distilleries, seasonally relevant and farm-driven food, generous lodging, and the conviviality of live music. Located at 202 Elk Avenue, we offer lunch, dinner and daily happy hour specials. Check us out on Facebook or on our website at www.publichousecb.com for latest music schedules, menu and other specials. (970) 349-0173.
Rocky Mountain Chocolate Factory
Desserts extraordinaire: 16 fabulous flavors of ice cream, fine chocolates, fresh baked cookies, hand-made fudge, hand dipped caramel apples, illy® cappuccino & espresso, hot chocolate, kids candy, gourmet jelly beans, Pepsi® Products, assorted chocolates in wooden gift boxes with the Crested Butte logo, assorted chocolate gift boxes and sugar free chocolates. Remember your furry friend with white confection dipped dog bones. We are located downtown at 314 Elk Ave., Crested Butte. Open Late. We follow all safety procedures. WE LOVE 2ND HOMEOWNERS, VISITORS AND LOCALS!
Rumors Coffee and Tea House
Rumors Coffee and Tea House is a coffee shop on Elk Avenue for a great drink to take with you on your adventures. We are also home to Townie Books, Crested Butte's independent bookstore. While drinking a nice hot drink, browse our local history, non-fiction, historical fiction, young adult, and children's books. Our cafe has breakfast burritos and breakfast sandwiches when you just need to grab something and go. We also have delicious pastries from Frank's Deli to go with our organic coffee, large variety of chai, and hand blended loose leaf teas. This summer we will be following all of the public health protocol to make sure our locals and visitors feel safe to come in an pick up coffee to go or to sit on out outdoor patio (6ft apart). Our friendly baristas and booksellers are here to help you find that perfect book for your time in Crested Butte and provide a great hot or cold drink to quench your thirst or perk you up! 414 Elk Ave. (970) 349-7545.
Soupçon
Soupçon is a romantic petite bistro located just off Elk Avenue on Second Street behind Kochevar's Bar. We feature traditional French technique using local ingredients. We are now offering lunch and dinner to go. Open Wednesday through Sunday 11 a.m.- 8 p.m. Please visit our website www.soupconcb.com for updated hours throughout the summer and fall. 970-349-5448.
Tin Cup Pasty Co.
Tin Cup Pasty Co. pays tribute to the area's mining past, bringing back the Cornish pasty long since forgotten in Gunnison County. What's a pasty you ask? It's truly the best comfort foods encircled in a flaky crust. Some might call a pasty a gourmet hot-pocket. Dine-in, or carry-out so you can get back to your adventures, either way our pasties and sides are for the entire family to enjoy. Craft beer, craft soda, and fun sides and desserts too! And depending on the season, take advantage of our large outdoor patio and lawn. And now home to Third Bowl Homemade Ice Cream! Open every day but Wednesday 8:30 a.m. to 9 p.m. 425 Elk Avenue, www.tincuppastyco.com.
Tim Egelhoff Chef Services/Crested Butte Soup Company
Enjoy your mountain activities and come home for a delicious and safe group dinner. After a lifetime of experience and 20 years as Chef/owner of Timberline Restaurant in Crested Butte, Tim now produces fine food in his private commercial kitchen that can be finished, and served to you in the comfort of your home. Develop a menu customized to your likes, dislikes, dietary restrictions, utilizing fresh and local ingredients. Contact Tim at www.timegelhoff.com. His soup company also offers a rotating selection of fresh and frozen soups for weekly pick up and delivery. Order online at: Crestedbuttesoupcompany.com.
Wooden Nickel – Bar and Steakhouse
The original and best steakhouse in Crested Butte since 1981, the iconic Wooden Nickel, one of the few remaining historic, ski-town bars, is known for serving the finest steaks in town. The Nickel specializes in USDA Prime graded, tender Filet Mignon, N.Y. Strip, Rib Eyes and our famous, succulent Prime Rib. Our menu additionally features Elk Tenderloin, Rack of Elk, Alaskan King Crab, Duroc Pork Rib Eye, Rack of Lamb, Buffalo Rib Eyes, grilled Seafood and fresh Garden salads. The largest and best Burgers, Buffalo Burgers and Chicken Fried Steak add to your menu choices. Giant Lobster Tails and a variety of Surf and Turf specials are available nightly. The historic bar offers a wide range of martinis, your favorite liquors, and to complement your meal, a select wine list at attractive prices. Please join us for your special evening out at Crested Butte's oldest bar and best steakhouse. Classic yet casual. Bar opens at 4 p.m. with Happy Hour till 6 p.m. Dinner till 10 p.m. 222 Elk Ave. Downtown Crested Butte. Open year-round. Reservations please call (970) 349-6350 after 4 p.m. www.woodennickelcb.com.
---
Crested Butte South
Crested Butte's Personal Chefs
We are a qualified staff of professional chefs, ready and able to handle all of your private and party food needs. Our food encompasses the best of savory and sweets. Our culinary style reflects the ingredients of the season and the mountainous region in which we live. We tailor each menu to fit your unique taste. Visit www.crestedbuttespersonalchefs.com.
---
Gunnison
Powerstop
Celebrating 11 years in business, a truly unique combination of Gas Station, Convenience Store, Cafe, Bar, Music Venue and now, Arcade! Winner of the Gunnison People's Choice Award for BEST BURGER and BEST WINGS. Open daily 6 a.m-11 p.m, offering a full bar and a variety of craft beers, espresso drinks with local, Camp 4 Coffee and a large selection of drinks and snacks for your day's adventure! NEW is our speakeasy arcade bar, Quarters + Cocktails. Arcade open daily and fun for all ages! Bartending Wednesday, Friday and Saturday nights, open late! Stop in at 905 N. Main St Across from City Market, offering dine in, take out, delivery and a sunny patio. 970-641-2328.