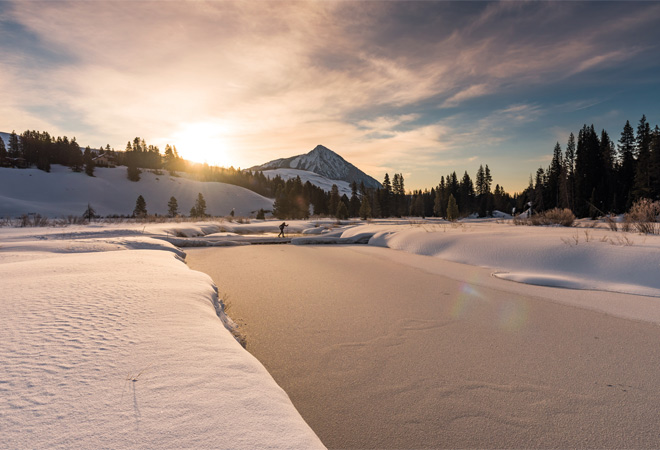 The little Nordic Center that could
by Kendra Walker
A gem of the Gunnison Valley, Crested Butte's Nordic trails offer solace and exploration in the wintry nooks and crannies of our snowy backyard haven. The Crested Butte Nordic Center offers and maintains 50 kilometers of scenic cross-country ski and snowshoe trails in Colorado's Nordic ski capital.
And while the rest of Crested Butte and the country shut down last spring with the onset of the coronavirus pandemic, the Crested Butte Nordic Center held steadfast. It recognized the community's need for outdoor recreation more than ever, and the significant role the winter trails could play for the community's physical and mental health amongst the uncertainty.
"While we all navigated these turbulent times, the staff and board of CB Nordic rallied to respond," says CB Nordic director of marketing and development Laura Puckett Daniels. "We turned to our mission: To provide opportunities for people of all ages and abilities to learn, enjoy and improve in the sports of cross-country skiing and snowshoeing."
So that's what the Nordic Center did: it continued to provide access to safe outdoor recreation. Despite canceling some of its beloved community Nordic events and closing the Center's doors to the public in order to accommodate the county's safety restrictions, CB Nordic kept the trails open. It opened up its trails and equipment to everyone, inviting the community to "pay what you can."
"So no matter what your circumstances, you could get outside," said Puckett Daniels. "We couldn't give lessons or serve you dinner or steward your safe passage over the Elk Mountains to Aspen, but we could make it just a bit easier for you to breathe fresh air, connect with the mountains, and feel that tiny bit of normal."
That tiny bit of normal became essential as the county worked to pick up the pieces and learn how to move forward. "This spring, when the community skied (and skied and skied and skied), it affirmed for us that, amid a crisis, we could provide experiences that mattered," said Puckett Daniels.
This winter season, the Nordic Center will once again be there for the community. "We were blessed with the gift of time during the offseason to really analyze our operations, analyze what worked well in the spring and analyze what needs to happen this season," said Puckett Daniels. "We're aiming for a pandemic-proof Nordic Center."
The building itself will not be open to the public, but the Nordic Center has implemented new software that has moved all sales and equipment rentals online. Just as in the spring, curbside pickup will be available for pass and gear pickup, but now staff will be able to work with customers in an even safer and more streamlined manner through the online transactions. "We're very excited about going virtual and this will enable us to be significantly more efficient for staff and customers," said Puckett Daniels.
The Nordic Center plans to groom all 50 kilometers of trails this winter and hopes to host some winter programming and events, dependent on county safety protocols. "Our trail system has a pretty enormous capacity for growth and we are lucky that our events are all outdoors," said Puckett Daniels.
The Nordic Center programming will be in a modified format, ensuring groups stay small in size and don't cross over with each other. The Nordic Center already has some experience implementing COVID protocols for race events, successfully hosting this past summer's Grand Traverse run and bike race.
"We were grateful to see how willing racers were to adapt to the new protocols and how safe everyone felt," said Puckett Daniels. "We are hopeful that precedent will enable us to host some more events this season. We feel confident that people can spread out safely and we'll abide by whatever the county decides."
The Nordic Center anticipates this winter will bring an increase of popularity to the trails as the community and visitors seek recreation and space in the outdoors. The center asks that trail users do their due diligence to practice respectful trail etiquette and be mindful of their surrounding impact to Crested Butte's open spaces.
"We're really fortunate that our system starts from multiple trailheads in the town of Crested Butte," said CB Nordic executive director Christie Hicks. "We encourage residents and employees in town to utilize local access points without driving to trailheads whenever possible. We also ask folks to be aware of those more heavily impacted times and do what they can to avoid adding to congested areas."
So wax up those skis, the trails are calling. "We are planning to be open no matter what happens," said Hicks. "We have plans to groom and the trails will be there. We are confident we can be there for the community with this essential utility no matter what comes our way."